(Please note: This article will be updated periodically as the latest information is available. Last Update: August 3rd, 2017)

A while back, we took a closer look at Windows 10 Branching, a topic that is causing much confusion since the launch of Windows 10. Back then, not much information was available, but because a lot of people felt they didn't know enough about it, we gave a quick introduction to Windows 10 Branching and answered the top five questions customers frequently asked. In addition, we have also covered how enterprises can keep abreast with the frequent updates ahead.

Today, we want to tackle one of the most important aspects that IT administrators and IT managers have to understand: the Windows 10 Branching Timeline. But before we jump into the timeline of upgrades and update cycles, as well as their end-of-life, we need to go over a few important terms.

We are interested to know: "

Which issue are you most afraid of when it comes to Windows 10 Branching?". Vote below and if you like you can then see the breakdown of the answers from your peers:
Windows 10 Quality Updates vs. Feature Upgrades
Before we dive into planning your timeline, it is critical to understand the differences between a feature upgrade and a quality update.
Windows 10 Quality Updates. Among the biggest drivers setting the pace of Windows 10 upgrades are the new Windows 10 Quality Updates. Quality Updates are similar to the monthly security updates and patches that you have been used to before Windows 10, but there are some significant differences. For one, the new quality updates are specific to the Windows 10 versions you are currently running. To look up your specific version, you can refer to the TechNet article Windows 10 Version & Release Information. Secondly, expect Microsoft to publish as many of these as needed for any feature upgrades that are still in support.
Windows 10 Feature Upgrades. In addition to regular service updates, Microsoft will publish two feature upgrades for every release per year. As the name suggests, these upgrades update devices that are already running Windows 10 with the latest features, experiences, and capabilities. Since feature upgrades contain an entire copy of the OS, they are also used by customers to install Windows 10 on existing devices running Windows 7 or Windows 8.1, and on new devices where no operating system is installed. While this has the benefit of effectively providing a new OS with each feature upgrade, you will need to manage multiple gold OS builds as a consequence, or elongate the build process with layering of feature upgrades.
Windows 10 Servicing Options
Please Note: Per the Windows-as-a-Service AMA on May 4th, Michael Niehaus announced that Microsoft is considering to change the naming of the Windows 10 servicing branches to align more with Office 365. Staying with the September and March release dates, the initial release (currently called Current Branch) will now be called Semi-Annual Channel (Pilot) and Current Branch for Business After will be renamed to Semi-Annual Channel (Broad). Once this name change is official, (expected with September release 1710), we will update this article.
There are three branches that businesses deploying Windows 10 can choose from. They differ mainly in when the feature upgrade will be available and how long it will be supported. You should choose the option that best fits your needs:
Current Branch (CB) Servicing. Businesses who decide to go with the Current Branch Servicing will receive feature upgrades as soon as they are publicly available. This option is for you if you want your users to have immediate access to the latest features, experiences, and functionality. Most businesses will plan for just a small number of pilot machines to exist on the current branch.
Current Branch For Business (CBB) Servicing. The second option is the Current Branch For Business which, by default, defers new feature upgrades by about four months after being released. This option is best for IT teams that require additional pre-deployment testing and prefer to give the update some time to mature in the market before deploying it themselves. Most businesses will adopt the CBB for the vast majority of their machines.
Long-Term Servicing Branch. Enterprises who wish to deploy Windows 10 for a long time while reducing the number of non-essential changes to the devices can opt-in to the Long-Term Servicing Branch. Clients will only receive service updates for the duration of their Windows 10 deployment — up to about ten years. Use cases include ATMs and other critical machine functions that are not suitable for perpetual upgrade.
Please note that there is a fourth option to join the Windows Insider program and test pre-release versions, but we are not covering that in this article since it more relates to consumer based testing.
Planning Your Upgrade & Support Timeline
So, let's talk about the exact timing. Please note that we will only talk about Current Branch and Current Branch for Business below, as the Long-Term Servicing Branch does not receive any feature upgrades.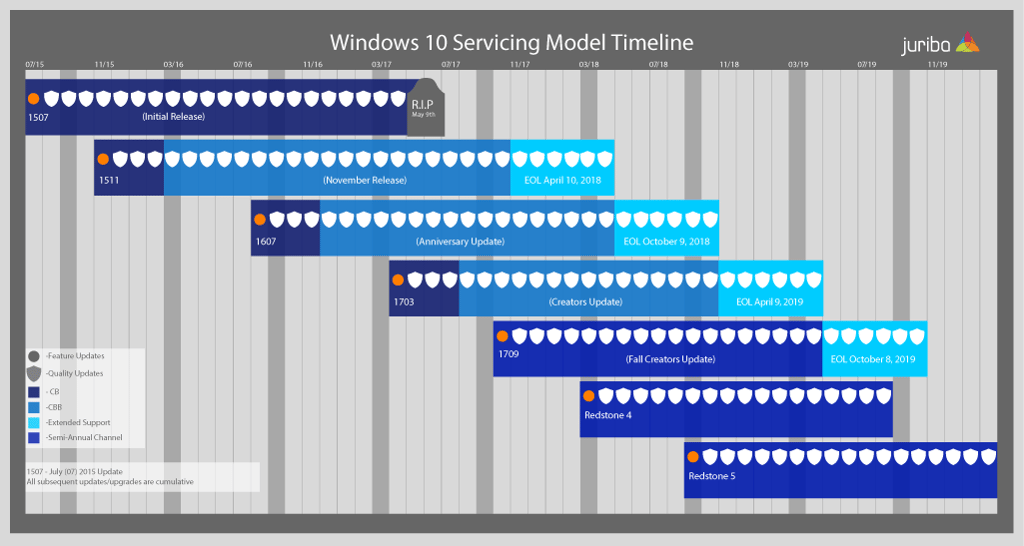 Note: This graphic is updated as of July 7th, 2017.
As you can see from the graphic above, Microsoft published their initial release of Windows 10 in July 2015 to the Current Branch. It's version "1507" is based on its release date (YYMM). In a deviation from the expected, Microsoft announced that the originally planned end of life date for Version 1507 was being pushed back from March 26th 2017 and was subsequently confirmed for a new date of May 9th 2017. Despite this announcement, Microsoft continues to support 1507 and released a security update on 7/11/2017), so we are still awaiting the real end of life for this version. As mentioned above, all updates are cumulative and service updates are released each month.
In November 2015, Microsoft released the first feature upgrade (1511 or the so-called November Upgrade) into the Current Branch. This was republished into the Current Branch for Business in March 2016, On August 2nd, 2016, Microsoft published the first Anniversary Upgrade which was widely anticipated by larger organizations. Since all new feature releases are cumulative, the last upgrade includes all previous upgrades as well as all the latest service updates.
Microsoft published the next update, the so-called Creators Update, as a Current Branch Update on 11th April 2017. On 27th July 2017, the software giant re-published it into the Current Branch for Business and therefore deemed enterprise ready. The release information page also started to use the new terminology, so gone were CB and CBB, to be replaced with a single line item for the semi-annual channel.
Since it is almost impossible to keep up with all the release and end-of-life updates, here is an overview of all the important dates:
Windows 10 Initial Release 1507 RTM (OS Build: 10240.17236)
Windows 10 November Update 1511 (OS Build: 10586.753)
Windows 10 Anniversary Update 1607 (OS Build: 14393.693)
1607 Current Branch Release Date: 8/2/2016

1607 Current Branch for Business Release Date: 11/29/2016

Expected 1607 End-of-Life Date: June 2018*
Windows 10 Creators Update 1703 (OS Build: 15063.138)
1703 Current Branch Release Date: 4/11/2017

1703 Current Branch for Business Release Date: 7/11/2017

Expected 1703 End-of-Life Date: October 2019*
Planned Windows 10 "Redstone 3" Update (Fall Creators)
Expected Semi-Annual Release Date: September 2017**

Expected End-of-Life Date: March 2019**
* Expected based on current Microsoft rules for branches
** Expected based on changed update policies announced April 20th, 2017, which states that new Windows 10 feature updates will be released on a synchronized schedule with Office 365 ProPlus and Microsoft SCCM twice a year — in September and in March. The support window has also been regulated to 18 months.
Sidenote: Sometimes it is difficult to see which branch and/or version you are on. If you check your PC for the branch and release, it might only show the OS Build Number instead of the release (e.g. 1507). If you go to the TechNet page, you can map it to the release and version. Alternatively, type winver into the Cortana search box and you will see the current version information.
When Will My Windows 10 Branch Go End of Life?
First and foremost, it is important to know that Microsoft has said it will only ever support two subsequent Current Branch for Business versions (e.g., 1511 and 1607) at one given point in time. That means, as soon as N+2 version is published into the CBB, the 60-day grace period countdown to end-of-life for version N kicks in.
In general terms, the end-of-life process should look as follows:
Current Branch Release (N)
+ 4 Months = N CBB release (= Start of the 60 day grace period for N-2 CB version)
+ 2 Months = N-2 CB EOL (

VLSC media availability & Start of the 60 day grace period for N-2 CBB version)

+ 4 Months = N-2 CBB version EOL (Microsoft has not confirmed any CBB EOL yet, so this is based on our assumption)
Please note: Following this logic 1507 should have lost support in January, but the EOL date was pushed first to March and now has been confirmed for May 9th, 2017. This is because this version was an abnormality — Microsoft still had to iron out some of the initial kinks in its delivery schedule.
However, we expect this to go into effect for subsequent versions until the new 18-months support windows policy kicks in: So, if you are on CBB 1511, based on this schedule, you have 10 months to upgrade starting from the release of 1703 into Current Branch (April 2017) — which brings you to January 2018.
Consequently, if you are currently on the initial release, you have to upgrade as soon as possible, since 1507 reaches its end-of-life on May 9th, 2017 and security updates will no longer be delivered! In extreme cases, businesses do not have more than 16 months on one version and will be on a perpetual upgrade cycle to ensure security compliance.
An early indication is that CB and CBB may be treated separately. This can be derived from the latest SCCM update which puts devices on 1507 CB as 'Expired' but those on 1507 CBB as 'Soon Expire'.
No matter what the exact details of when each release goes end-of-life — the cadence is faster than it has ever been and IT project managers must have upgrade plans in motion way in advance of a feature upgrade end of life date.
Upgrades & Updates Are Cumulative & Have To Be Installed Entirely
To improve the release quality and simplify deployments, quality updates, as well as feature upgrades, are cumulative; meaning, they get bigger with each new update as they include the previous updates as well as new updates. This means, that by installing the latest version, your device is completely up-to-date. In addition, unlike earlier versions of Windows, the new servicing options cannot be deployed as subsets but must be installed entirely or not at all.
Can Your Skip An Update/Upgrade?
If you are debating whether you should go ahead and install every one as they come or skip some, keep in mind that it is okay to skip one or two. But since they are only available for a limited amount of time, the clock is ticking now much faster before you will have to install all fixes and features. Once you are two versions behind, you have about six months until you are left behind without security coverage.
How Can You Manage Your Windows 10 Updates?
Should You Use Windows Update, Windows Server Update Services or Native Configuration Manager?
Windows Update is a great option for consumers and smaller businesses, but is seldom used by enterprises. Although it simplifies and accelerates update deployment greatly, it is meant to maintain control over which updates are installed and the timing of installation — which IT teams often want to avoid as they want to test updates before deploying them in a wider fashion.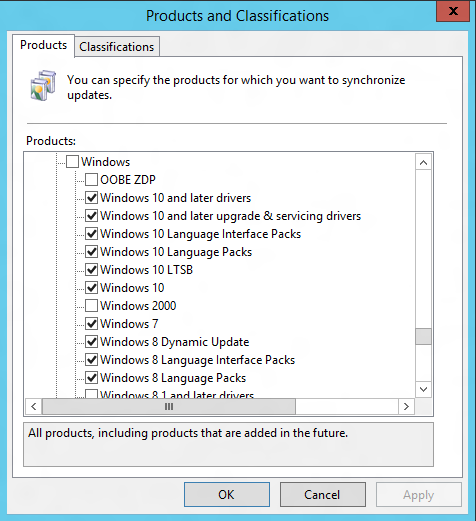 Microsoft released the Windows Server Update Services in 2005 to help address the concerns of enterprise IT teams as it enables IT administrators to take more control. It allows them to obtain the applicable updates (as determined by Windows Update), perform additional testing, evaluate and select the updates they would like to deploy.
Oftentimes, the Windows Server Update Services gives the IT team a bit of extra time to gain confidence in the quality of updates.
Despite the two methods above being available, most large enterprises will use the native Microsoft Config Manager functionality to manage their service updates and feature upgrades. CM provides the greatest level of control for IT administrators and will ensure that the update/upgrade paths for each machine can be carefully managed.
We expect that around 80% of organizations will utilize this approach for their ongoing Windows 10 branch management.
Defer New Windows Update By Up To Four Months
Many IT administrators prefer to manage more of their devices directly. But to make it easier to keep abreast of the fast pace of updates, IT administrators will now be able to use Windows Update to defer new feature upgrade installations until approximately four months after they are first published, which allows them to perform testing or age a bit before being deployed. If you want to have additional control over how and when upgrades are installed, you can also use Windows Update for Business — adding management capabilities, such group deployments of updates and the ability to define maintenance windows.
Conclusion
It is clear that with so many management options and the forced nature of updates and upgrades, IT departments need to prepare themselves for a significant culture shift in managing Windows 10 as a service.
Every month assets on old OS versions will get nearer to their end of life, and a constant plan of action is required to ensure that your organization is ready for the latest feature upgrade. In the future this could mean an entirely new version of Internet Explorer, or depreciation of an old OS feature used in some of your critical applications.
Understanding your application estate (both fat client and web apps) and its readiness for the latest feature upgrade will be of paramount importance to ensuring minimal impact to your end users. We're building Juriba's Dashworks software to help you navigate these uncharted waters, so look out for release announcements in the near future.