This post is part of the "Definitive Guide To Windows 10 Servicing" blog series.
Choosing the right Windows 10 Servicing option for your end users can be daunting. For one thing, it's a big decision that affects a lot of components in your IT landscape long-term. On the other hand, it can be a bit confusing based on the available information. But don't worry, we are trying to sort that out for you. Last month, we compared the most important Windows 10 Servicing Options for enterprises. Today, we will answer the five most frequently asked questions in this regard: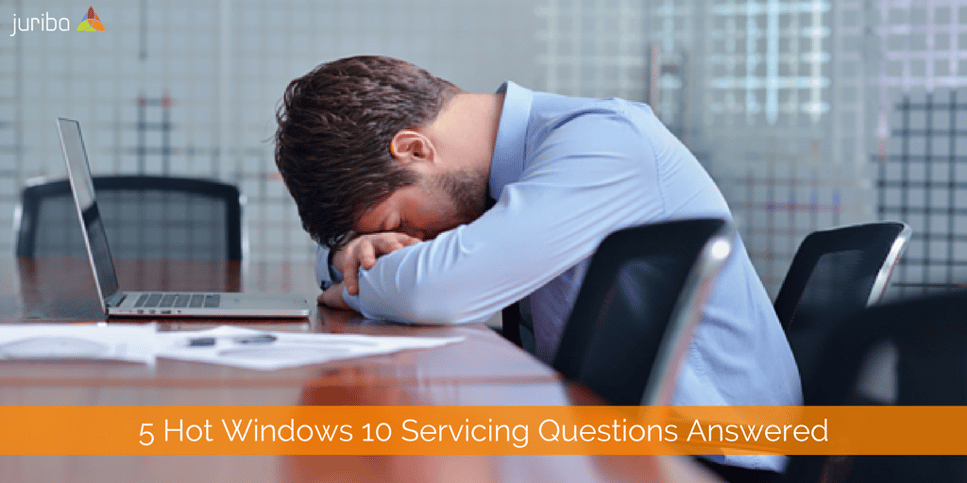 What Are The Dependencies When Adopting Windows-as-a-Service?
Many organizations rely on Windows Server Update Services (WSUS) or Microsoft System Center Configuration Manager (SCCM) to manage any upgrades. This does not need to change with Windows 10. You can still approve or defer any update or set automatic deployment rules to disallow any updates until you are ready.
By using the "defer update" setting, admins can create an additional validation check to avoid machines on the Semi-Annual Channel being upgraded before an initial deferral period has passed and then they can install the upgrade anytime within the eight-month window after that first four-month deferral period.
Can I Mix & Match On A Computer-By-Computer Basis?
Yes, you can assign single computers to different servicing options and you may switch to another branch later on. Please refer to the Microsoft Help Article on how to do that.
How Long Do I Have To Update?
Generally speaking, Windows 10 is now Windows-as-a-Service and will not include Service Packs that you install (or ignore) — but monthly security/quality updates and bi-annual feature updates (released in March and in September). Having said that, customers on Semi-Annual Channel (which will be the vast majority of users within an enterprise) have 18 months from the inital release date to install the next feature upgrade in order to continue receiving monthly security updates.
However, since Microsoft has been extending support for several versions in the past (e.g., versions 1511, 1607, 1703, and 1709), it is best to check! But because new updates are released every six months with an 18-month support window and it takes an enterprise about 7 months to roll out the new version to the entire user base, there is no time to rest on your laurels.
(Please refer to our new blog post for more information on the Windows 10 Servicing Timeline.)
How Will This Impact My Deployment Schedule?
When Microsoft launched Windows 10, it also announced there would be no Windows 11 since this new Operating System would be a Windows-as-a-Service. Consequently, this requires us to change the way we approach software deployment.
Now, businesses are encouraged to align their deployment schedule based on the Semi-Annual Channel (Targeted) release schedule:
Start your evaluation with the Windows Insider Program releases (4-8 months)
Use the initial 3-4 months after Microsoft publishes the new version into the Semi-Annual Channel to run your first pilot testing phase (this phase was previously known as Current Branch).
Then, move into broader deployment once you complete your internal pilot phase.
Complete your deployment before the next release of the

Semi-Annual Channel version

is released.
How Can I Defer Updates?
According to Microsoft, the "Defer Updates" setting directly controls when the PC will be upgraded. Actually, it delays feature updates for up to four months while allowing quality updates at the same time. Microsoft explains it the following way:
Some Windows 10 editions let you defer upgrades to your PC. When you defer upgrades, new Windows features won't be downloaded or installed for several months. Deferring upgrades doesn't affect security updates. Note that deferring upgrades will prevent you from getting the latest Windows features as soon as they're available."
Please note that only Professional, Enterprise, and Education editions of Windows 10 have a Defer Update setting. If you are deferring updates and the four months have passed, the Microsoft Update Center will automatically download and install it. Also, Microsoft will no longer produce security updates for old "builds" of Windows, ensuring that customers install the new feature updates.
More Questions About Windows 10 Servicing?
Download our new Windows 10 Servicing Guide and learn how you can implement a repeatable, easy to set up process to accelerate your upgrade rollouts across your entire estate.