Recently on our blog, we published a list of must-know Windows release and end-of-life dates to keep them top of mind through to January of 2020. We did this because the Windows 10 Servicing timeline can get very confusing and IT pros are struggling to keep up with the constant changes in terminology and roadmap.
We picked precisely 24 months from now because that is the date on which extended support for Windows 7 ends, and unless you are willing to risk security breaches, go without support, or pay a premium for a custom support agreement, you have to get your Windows 10 ducks in a row.
However, today I want to turn your attention to another two significant dates: March 13th 2018 — the planned release date of Redstone 4, the next new version of Windows 10 (Version 1803) — and April 10th 2018, the official end of support for the November Update, or Version 1511.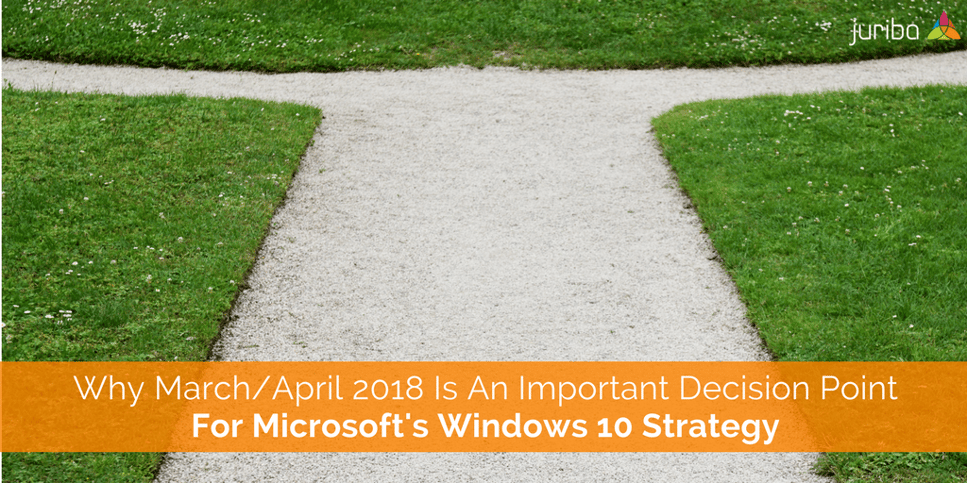 Version 1607 To Expire Before Version 1511
Michael Niehaus, Microsoft's Director of Product Marketing for Commercial Windows, announced on November 14th, 2017 that the company will provide its enterprise and education customers currently on version 1511 with continuing "updates to address critical and important security issues" for an additional six months. This is done "to help some early enterprise adopters that are still finishing their transition to Windows as a service."
Therefore, the 1511 November Update will go end-of-life on April 10th, 2018 (this month's Patch Tuesday) or shortly after. Customers on 1511 will have enjoyed a support window of 29 months for this release, instead of the currently allotted 18 months for future releases. This, however, puts Microsoft in an awkward position: Version 1607, the so-called Anniversary Update, was released about eight months AFTER 1511, but is currently set to expire BEFORE 1511 on or shortly after March 13th, 2018 depending on when the company releases Redstone 4 — giving customers on this version 20 months of support.
When the time comes, Microsoft could choose to do nothing differently. They could simply "grin and bear" the awkwardness for a few months and stick to their announced release schedule. Alternatively, they could ultimately overhaul their Windows 10 (and therefore their Office 365, and maybe even their Windows 10 Server) Servicing Model. I will discuss the potential outcomes in a minute, but before I get to that, I want to talk about the "why" first.
Microsoft Aims To Get Enterprises On Board With Support Extension
It has been more than two-and-a-half years since Microsoft released Windows 10, its Windows-as-a-Service OS. Thanks to a free upgrade option and tremendous security improvements natively baked into the OS, adoption has been faster than any other operating system in Microsoft's history.
Nevertheless, enterprise adoption has been slower than the software giant had hoped for — partially due to the constant changes and confusion around the update release and end-of-life dates, branching/servicing name changes and deletions (I am looking at you, Current Branch for Business), as well as a change of pace in its feature update frequency to better align with the Office 365 release cycle. However, gaining fast enterprise adoption is not only crucial for its cash cow Windows, but for the company's entire X-as-a-Service strategy. If large organizations refuse to (or simply cannot manage to) hop on the bi-annual update bandwagon, Microsoft has a big problem.
Windows-as-a-Service Requires A Different Servicing Management Model Than Any Other Windows OS Before
Constant confusion aside, there is an even more profound reason why Microsoft is struggling to get enterprises to adopt Windows-as-a-Service. Microsoft is asking businesses to entirely depart from the way they have managed Windows updates before and choose a new, more agile way of managing their operating systems. Rob Helm, Managing Vice President of Directions on Microsoft, responsible for overseeing Microsoft's product roadmap and corporate organization for the analyst company explains:
Microsoft is driving customers to a faster rate of roll outs and telling them that to support it, they have to roll out completely new technology for deploying and managing Windows.

For example, they should use Autopilot rather than their standard imaging technologies they have used for Windows 7, Intune Microsoft hosted mobile device management service instead of group policy and similar kinds of technologies and Windows Analytics instead of some of the tools they already have for monitoring systems and for taking inventory before a migration.

It's generally encouraging them not to really test new versions the way they've had before, instead to roll them out in a slow pace through a series of successively larger groups until they've got the process entirely rolled out. And to do this at least every 18 months, probably more frequently. So, it's a complete change in the way organizations operate Windows."
Of course, you can roll out your Windows 10 updates using images and deployment rings just fine, but Microsoft's endgame is to get every enterprise user to get (and pay) for an:
Annual Windows Enterprise subscription license (on a per-user basis)

Azure Active Directory Premium subscription license (per-user annual or monthly subscription)

Intune subscription licenses (per-user annual or monthly subscription)

Possibly other Azure resources (consumption-based pricing)
The problem is that almost no organization, other than Microsoft, has fully adopted the "Modern Management agenda" as of now.
Microsoft's Windows 10 Servicing Options Going Forward
At this point, Microsoft is at a crossroads. Should they give into the cries of analysts and enterprise IT executives and slow down their pace? Alternatively, will they stick with it and keep on track for two updates a year? We might find out soon. We estimate that Microsoft will make some announcement by the end of February / beginning of March. It could be one of the following options:
Microsoft keeps the planned end-of-life date for 1607 and changes nothing.

Microsoft extends support for 1607 for 3-6 months, allowing organizations to ease into it slowly — but makes no changes to the currently existing release schedule. This would buy customers more time to figure out the details of their update strategy while Microsoft remains on track. This option would have the least impact on Office 365, Windows 10 Server, etc.

Microsoft changes its Windows 10 Servicing model entirely and adopts a slightly slower pace.
In my opinion, Microsoft will not stray from their WaaS strategy very far — too much internally and financially is hinging on the market adopting this new X-as-a-Service mentality that pushes its cloud agenda, and has put them on a straight path to becoming the first "trillion-dollar company." Microsoft is now also the biggest security company in the world, and you cannot lead the pack when it comes to cybersecurity if you update your operating system only every two years or more.
On the other side, Microsoft is heavily dependent upon enterprise revenue! If larger organizations are not getting on board with their "Modern IT Management" agenda, they might have to slow down. "Microsoft might switch to releasing one feature update per year and extending their support window to 24 months — we will find out soon!" says Rob Helm.
What do you think will happen? Where are you with your Windows 10 plans? Please join the discussion in the comments below.