Ever since the announcement of Windows 11, there is a lot of talk about the new hardware requirements Microsoft's new operating system needs. Right off the bat, a lot of IT professionals balked at the minimum prerequisites, predicting that it would take them years to do a hardware refresh and upgrade to Windows 11.
In fact, Lansweeper found that based on data aggregated from 30+ million devices in 60,000 organizations, 55% of workstations cannot be upgraded to Windows 11 because they do not meet the minimum CPU, RAM, and/or TPM requirements. But how realistic are these findings? What does an optimal migration path for each device in your environment look like and how many devices will you migrate through an in-place upgrade, wipe & load, or hardware refresh?
We put together a handy decision flow chart to help you determine how you could assess your hardware for compatibility and consequently which type of upgrade you should pursue. Ultimately, this will allow you to very closely estimate your hardware refresh budget and the effort required as part of your migration project.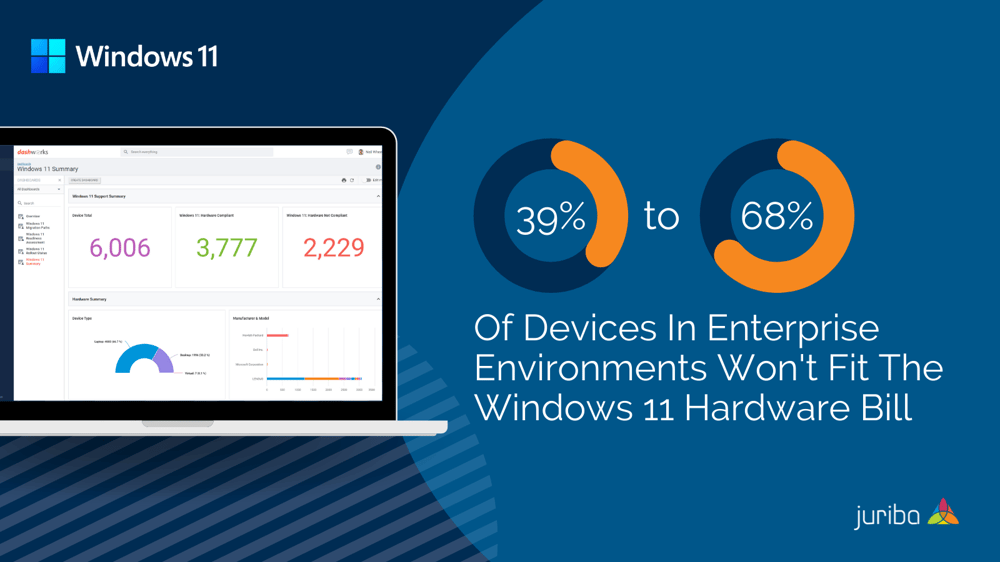 Minimum Windows 11 hardware requirements
Before we dive into the hows and whys, let's take a minute to review the stringent prerequisites your hardware has to meet before being able to migrate to Windows 11:
Processor: 1 GHz, Intel 8th Gen (2017)
RAM: 4 GB
Storage: 64 GB free storage
Firmware: UEFI, Secure Boot, TPM 2.0
Graphics: DirectX 12
Display: HD 720p, Feature-specific
Windows Hello: IR Camera
Snap (3 columns): 1920 pixel width screen
It is also worth noting that for in-place upgrades, a device must be running on a supported version of Windows 10 (version 1909 or newer).
In-place, wipe & load, or hardware refresh: flow chart
To get a clearer picture on which devices you can upgrade now, you will not only need to ask "How much of my hardware is red (= not compatible, cannot be migrated) and green (= ready to go)?" but you'll also need to dig much deeper into manufacturers (e.g., "How many of my HP machines are red and green?") and models (e.g., "Which model types are red and green?"). Below, we have outlined a streamlined flow chart that visualizes the optimal migration paths. Let's walk through the process in more detail.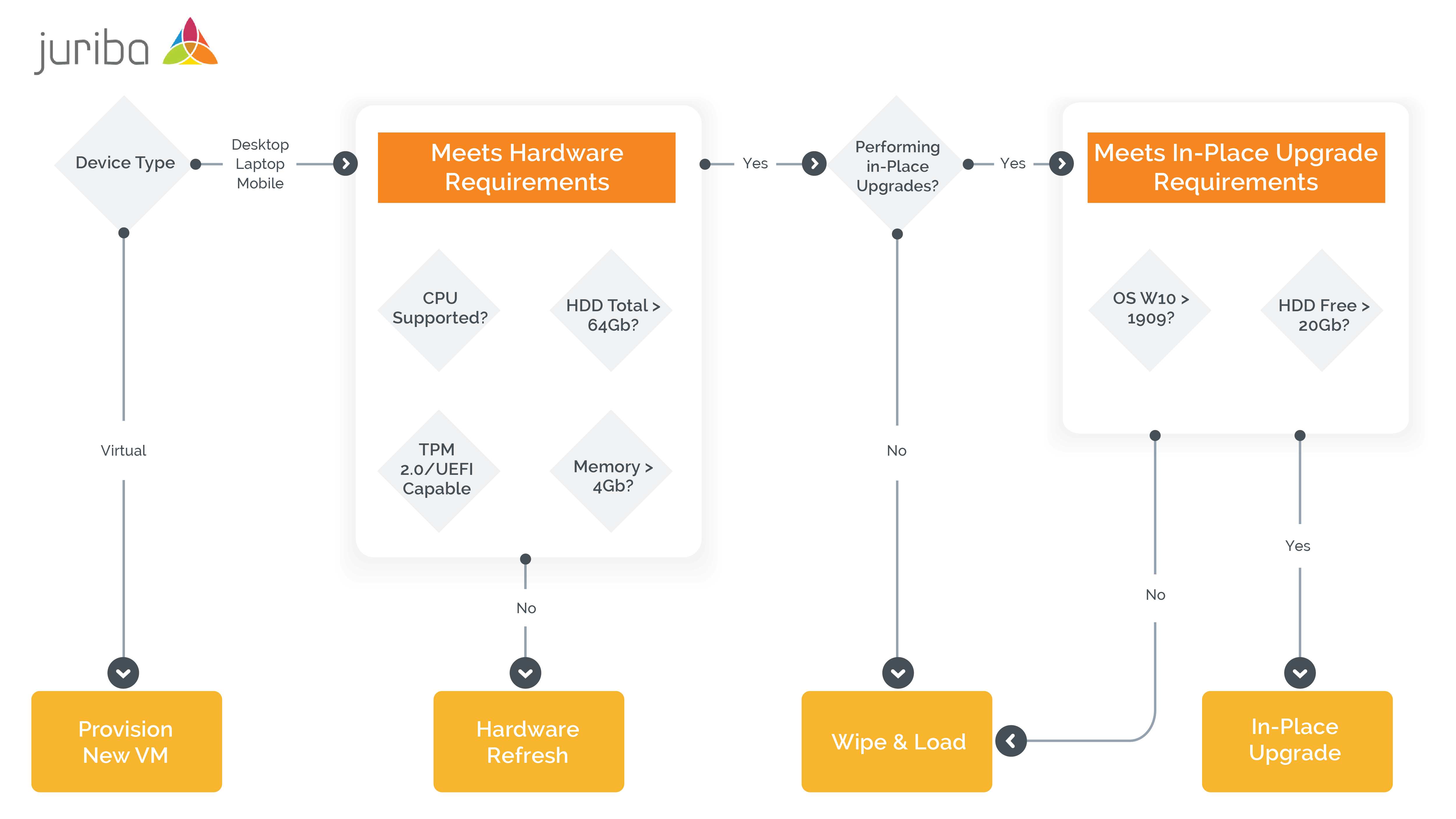 The first determination you will have to make is whether your asset is a physical device or a virtual desktop. If it is the latter, you simply provision a new virtual machine. However, if you have a physical desktop, laptop, or mobile device, you will need to check the hardware requirements. Does it have more than 64 GB in free storage and 4 GB in memory available? Does it support TPM 2.0 and is it UEFI capable? Does it have an Intel 8th Gen / 1 GHz processor? If the answer to these questions is no, you will have to do a hardware refresh.
In reality, almost all of your machines are going to have 4 GB of memory, the vast majority are going to have that latest security chipset, and a lot of your machines will have more than 64 GB of hard drive available.
If your hardware meets those minimum requirements, you can decide whether or not you would like to do an in-place upgrade. In order to qualify, your devices need to run on Windows 10 Version 1909 or newer and have 20 GB of HDD available. If — and only if — those conditions are met, then you can migrate through an in-place upgrade. Otherwise, you will have to do a wipe & load.
With Juriba's new Windows 11 Hardware Compatibility Assessment Dashboards, you can not only determine quickly how many of your devices will fail, but you can also drill down into the "why". As you can see from the screenshot below, you immediately get a quick overview the total number of devices you have to migrate, how many of those are hardware compliant, which manufacturers and models are included in your estate, and much more.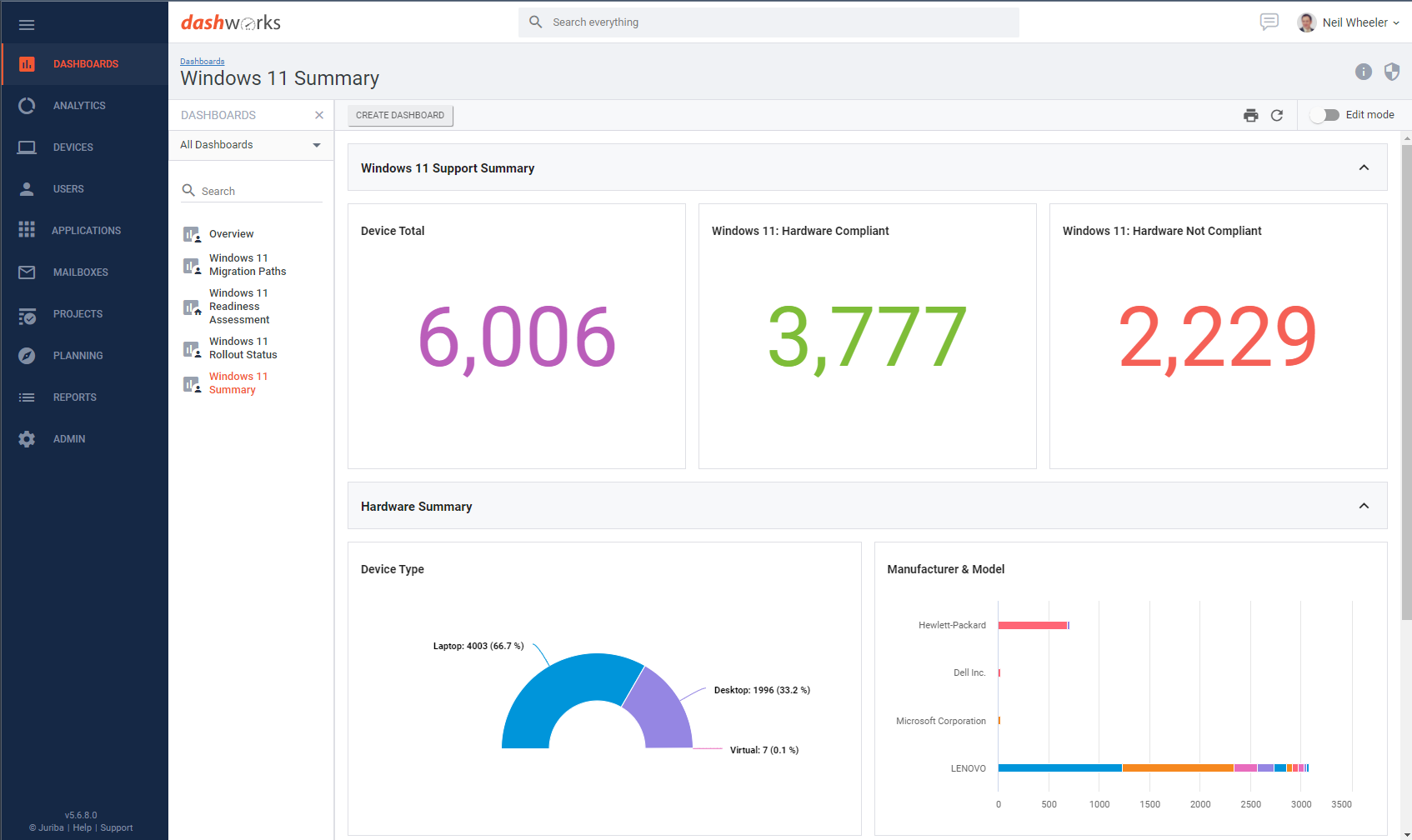 From there, you can drill down deeper to get more detailed insights into your hardware environment to check which Windows 11 hardware requirement is causing issues. This includes Secure Boot Enabled (UEFI), TPM Enabled, TPM Versions, which CPU is supported, what the CPU architecture looks like, and more.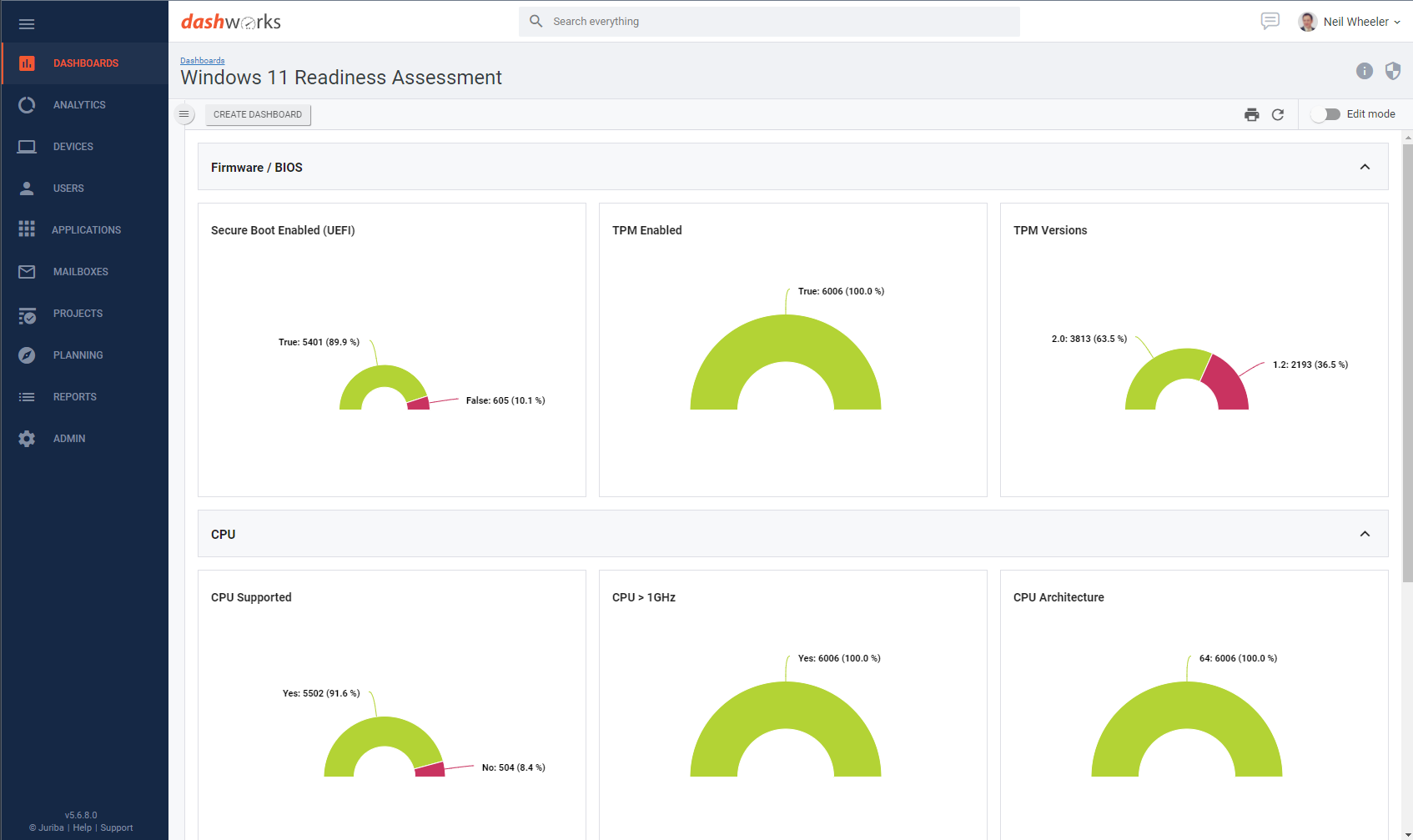 Finally, you can analyze the impact of your progress by showing you how many assets are red (blocked from migration) or green (ready to go) by applying filters, e.g., by device type and manufacturer as shown below. As you can see in the screenshot, you can determine which laptops are causing issues and which are ready to migrate.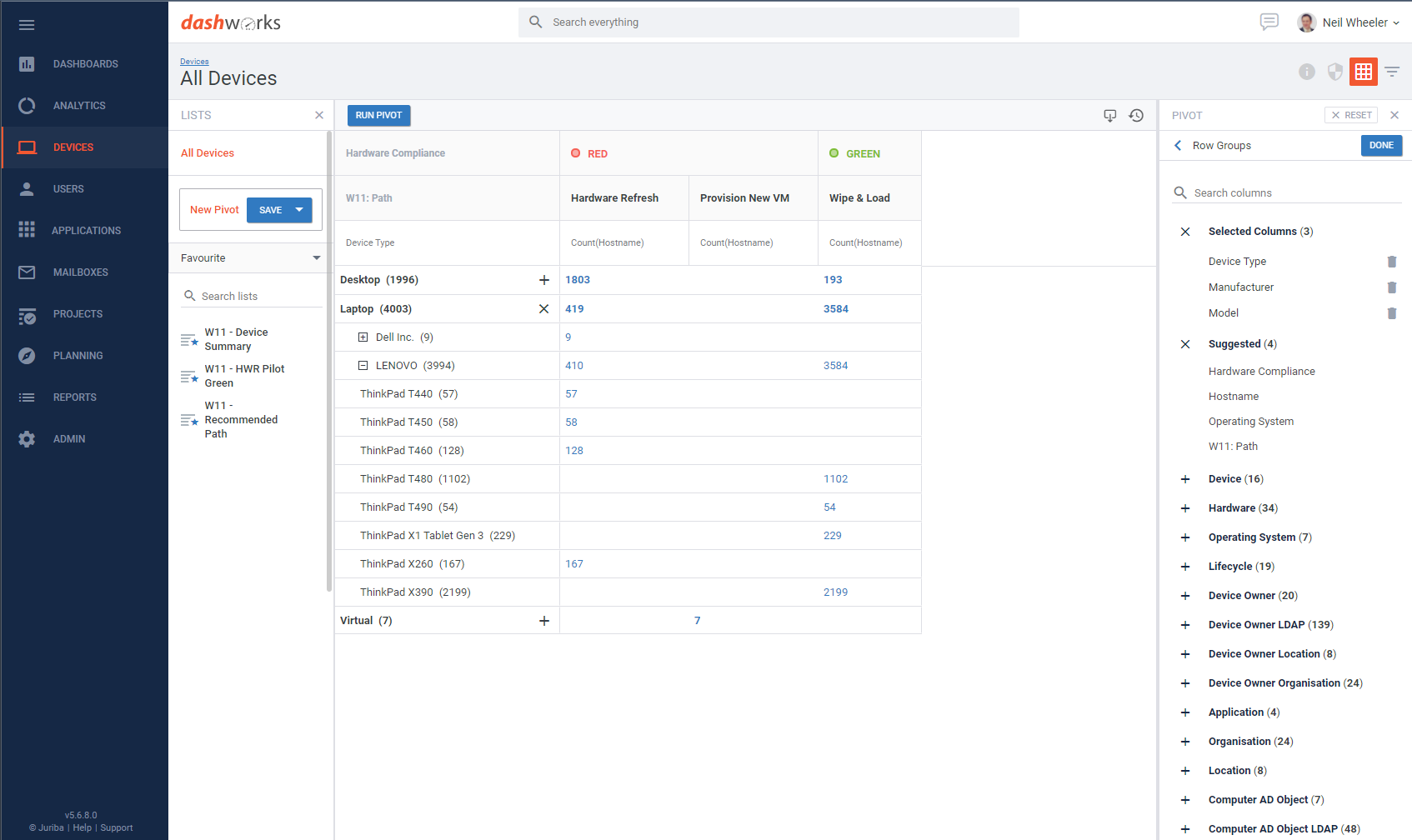 39% To 68% of devices in enterprise environments won't fit the Windows 11 hardware bill
Knowing what the exact specifications are is obviously helpful, but how impactful are these specs in real-world enterprises, and how will this impact your Windows 11 migration path strategy decisions? In order to answer these questions and provide better guidance to our customers, we took a closer look at data gathered from 350,000 enterprise devices from two very large organizations that are early adopters of our Windows 11 Assessment Service.
We found that a whopping 39% of devices in a recently refreshed estate and 68% of workstations in a slightly older environment did not meet the hardware prerequisites of Windows 11. These devices are in warranty and running on the latest seventh-generation processor but they will not be supported on Windows 11. We believe these results to be representative of other large IT environments, so you should expect to fall somewhere in that range.