(Updated: This article has been updated to reflect Microsoft's new Windows 10 Servicing terminology to align better with its Office 365 servicing language.)
As you begin to move your organization to Windows 10, one of the most important considerations will be your servicing option.
The choices for Windows 10 Servicing can be confusing. There is the Windows Insider Preview, the Semi-Annual Channel (Targeted), the Semi-Annual Channel and then the Long-Term Service Channel. Which one of these is right for you? What is the difference between the options? How does this choice impact your Windows 10 deployment long-term? And what is "Servicing" anyway?
What Is Windows Servicing?
The concept of "Servicing" (which was referred to as "Branching" or "Branch Management" for the past two years until Microsoft updated its terminology) goes back many years and represents how Microsoft has traditionally written and serviced Windows. The company issued each release from a particular branch of the Windows code, and provided updates to each release for its lifetime. This concept still applies now with Windows 10, but it is much more visible because of the increased frequency of upgrades. Microsoft's new model gives feature updates and new capabilities on a continual basis.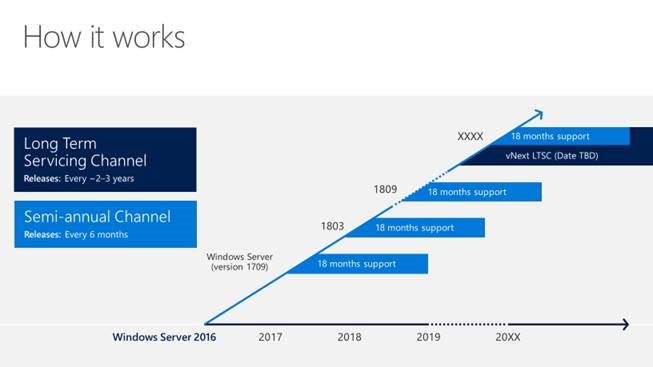 (Image Credit: Microsoft)
It is worth noting that you can upgrade your business to Windows 10 without choosing a particular servicing channel (in essence you disable the option), and you can mix and match based on your particular situation. Please refer to our new blog post for more information on the Windows 10 Servicing Update and Upgrade Timeline.
With that in mind, here are details on Windows 10 Servicing to help you get ready:
Windows Insider Program
Enterprise IT Project Managers opt for the Windows Insider Program to preview and try out new features before they are officially released. If your aim is to get access to upcoming improvements ahead of time to support your logistical planning, it makes sense to go with the Windows Insider Program.
This option is best if you are prepared to give feedback on new capabilities and features and are willing to be a bit of a pioneer by validating Windows 10 compatibility with your current hardware and software installations. The time and effort you expend on this testing will be worth it for the advanced knowledge you gain.
Examples of usage include IT testing on dedicated lab machines and IT administrators deploying upgrades on secondary computers and other devices that won't hold up current workflow.
Semi-Annual Channel
In the first two years after releasing the initial Windows 10 version, Microsoft has published each new version on the Current Branch first, followed by the "enterprise-ready" Current Branch for Business four months later. However, since this was sort of an artificial, from Microsoft prescribed timeline as to when you can upgrade your broader business user base, they have changed the rules along with the new support timeline and terminology.
Now, Microsoft will only publish one, and only one, version into the Semi-Annual Channel and it is up to your organization to determine which users will be assigned to your internal pilot and which will be part of the bigger rollout later.
Any user signed up for the Semi-Annual Channel (Targeted) option will receive the latest version as soon as it becomes publically available. IT teams and piloting groups in the enterprise find that they can use this path to get a jump on validating compatibility with critical applications as well as how to best take advantage of Microsoft's latest features for Windows 10.
Once that internal pilot phase is completed and you are ready to move into broader deployment, you can make this new version available to all of the remaining users. By staging your rollout using deployment rings, you have more time to test for hardware and application compatibility and other potential deployment issues before rolling it out to the majority of your business user base.
Long-Term Service Channel
Organizations that would get the most out of the Long-Term Service Channel (LTSC) option (fomerly known as the Long-Term Servicing Branch) tend to rely on specialized and mission-critical devices such as POS equipment in a retail environment or computer systems that control the operation of machinery in a factory.
The LTSC option gives your organization a stable version of Windows 10 that includes zero new features (and, therefore, nothing new for you to test and integrate). Microsoft says it will continue to support this long-term servicing option with security updates far into the future. The company provides the LTSC as a separate Windows 10 image for the enterprise, leaving out some apps, such as Windows Store and Microsoft Edge.
The Right Windows Servicing Option Depends On Your Internal Culture
How fast you are able to roll out the latest Windows 10 Update depends on your corporate culture, your willingness to provide feedback as part of the Windows Insider Preview and your deployment strategy and tooling. More conservative industries, or verticals underlying regulatory requirements, will be more hesitant to move too quickly, while others, such as some retail and consulting firms, opt for early access to new features to gain a competitive advantage.