When you get ready to embark on a major IT transformation undertaking, such as a hardware refresh or desktop virtualization project, you might ask yourself: "How can I be more efficient?" or wonder if there is any other solution out there that is not spreadsheets. Then you come across Dashworks, the central control and command center for enterprise IT migrations and schedule a demo. Great, we are excited to walk you through our exciting product that has helped migrated more than 4.5 million assets worldwide. To enable you to get the most out of your demo, we compiled the 20 most frequently asked questions — so you can focus on your specific questions and how Dashworks can help your business!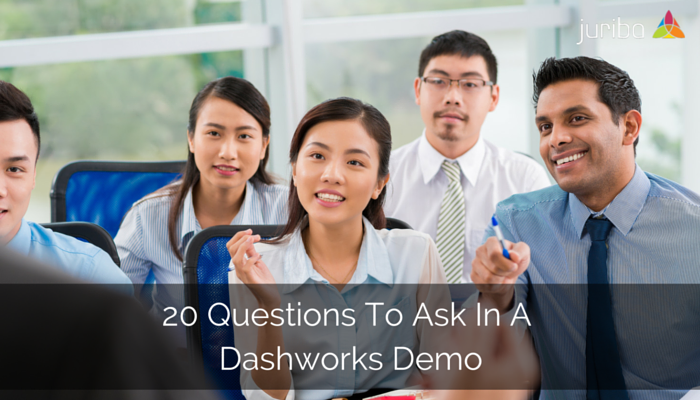 How long does Dashworks take to install? Dashworks usual takes 2 days to install. The first day is the actual installation of the software, the first night is the scrape of the environment and the second day is used for data validation.
What infrastructure does Dashworks need? Smaller customers require a single virtual machine with database and the web server running together, scaling up to larger clients that may need a physical database server and two virtual web servers.
Where does the data come from? The data that Dashworks uses comes from the Active Directory, SCCM or equivalent, Exchange Server, as well as various HR location/department, application readiness or custom fields feeds.
What browsers do you support? Dashworks supports Internet Explorer 7 and above, Google Chrome, Firefox, and Safari.
What scenarios can Dashworks be used for? Our product can be used for a variety of IT transformation use cases, including Email and Office 365 migrations, Active Directory migrations, Windows 10 upgrades, as well as hardware refreshes, software asset management, and desktop virtualization projects.
Can Dashworks be run on-premise or in the cloud? Yes, both scenarios are possible. However, due to the nature of the data we hold, most data warehousing implementations are done on premise. Connections are always handled over HTTPS.
Can you use it for non-Microsoft related products? Yes, Dashworks supports a variety of other software solutions, such as LANDesk, Lakeside SysTrack, Dell Migration Manager and Lotus Notes/Domino.
What roles are available in Dashworks? There are four main roles: the system administrator who is responsible for the data feed configuration, system health monitoring, and such; the project administrators who oversee the project governance team and set up all the project specific configurations; as well as the readiness/scheduling users and read-only reporting users.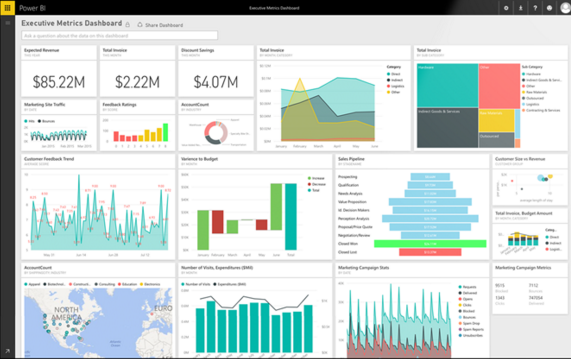 What dashboards are available? Dashworks is all about applying Big Data to your IT migration, and, therefore, provides a variety of pre-canned dashboards out of the box, for example, Deployment Calendars, Schedule Dashboards, Application Dashboards, Group Dashboards, Computer/User Readiness Tracking, and Engineer Task Tracking.
Can I create my own dashboards? While all questions can be answered by applying the included filters, customers can choose to add their own dashboards into Dashworks using Microsoft Power BI (e.g., custom geolocation visualization).
How does Dashworks' Self-Service work? Dashworks provides IT project managers with unique self-service capabilities that allows users to self-assess their software and hardware requirements, provide context only they can give and verify their information. Users get sent a URL that is specific only to them. Once they click through, they will use a wizard to self-assess their information and application needs. This is an incredibly useful tool as it not only cuts down on the applications you later have to rationalize, package, and migrate but also your license costs associated with the unused software. One Juriba client was able to rationalize about 100,000 application entitlements this way!
Can you send automated email communications? Absolutely. One of the key benefits from a user perspective is Dashworks' ability to manage email communication. In Dashworks, you can use templates for each email, which are highly configurable and in different languages. The emails can be switched on and off, be sent to different people, include attachments, and even consider mail delegates.
Can I update tasks in bulk? Yes, of course. You can do so by using the bulk update wizard or through CSV uploads.
How do you handle application management? Dashworks takes an initial inventory of all applications in your IT landscape that are included in the project scope, then gets rid of junk apps (such as drivers, hot fixes, etc.), onboards the rest of the applications into the project, and rationalizes by categorizing them as retire, keep, and forward path. Then the product tracks the application readiness and compares the current vs. target state.
Can you automate deployment with Dashworks? Yes, you can through customization using the Microsoft Deployment Toolkit, SCCM, and Active Directory to push the target state deployment based on the t- schedule.
How do I get data out of the system? All screens have "Export to XLS" functionality, so it is easy to always be in control of your data. However, you can also use the custom reporting section to create custom reports within Dashworks.
What happens at the end of the project? That is a good question. Most of our customers initially buy Dashworks for a short-term project. However, you can use Dashworks for other projects as well. And because you invested all this time and effort in this first project, the next project will spin up much faster and accurately, providing even greater return on investment. It even allows you to be in control of your IT landscape on an ongoing basis and paves the way to making Evergreen IT a reality.
How do you compare to other tools? Dashworks offers a unique approach to enterprise IT migration. There is no other tool on the market right now that does what Dashworks does. The only competition we have are instantly out-of-date spreadsheets that have to be passed around — but that's not really competition.
What does Dashworks cost? The cost of Dashworks varies greatly on the type of license you choose, size of your company, and the scope of your project. All Dashworks licenses come with a small consulting package to help you make the most out of our software and ensure that you are set up properly. For more detailed pricing, please ask our sales team during the demo.
How is Dashworks licensed? Dashworks licenses are very flexible. We offer perpetual licensing which includes the software license and maintenance or fixed term licenses. The software is sold based on an in-scope seat license — meaning you only pay for what is actually in scope for your project.