Historically, end-user devices have largely been rolled out as part of big-bang OS migration projects. This meant that bulk hardware purchases were made, and the associated end of life for those devices would come all at once for the next cycle. As we move towards an Evergreen IT estate, enterprises are looking to smooth out and automate this hardware lifecycle management process to fit within the weekly, or monthly capacity of the existing teams.
For example, if a team can replace 100 devices in a week, they can manage 5,200 devices in a year and 15,600 machines within a 3-year lifecycle. Managing 100 devices at once rather than 15,600 at once makes the hardware replacement process a LOT smoother and more manageable.
Over the past year, we have added a lot of new functionality and have improved existing features in our Workplace Automation Platform, Dashworks, to help you manage your hardware refreshes as a smooth, continuous process. Below, I have highlighted three of these features.
Device Lifecycle Management Incl. Device Forward-Pathing
One of the biggest issues with hardware refresh management is that you simply don't know what you are dealing with. For example, it's unclear how many devices are approaching their warranty end date within the next three months, how many have an expired warranty, how many have been replaced because they broke or were lost, and so on.
Dashworks' new Device Lifecycle Management (available since release 5.6.8), gives you a complete solution for hardware lifecycle management, allowing you to manage devices from birth to end of life. No more guessing. Simply use the Lifecycle filters to track device lifecycles. You can:
Maintain the device status throughout its entire lifecycle (from purchase initiation to disposal),
Map any devices to their replacements (Device Forward Pathing) and maintain an audit history,
Track the reason for its replacement, e.g., due to loss, breakage, or approach of lease or warranty end date all within Dashworks,
View the current device status (e.g., on order, in stock, in use, to be replaced/upgraded, or retired),
See the full replacement history of a device,
Understand and manage relationships between devices (which device will be replaced with which), and
Plan a device forward path (and view "Next Replacement Devices")
Automatically merge the records for the new device with that discovered in the hardware inventory system (e.g. MECM).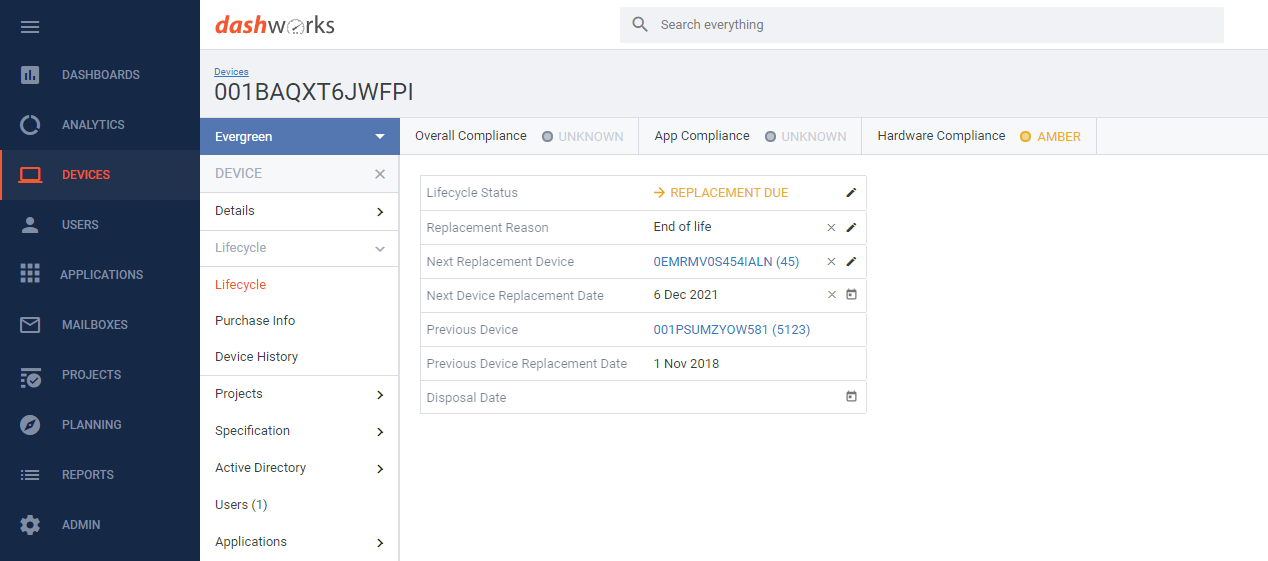 By having these actionable insights, decisions and actions around suitable replacements, device disposal, and recycling become super simple. Now, if I know I have the capacity to replace X machines a month, I can filter my hardware inventory to identify the devices that I want to replace (i.e., that have an already-expired or soon-to-expire warranty or lease date), set their lifecycle status from "In Use" to "Replacement Due" (since Dashworks 5.7 this can now be done in bulk or for individual devices), select the date for their replacement and even disposal, select their replacement device from my hardware stock, and map the old to the new devices.
Now, an engineer can simply create a list of devices due for replacement in the next seven days. Once those are upgraded, the status of the new devices can be set to "In Use" to put them back into active lifecycle management.
Hardware Stock Inventory Management
Usually, a hardware vendor will provide so-called birthing data about devices on order to the procurement team. This includes the manufacturer name, a model number, the purchase date, an order number, the order status, shipping information, serial numbers and possibly asset tags. The data has to be combined with the information about the existing device to create a complete picture, and is crucial for managing your hardware lifecycles.
Traditionally, you had to wait for your new devices to be connected to the company network before you could add this information, and waiting is frustrating when your new machines are already ordered. With Juriba Dashworks' new Stock Inventory Data Import, you can now plan for hardware refreshes and break-fix incidents more precisely and faster as you can import this data and manage new devices before they are connected or appear in the Microsoft Endpoint Configuration Manager (MECM).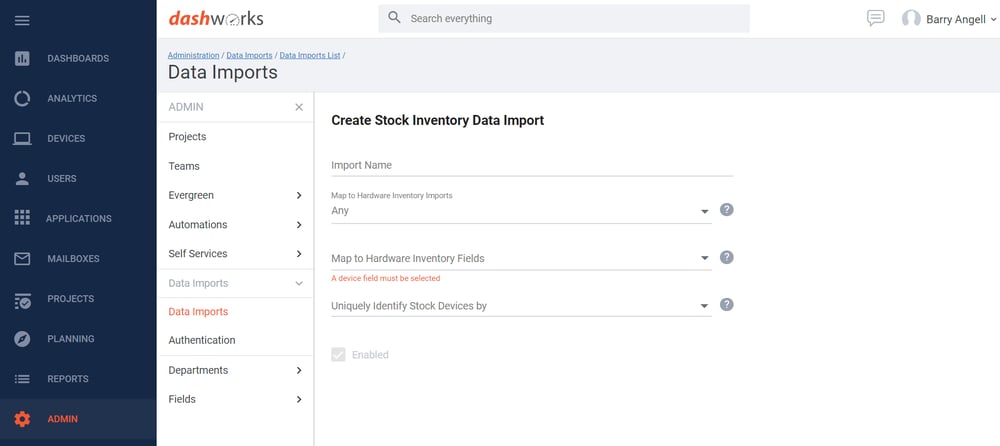 In addition, since Dashworks 5.6.4, you can now track the progress through the CSV upload process in a convenient "Steps" context panel on the right-hand side. Here you can see which step you are currently on, how many more steps are in the process, and the details of the steps you have completed.
Hardware Compatibility Rules
Sometimes, for example, when planning a Windows 11 migration, hardware compatibility is an important factor in determining which devices need to be refreshed. Using Dashworks' Hardware Compatibility Rules, you can define rules (e.g., that reflect the Windows 11 hardware requirements) to determine a computer's hardware compatibility status (and therefore that of its owner/user). The compatibility status of the computer's hardware is combined with the application compatibility statuses to give an overall compatibility status for each object.
You can view any active rules in your Dashworks portal in the Active Rules tab. You can create new rules or modify existing ones, increase or decrease the precedence of the rule, or delete a rule. Any changes (displayed in the Modify Rules tab) will not take effect until Dashworks has re-processed its data during the ETL (transform).
What About My Existing ITSM Tooling?
Many organizations already manage device lifecycle within their ITSM tooling such as ServiceNow or Remedy. So why has Juriba developed this functionality within Dashworks? Well many customers told us that they needed to continue managing hardware lifecycle as a perpetual program of work and Juriba's Dashworks is the market leader for those types of initiatives. The problem is not dealing with individual requests or individual new device procurement, but more with creating repeatable processes for the lifecycle that are triggered automatically, involve automated inputs and outputs, and generally smooth the process both for the end user and the procurement team.
By complimenting the existing ITSM tools for approvals, ordering, provisioning and engineer assignment, Dashworks can provide the glue and orchestration for a seamless end user experience. For our customers, the ability to create a perpetual project, assign workflows for replacement, trigger tickets into the ITSM tools, read status, pre-provision applications, enable self-service scheduling and manage the end-to-end workflow with extensive and flexible reporting gives the best of both worlds.
Conclusion
Whether you are looking to manage your hardware lifecycle as Evergreen IT or are preparing your estate for a Windows 11 migration, Juriba Dashworks will provide you with not only all actionable insights in a single pane of glass, but also the automation and management capabilities to minimize the effort and resources involved.
Finally, I want to mention our Windows 11 Assessment Service which includes a hardware assessment component. If you are unsure if Dashworks is for you or simply would like to dip your toes into managing your hardware with Juriba, our assessment service is the ideal way for you to experience the above-mentioned features!