Today, we are wrapping up our 3-part blog post series about Evergreen IT by taking a closer look at software catalogs.
(If you have missed the previous blog posts you can find them here: Software Asset Lifecycle Management - Dream or Reality as well as How Important Is Application Normalization For Your Next Windows 10 Migration And Evergreen IT?)
As your organization evolves, and demand for business flexibility increases, the proliferation of applications each end user works with tends to grow in volume as well. Consequently, your IT department works to cope with an increasingly complicated application environment, and you begin to dream of initiating a Software Asset Lifecycle Management project that will bring order to the chaos.
What's the name of that application Employee A is running on her desktop? Is it the same as the similar title running on another computer by Employee B in a nearby department? You cannot get an accurate idea of how much software you have deployed if you don't know the names and locations of each installed application.
If software is not named consistently, you might see one copy that includes the name of the vendor and another that has a truncated or abbreviated version of the same name, or a different vendor entirely (think Macromedia and Adobe - both now Adobe Systems). It might seem like you have five applications when actually you only have five names for the same thing.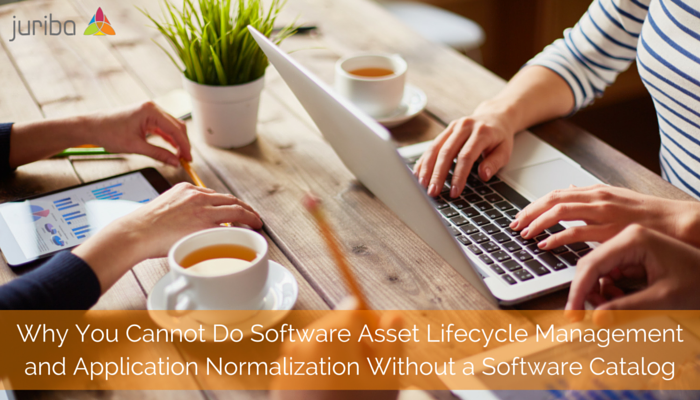 To take care of that issue, you turn to application normalization because your team needs to get a firm idea of what is the exact nature of software being used by everyone in the company. Are your users working with widely varying versions of a particular application, causing untold conflicts as they try to collaborate? Can you create a list that shows which software is due for an upgrade?
If only there was a repository of software components that holds all the information that could make sense of all these versions, different names and match them up to make software asset lifecycle management as well as application normalization even feasible.
To that end, Juriba is a partner with BDNA, an industry leader that offers software catalog functionality that enables IT asset and project managers to see upgrade path information and version consolidation (which is complementary to our Dashworks solution).
The BDNA Technopedia "categorizes and aligns a constantly growing number of hardware and software products to deliver consistent, accurate and business-relevant information for strategic decision-making as well as tactical functions. It receives more than 2,000 updates daily, ensuring that it always remains up-to-date."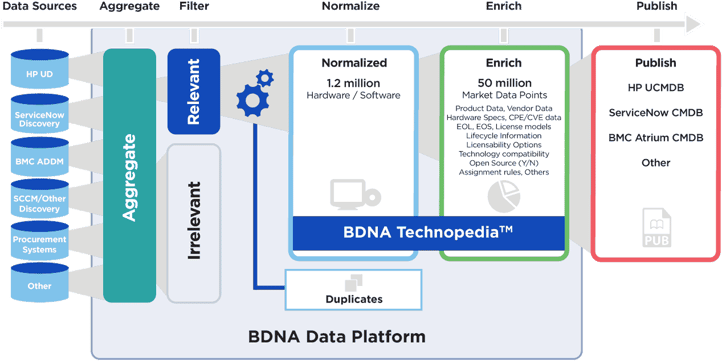 Image Credit: BDNA
Why Do You Need a Software Catalog?
Only a person with virtually unlimited financial resources would maintain a company where the employees do not know or seem to care about the full extent of their software assets.
When enterprises need to tighten their belts, they start to care more that their employees are buying similar applications that overlap in function or capability, or worse still, are not using them at all. With a proper SALM process and software catalog, you don't have to fear software vendors coming to your premises unannounced for a thorough application audit, verifying that you have paid up in full.
BDNA provides a number of solutions to help IT departments manage their assets. It is well known for Technopedia, which the company bills as the biggest and most comprehensive source for market intelligence on enterprise applications. It includes more than 1.2 million products and has more than 87 million data points about these products, giving you consistent, useful data to better manage your applications.
How Does a Software Catalog Help You Achieve Evergreen IT?
If you dream of a more stable IT environment, Evergreen IT is the framework you want to establish. Slower, more gradual, but more frequent upgrades cause less of disruptions than a big bang deployment. But you need a catalog listing all your software assets before you can make any intelligent determination about what to keep, what needs an immediate upgrade and if there are redundancies that require immediate pruning.
You'll be spending less on software licenses because your catalog has helped you identify the most useful and the least effective applications currently resting on computers in your facility.
By matching a software catalog and normalization processes to the Dashworks IT migration management engine, we can remove the major hurdles in both implementing and actioning an evergreen application management service, as well as providing a platform for the big projects such as Windows 10 that benefit hugely from an application estate that is normalized out of the box.