Enterprises and other large businesses operate at a pace that doesn't always fall in line with the latest offerings from major hardware or software developers. This includes Windows 10, of course. Even when it makes sense to deploy the newest version of an application or operating system for end user efficiency, you have to envision your entire organization's affected processes and all the various software solutions currently in place.
How much training will end users require? How will you integrate everything, including valuable legacy systems with the new one? Typically, larger companies will bring on a third party to consult and help them determine the best approach for system integration. After all, it's best to work with experts who have done this task multiple times for a variety of companies, since you get the benefit of all their experience and the strategies they've developed to make transitions go more smoothly.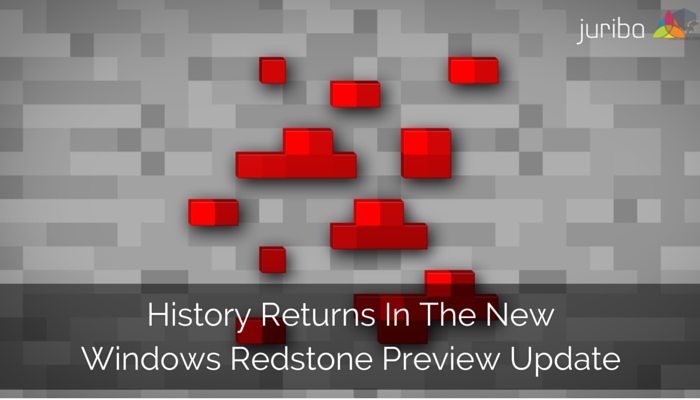 What Is Windows Redstone?
Your organization may still be using Windows 7 or Windows 8 and are still preparing for an upgrade, or you may already be working with Windows 10. In any case, it makes sense to keep on top of developments from Microsoft. Since launching Windows 10 last year, the Washington-based software giant is using the codeword "Redstone" as it readies two updates for this summer and fall. The name Redstone comes from the game Minecraft, which Microsoft recently purchased. Much of this release has been refactoring of the OneCore code which forms the basis of the "single platform, multiple device" ethos. The refactoring is designed to enable faster feature development and release in the future.
What the Update Means for Enterprises and other Large Businesses
As IT professionals know, Windows Insiders enjoy access to Microsoft's latest preview versions so they can test and evaluate the software as it evolves. The feedback from these users is invaluable to everyone and gives Microsoft a sense of what their end users are truly clamoring for in future builds.
In the recently released Windows 10 Redstone build 11102, one major feature has emerged, noted an article from Windows 10 Update. After receiving numerous requests from end users via the Feedback app, Microsoft has given them a history menu in the new Web browser, Microsoft Edge.
History Menu In Microsoft Edge
Now your users can right-click the back and forward buttons when using Edge to see quickly in a new tab the websites they recently visited. Clearly, this will be a significant convenience, as access to history is a core function of Web browsing that people are accustomed to using every day. It can help you order your thoughts when doing major research, for example. Users who are in the habit of keeping multiple tabs open in their browser as a workaround for the lack of browser history may find it acceptable to use fewer tabs or just one browser window, putting less of a burden on their system and making work less complicated.
However, any businesses that accepted the lack of a history menu as a form of security by obscurity will need to instruct their employees about the need for discretion with their computers. Failure to keep the computer secure with a robust password could expose the history information to nosy criminals who could use the details to help them with social engineering, discover company secrets or details about research the employee is conducting, and so on.
You should also keep in mind that as with any new software endeavor, bugs are bound to emerge. Some users reported problems with the Magnifier tool and experienced crashes when they tried using accessibility programs. In other cases, using this build of Windows 10 caused some Wi-Fi card incompatibility when working in conjunction with certain unnamed pieces of equipment, according to the article at Windows10Update. These are minor problems, and you can expect them to be sorted out later in the year.
Conclusion
You may not have the time and resources to check out every new preview of Windows 10 Redstone build iterations, but it's always a good idea to follow these developments so you can be ready for the official rollout of upgrades later in 2016. To help you navigate the intricacies of migrating users to Windows 10, having advanced knowledge of fixes and new features will make things easier for your IT department.