A few days ago, we introduced our new Evergreen IT Readiness Scorecard, which I believe is going to be a game-changing resource for many Heads of Modern Workplace, VPs of EUC, IT managers, and many others as it allows you to assess what drives and what slows down your Evergreen IT readiness efforts. The neat thing about the assessment is that you will receive a completely bespoke 30+ page PDF report with the results, recommendations, industry benchmark comparisons, and much more.
So, if you haven't already taken the assessment, head over to it after reading this article. But now, let's have a closer look at the framework behind the Evergreen IT Readiness Scorecard, which criteria we included, how they are structured, and how they relate to each other. I will also include two sample questions for each criterion to give you a deeper understanding of what the expectations are.
The Evergreen IT Readiness Scorecard Framework
The framework underpinning the scorecard is based on the three pillars of any successful Evergreen IT strategy: People, Processes, and Tools. These are essential as it requires organizational, process, and technology change management to do this well and effectively.
The second dimension of the framework is stepping you through the four distinct phases everything in IT goes through to some degree, whether you are doing continuous hardware refresh management, Windows Servicing, Office 365 upgrades, application management, or all of them in parallel. These phases are Plan, Build, Deploy, and Operate. They are meant to be understood in an agile fashion, so as soon as we are in "Operate", we are preparing the next planning cycle. Rinse and repeat.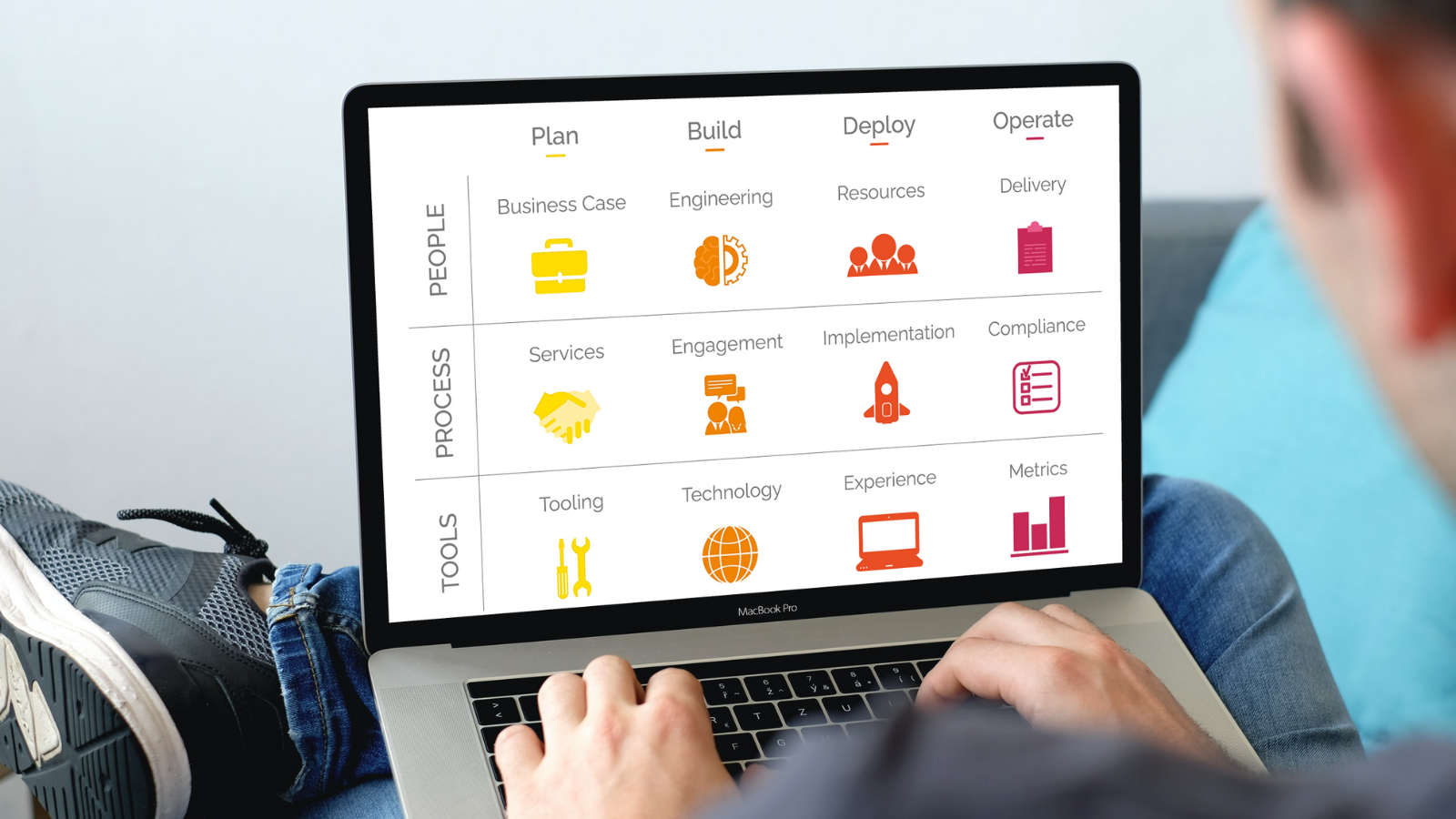 You put those together, and you have your 12 Evergreen IT Readiness criteria. Let's have a closer look at each of them. After a short description, I will include two sample questions that will, I hope, serve as an inspiration for the types of questions you should ask yourself for each category.
1. Business Case (People/Plan)
Evergreen IT is a strategic business initiative that should be sponsored by the senior leadership of an organization. A well-defined business case that clearly articulates who, what, where, when, and how Evergreen IT will be delivered will help assess the benefits and costs of Evergreen IT, build the necessary support within your organization, and ensure its successful execution.
Do our senior IT leaders truly understand and fully sponsor our Evergreen IT program?

Have we identified the resources and management accountability that will drive our Evergreen IT program?
2. Services (Process/Plan)
Organizations need to have a clear understanding of Evergreen IT services in order to create an automated, mature, and scalable Evergreen IT service. To succeed with Evergreen IT services over long periods of time, organizations need complete understanding and transparency across the entire organization. Longevity and strategic relevance can be achieved by establishing an Evergreen IT service framework that allows new initiatives to be slotted in quickly and efficiently. Each initiative should be well documented, have clear goals and measurable KPIs, and deliver high ROI.
Are our business units engaged throughout the creation and testing of new Evergreen IT services?

Do we fully understand the cost of delivering each Evergreen IT service?
3. Tooling (Tools/Plan)
The proper tooling is essential for the success of Evergreen IT as you are managing tens or even hundreds of thousands of interdependencies. The proper tooling will underpin your ability to deliver a mature and automated Evergreen IT service. However, be careful when selecting point solutions as they can increase delivery complexity. Look for a mature Modern Workplace Management platform that provides your entire team with a single pane of glass (command & control center) from which they can run intelligent automation and smart workflows, and that has sophisticated self-service as well as automated communication capabilities.
Do we use automation and workflows to create repeatable and standardized delivery methodologies across the organization?

Does our tooling provides a single pane of glass for planning, workflow management, reporting, and deployment?
4. Engineering (People/Build)
The ultimate goal of Evergreen IT is to keep the organization's IT infrastructure secure, up-to-date, reliable, and efficient. This typically includes regular upgrades, patching, and other maintenance activities across all devices, applications, operating systems, and underlying platforms. In order to be successful, this IT management methodology requires not only that many systems and business processes are well integrated but also that engineering teams put a rigorous process in place to evaluate, build, and test their Evergreen IT management tooling. In addition, the tooling should be scalable, robust, and work effectively within the IT environment.
Are the business units involved in every stage of our Evergreen IT technology and process engineering acceptance work?

Do we regularly review, maintain, and update our tooling and processes?
5. Engagement (Process/Build)
There are two ways to ensure and increase engagement when providing an Evergreen IT service: 1. by creating transparency through reporting on successes and issues, which allows all stakeholders to see the value that Evergreen IT is bringing to the organization, and 2. by creating great user experiences. To maximize the involvement of end users, engagement and communication plans should be designed to meet the needs of all users, regardless of their role within the organization. Full engagement and understanding from all users are necessary for an enterprise-wide Evergreen IT initiative to be successful.
Do we understand the user journeys for each Evergreen IT process?

Are our Evergreen IT management processes designed to engage with end users in the way that best suits them?
6. Technology (Tools/Build)
Evergreen IT lifecycle management should be a core pillar of your end-user technology platforms in order to manage these most efficiently. The platforms need to be able to communicate effectively with each other through documented APIs or other methods. By doing this, you will be able to keep on top of the latest changes and ensure that your services are always up to date. In addition, it will enable you to quickly and easily roll out new features and updates to your users without having to worry about compatibility issues.
Can our technology platforms can supply highly accurate source data for Evergreen IT to operate at scale?

Are we able to adopt new technology quickly (e.g., accelerate AIOps adoption opportunities)?
7. Resources (People/Deploy)
Evergreen IT necessitates the collaboration of several resources across IT and the business. Evergreen IT is more successful when IT and the business work together closely, with a dedicated budget and clear roles and responsibilities.
The right team needs to be in place with the necessary skill sets to deliver the service from engineers to resources, and, of course, team performance should be regularly reviewed.
Are our internal team members and other resources adequately skilled to deliver our Evergreen IT service?

Do we maintain a roles-and-responsibilities matrix for every aspect of our Evergreen processes?
8. Implementation (Process/Deploy)
Evergreen IT services can be launched with minimal fuss by having a well-defined implementation plan. Be sure to have a well-defined and documented plan based on a tried-and-proven methodology or framework to avoid later problems, and use intelligent algorithms-based automation and smart workflows wherever possible to optimize upgrade paths. In addition, all implementation team members should communicate effectively and work from the same information (a single pane of glass).
Do we have the budget, people, and specialist support to fully and correctly implement our Evergreen IT processes?

Is each Evergreen IT process fully documented and maintained frequently? Is the documentation stored within a central repository that has common access?
9. Experience (Tools/Deploy)
You know that delivering the best possible end-user experience is one of the most important criteria to get right, as user experience and engagement not only drive the perception of your Evergreen IT service offering across the entire organization, but also determine whether your service offering succeeds or fails. Users should be engaged with simple-to-use and understandable technology that meets them where they are, such as self-service tools and personalized emails. It is paramount to offer services that users will enjoy interacting with in order to succeed.
Can our end users easily find out what is happening to their IT environment and provide input into the process?

Do we have an appropriate way to measure customer satisfaction with our Evergreen IT program?
10. Delivery (People/Operate)
With the proper tooling and processes in place, delivering Evergreen IT services should be relatively straightforward now. However, even if you are managing one or two Evergreen IT service streams, you will have to manage countless dependencies and objects, send 5-7 email communications per user per upgrade, and much more. This part of the process has the highest manual workload and the most significant potential for something to go wrong. Thankfully, this means that there is a tremendous opportunity for improvement! Utilize intelligent automation and smart workflows to do the heavy lifting for you and significantly accelerate the process.
Do we deliver our Evergreen IT services in an entirely consistent way across the organization?

Do we have the right skills and experience across our delivery teams to deliver successful Evergreen IT service workloads?
11. Compliance (Process/Operate)
Evergreen IT services must be compliant with relevant regulations. Use robust compliance methodologies to ensure that your services are on track and behaving correctly. In addition, all participants need to cooperate in order for Evergreen IT services to be successful. Without full cooperation, the process will not work and will prevent assets from performing securely and adequately. It is necessary to define what compliance means and which KPIs to track in order to deliver an effective Evergreen IT service.
Do we track and report on our Evergreen IT process and delivery in real or near-time for compliance?

How do we track and report on exceptions to the Evergreen IT agreed-on delivery schedule? Do we mitigate emergencies quickly enough?
12. Metrics (Tools/Operate)
Metrics are a critical component of any project. They help you measure progress and identify areas for improvement. It's essential to identify the metrics you want to track before starting a project and to choose tooling that makes it easy to track those metrics over time. Data should be visualized in easy-to-understand dashboards, and reports should be accessible to key stakeholders and team members. Doing so will help you improve Evergreen IT over time.
Do we regularly review and improve predefined metrics to measure the effectiveness of our Evergreen IT processes?

How efficient are we in managing and measuring lifecycle metrics for hardware, applications, OS, and platform?
The Evergreen IT Readiness Scorecard is an excellent way to start charting your organization's course toward an Evergreen future. It gives you a framework for thinking about the people, processes, and tools you'll need in order to successfully manage continuous change. And it provides a helpful roadmap for understanding where you are in the journey and what comes next. If you're interested in learning more about how well your organization is prepared for Evergreen IT, take the assessment and find out your score.