Last week we explored why so many enterprises are stuck on a particular Windows 10 version, 1809 to be exact. This situation is causing millions of enterprise users to run on an unsupported operating system which not only opens them up to possible cybersecurity vulnerabilities but also impacts their performance and productivity.
However, with the somewhat surprising announcement of Windows 11, many possible upgrade strategies have to be reconsidered — leaving many organizations asking which version they should upgrade to if they are currently stuck on Windows 10 version 1809, and whether or not they should consider Windows 11 at this point.

Let's have a quick look at your options and then discuss the best path forward.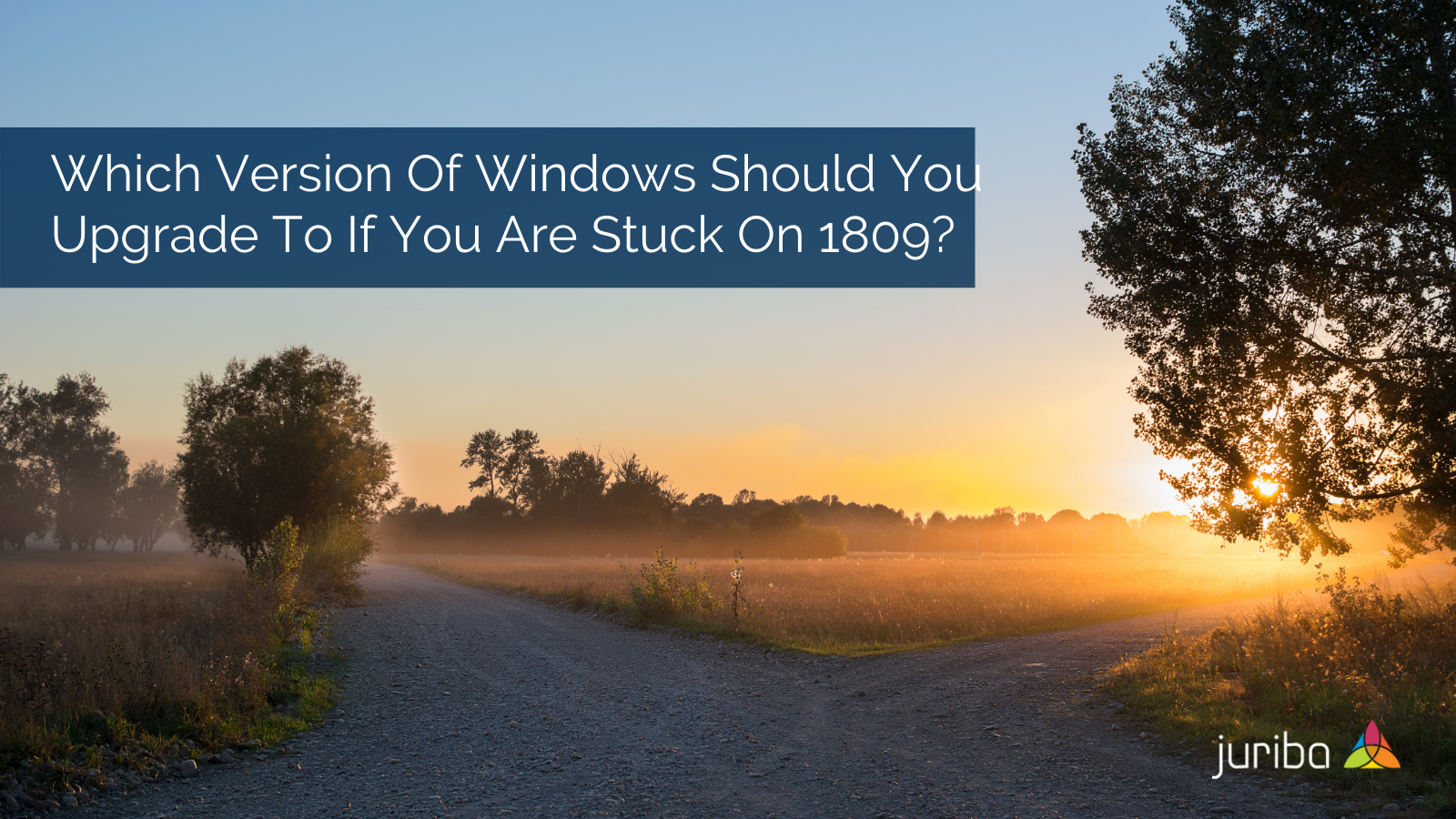 Current Windows 10 Options Enterprises Can Migrate To

Before we look at the Windows 10 versions that are viable options for enterprises, let's exclude some versions right off the bat as they are not a choice for most large organizations at this point because the process of migrating to them will take longer than the time that remains in their currently communicated support window. These versions are:
Windows 10 1903 (EOL: December 8, 2020)
Windows 10 2004 (EOL: December 14, 2021)
This leaves the following currently released or announced Windows 10 versions:
Windows 10 1909 (EOL: 05/10/2022 - 13 months of support left as of August 2021)

Instead of being packed with new features like the previous releases, this is more of a service pack that Microsoft used to release for prior versions of Windows. While it offers some respite (it goes EOL May 10th, 2022), it doesn't offer the innovation, added security features, and productivity boost that many had hoped for.

Windows 10 20H2 (EOL: 05/09/2023 - 24 months of support left as of August 2021)

This is an incremental update to the previously released Windows 10 20H1/2004 release, but it i

s a stable and well-received version. It also includes useful Group Policy settings for Windows 10's MDM support, making it easier to manage devices with a lighter touch via Intune.

Windows 10 21H1 (EOL: 12/14/2022 - 15 months of support left as of August 2021)

Compared to its predecessors, this version of Windows 10 includes only a few improvements, such as improvements to

Windows Defender Application Guard and

Windows Management Instrumentation via Group Policy. It also includes

support for multiple Windows Hello-enabled cameras and the new Chromium-based Edge browser. However, this version has not officially been declared "enterprise-ready" and has seen some issues (e.g., printer) that are currently being resolved.

Windows 10 21H2 (estimated EOL: 05/09/2024 - 30 months of support starting from release date)

This upcoming version is expected to be released in October 2021. Code-named Sun-Valley, this possibly last Windows 10 version will bring UI changes, but overall it is expected to be a much smaller update.

Going with the current support model, this release would receive 30 months of support.
In addition, it is important to point out that, while communication coming from Microsoft has been slower than usual regarding the 21H2 features, there has not been any communication about any new releases after that. However, since no other Windows 10 version has been spoken about by Microsoft and the official end-of-life of Windows 10 is 10/14/2025, Microsoft will either bring out another version or extend support for this one.
Which Version Of Windows 10 Should You Upgrade To? Or Should You Wait For Windows 11?
If you are stuck on Windows 1809 and you DO NOT HAVE Workplace Automation / Evergreen IT Management in place: Because you will have to put your optimized continuous upgrade management strategy in place — including associated processes, automation, and tooling — you will most likely take 12 months or more to migrate any larger estate. This means that you will probably have to make two skips before reaching Windows 11. We recommend that you first move onto Windows 10 20H2 and then probably onto Windows 10 21H2 or another possible fall update after that before moving to Windows 11.
If you are stuck on Windows 1809 and you DO ALREADY HAVE Workplace Automation / Evergreen IT Management in place: Because you have already laid the groundwork to manage the next upgrades faster, you will probably want to make it your first priority to move as quickly as possible to Windows 10 20H2, and then you can start evaluating Windows 11. Be sure to keep in mind any changing hardware requirements and application compatibility issues that might require a hardware refresh and/or application management work as a piggy-back project.
If you are currently running 1903 or 2004: Even if you are on one of these currently supported versions, you only have five months until they run out of support. This means that you have to act fast! While it definitely is worth investigating, evaluating, and maybe even already testing Windows 11 for a small group of technical pilots, your main priority has to be bringing your users onto a new version. Skip 1909 and head straight for 20H2 or 21H1 to ensure your business users will have an extended support window.
Of course, I would be remiss if I did not mention the possibility of moving directly onto Windows 11. It is already available in the Windows Preview Program and for people signed up in the Dev Channel. However, while it definitely is a good idea to download and test drive a copy of Windows 11, it is best to wait for a more polished Windows 11 preview which should be released in the Beta channel in August and September. But for the vast majority of enterprises, it is much too early to discuss moving to Windows 11 immediately.
I would love to hear what you think! In the comment section below, please sound off about where your organization is right now and what your plans are for moving to Windows 11. Will you skip towards an advanced version or take a more cautious approach? I am looking forward to your comments.