Can you believe that it has already been a year since Windows 10 launched?
On the other hand, so much has happened since then that one could also be surprised that it has only been a year. As we are approaching the first anniversary of the initial Windows 10 release, it becomes clear that despite having been the fastest adopted Microsoft operating system ever, Microsoft has work to do to reach the company's self-imposed goal of 1 billion devices by 2018.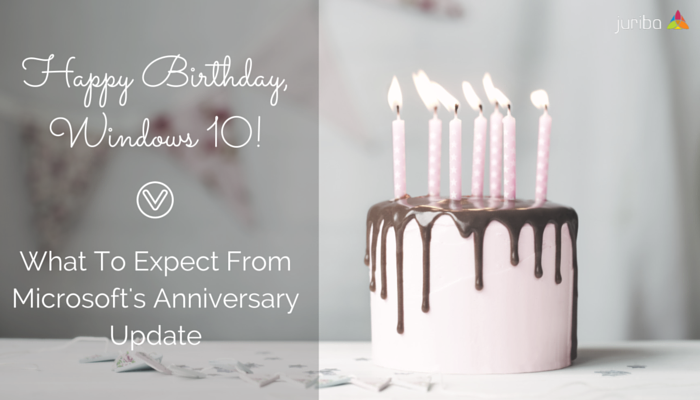 Home Users Now Have To Pay
In a bid to move more people faster on its latest version of Windows, Microsoft made Windows 10 available as a free upgrade to home users of Windows 7 and Windows 8.1. — at least until July 29, 2016. After that milestone, they would need to pay for an upgrade.
Enterprise users of Windows 10 did not get a price break with the upgrade but will move to a subscription model for Windows 10 now. Read on for more information about the Windows 10 anniversary update, set to be released August 2, 2016.
Windows-as-a-Service Subscription Model For Enterprises
Instead of letting you buy Windows 10 outright to run on your various devices, Microsoft has announced the switch to a subscription model for enterprise organizations. The cost to use Windows 10 in the new Software-as-a-Service or SaaS mode is $7 per user, per month, according to a recent report from PC World.
The name of this version of Windows is Windows 10 Enterprise E3. This falls in line with the software giant's previous subscription offerings of Azure and its Office 365 software suite. In addition, Yusuf Mehdi, Microsoft's Corporate Vice President, Windows and Devices Group explained at the Worldwide Partner Conference 2016:
"Starting in the fall, small-to-midsize businesses can now get the latest Windows 10 enterprise security opportunities like we demoed just a little bit ago all on their business devices, all for the price of $7 a seat a month. For the price of a cup of coffee and doughnut a day, you can now get enterprise-class security on a per-user subscription basis."
New Improvements and Features
Besides the changes in pricing, there are a number of innovations and improvements that are available with the Windows 10 Anniversary update:
Major Security Update
IT professionals with cybersecurity threats weighing heavily on their mind will be glad to know that Microsoft included two new major security updates for use with their Enterprise Windows 10 Anniversary update.
With breaches typically costing organizations $12 million on average, Microsoft now offers Windows Defender Advanced Threat Protection. With WDATP, your system will automatically detect, check out and respond to emerging malicious threats that menace your enterprise's technology infrastructure.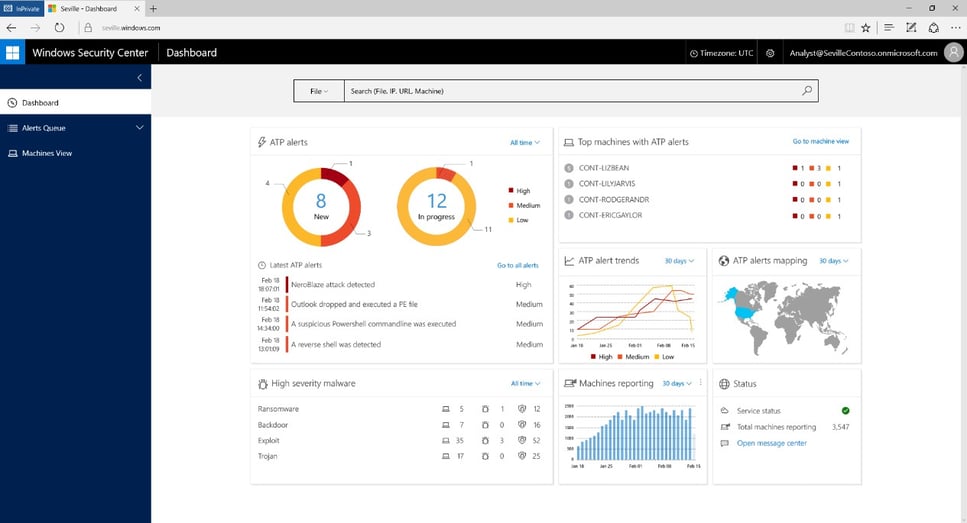 (Image Credit: Microsoft)
Also included in the Windows 10 Anniversary update is a feature called Windows Information Protection. Seasoned IT workers may recall Microsoft previously referred to this capability as enterprise data protection. This feature enables organisations to better control how their data is moved (e.g. ability to stop an email containing company data to be sent to a personal mailbox).
Windows Ink
Windows Ink is now in Windows 10. People who write a lot of notes with a pen will appreciate Windows Ink, which lets them use a standard pen and tablet for tasks such as taking notes, drawing a product sketch or writing a comment on a screenshot image. Apps in Windows 10 will include Ink functionality, letting you write down annotations when browsing the Web with Microsoft Edge or tracking a customized travel plan over a map in Maps. Microsoft have made it very easy to embed Ink into your application with just a couple of lines of code.
Cortana
Microsoft's digital assistant, Cortana, has been updated so it will store crucial information and call it up when you need it, such as where you parked a car in long-term storage or the exact sequence of your airline frequent flier login number.
Cortana works across platforms, so you'll get information such as directions on both your phone and tablet or PC.
Microsoft Edge
The latest version of the Microsoft Edge web browser now further supports standards such as HTML5 and CSS3.
It also uses less processing power to render web pages, so your users will require fewer CPU cycles and less memory to load the same websites now.
Impact
Any company that does business as a cloud computing services provider will appreciate the Windows 10 update, according to Yusuf who said:
"If you're a cloud service provider, this is now phenomenal because now you can offer our intelligent cloud, Office 365, and Windows 10 on a subscription service, and then bring to bear your value-add in terms of the management and consulting capabilities,"
Terry Myerson, Microsoft's executive vice president of the Operating Systems group noted that,
"Windows 10 represents the first step of a whole new generation of Windows, unlocking new experiences to give customers new ways to work, play and connect."
If there was ever a doubt about the utility of Windows going forward, Myerson explained during an earlier technical preview that,
"This will be our most comprehensive operating system and the best release Microsoft has ever done for our business customers, and we look forward to working together with our broader Windows community to bring Windows 10 to life in the months ahead."
Conclusion
While enterprises on average enjoy a 188% return on investment and a 13-month payback, according to Forrester Consulting, as well as enterprise-grade security and management capabilities that Windows 10 has to offer, the new subscription model will need some getting used to.