While remote work has become increasingly common over the past years, the ongoing global COVID-19 pandemic has certainly pushed the fast-forward button. In fact, a recent survey published by the World Economic Forum revealed that 98% of the workforce would like to work remotely at least some of the time for the rest of their working lives. This newly found work flexibility is especially important for working parents. In the past, only 46% of parents wanted to work remotely, but the pandemic has increased that number to 86%.
Here at Juriba, we have been working remotely from the start and we certainly understand the benefits that come with the new demand to be able to Work-From-Anywhere. We also know it comes with its own set of challenges, e.g., maintaining a healthy work-life balance and making a point to facilitate open communication and collaboration.
One of the biggest key performance indicators of how well your remote employees will do is their digital experience. How well are their applications performing? Are they getting stuck somewhere? Do they have trouble logging in? In a remote work environment, it is their experience that determines their work satisfaction and therefore their productivity. Today, I want to take a closer look at what Digital Experience Management (DEM) is and why you should care about it.
What Is Digital Experience Management?
As with so many buzzwords, Digital Experience Management (DEM) can mean different things to different people. For example, the analyst company IDC has a very broad definition of DEM as they include all "software markets that enable organizations to plan, create, source, curate, manage, deliver, measure, and analyze the content that drives relevant, personalized, and engaging digital experiences — whether via the web, mobile apps, social channels, or connected devices."
For us, Digital Experience Management is a little more concrete and aligns more with Aternity's definition. It focuses on monitoring and improving the end-user experience as well as the performance of all applications, networks, and the cloud-native ecosystem. In addition, DEM requires detailed and real-time performance and health insights as well as automatic self-healing to resolve potential issues for all in-scope laptops, desktops, VDI, and mobile devices.
Why Is DEM So Important — Especially Now?
With many more people working remotely, IT issues are starting to creep up and end-user experience issues are becoming much more exaggerated. Managing devices and applications remotely is very different from managing them in the office, and the user experience can also differ vastly depending on the home network, internet connection, VPN reliability and other factors, This additional complexity means organizations must find ways to carefully monitor and improve IT performance other than simply relying on users telling them about any occurring problems. It means a fundamental shift from the highly reactive service provided in the past to a more proactive service driven by new insights and methodologies. Digital Experience Management will keep a close eye on predefined thresholds, alert you, and even self-heal these exceptions as they happen.
How Aternity & Juriba Together Provide Tangible Value
Digital Experience Management is not a new concept and there are many players offering great DEM solutions. Forrester, in their Forrester New Wave™: End-User Experience Management, Q4 2020, identified and evaluated 11 of those vendors, namely 1E, Aternity, Catchpoint, Lakeside Software, Liquidware, NetMotion Software, Nexthink, Tanium, ThousandEyes, Vast Limits, and VMware. Each of them has a slightly different focus and feature set.
Aternity, a Digital Experience Management specialist we recently partnered with and work together with often on customer sites, stands out as a strong performer. The DEM specialist is rated on par with Lakeside Software and higher than Nexthink (the two leaders of the quadrant) feature-wise (especially for their telemetry collection, dashboarding, and cloud capabilities) and outperforms many of its competitors strategy-wise.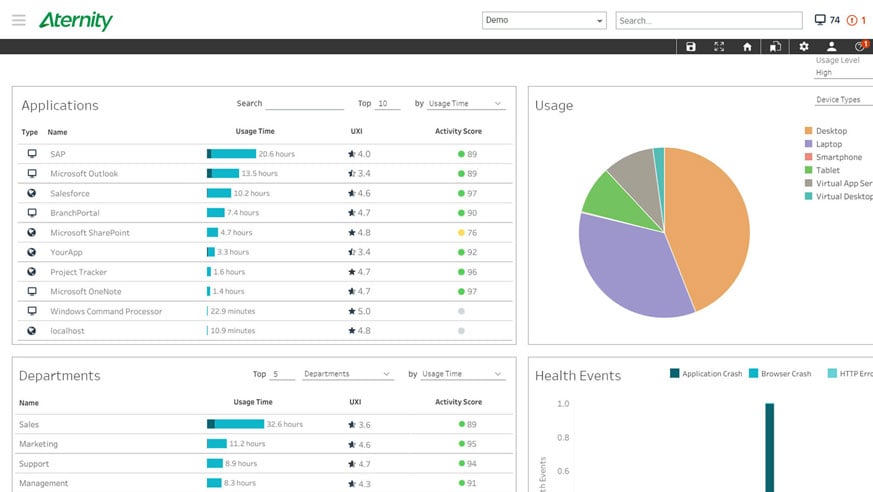 Personally, I like the fact that Aternity provides IT managers with an overall experience score as well as details such as which applications are taking longer to load or which you might be waiting for a response on. This is very insightful as the tool generates a real-world actual performance analysis which is translated into a score that then can be benchmarked against the rest of your data or compared to other companies.
Another feature I like is their synthetic monitoring which uses functional testing scripts to emulate the relationship between users and applications. Regularly performing synthetic monitoring can give you valuable insights into availability of applications and their performance benchmarks. For example, the script could be a user going into Microsoft Teams and sending a file or a picture to a colleague. Aternity's synthetic testing will track that it is working and operating effectively. If an abnormality is found (e.g., something is taking twice as long compared to everyone else), it might be indicative that something is about to crash or needs attention on the back end.
This kind of testing brings a new level of intelligence into your IT transformation project or Evergreen IT Management — especially if coupled with Juriba Dashworks. Whereas before IT managers often had to make decisions based on availability, location, or perceived convenience, you can now bring intelligence into the actioning of the data.
The use cases for this are endless. For example, with Juriba Dashworks and Aternity together, you can:
Choose the best platform for each user based on organizational, device, application and job role
Rightsize the machine that users should receive when running a virtual migration based on that intelligence.
Proactively manage software licensing or identify a bunch of hardware that needs replacing because it's not performing very well, whether it's in life cycle or not.
Measure pre-migration and post-migration performance, e.g., if managing a Windows 10 to 10 upgrade, you can see exactly how it was performing before the upgrade and how it's been performing after, and then you can apply that to the rest of the estate. This means you can figure out if there's any proactive issue resolution that can be initiated now and will make the problem go away for other people who do the upgrade.
Monitor device and application performance during an upgrade cycle. For example, you might discover an application performing poorly during your pilot or preview rings, and decide to halt any further rollouts for users with that application until an investigation has completed.
These are just a few ways that Dashworks and Aternity can provide tangible value, particularly around application usage, application performance, device health, device score, user experience score, and more.