Choosing the right Office 365 offering for your business can be confusing.
For one, the updates and versions of Microsoft's ever-changing and expanding cloud-based productivity suite are hard to keep up with. Additionally, with seven versions now on the market, it can be hard to distinguish which one is the best for your company, since they all cater to different business needs and sizes. In some cases, it may even be that a mixture of service plans might be most cost effective for your requirements.
So it is crucial that you and your IT department stay abreast of what's available from Microsoft. The software giant currently offers seven versions of its Office 365 plans for business and enterprise organizations. Determining which is the most appropriate Office software for use in your business will reduce operating costs and ensure that you have the features and support that your team requires.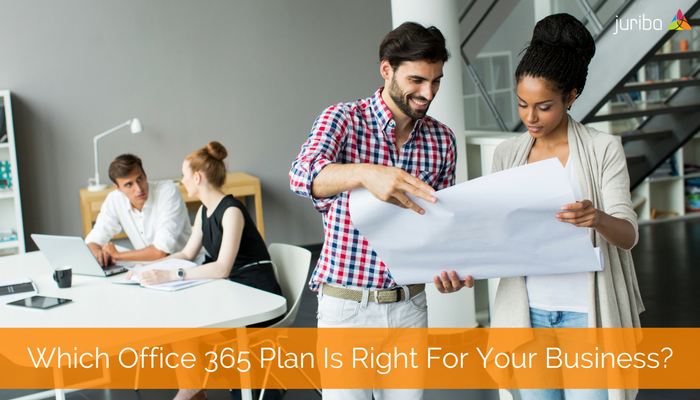 Office 365 Business Plans
Microsoft offers four "Business" plans within its cloud-based productivity suite. When first starting out, many organizations begin with Office 365 Business Essentials, Office 365 Business, Office 365 Premium or Office 365 Business ProPlus. We will discuss each of these in the following paragraphs, but in essence, they provide cloud-based email, calendar and Office applications either purely on cloud or with optional local installation.
These versions have a sweet spot of 250 users, but a maximum user capacity of 300 users. If your business is greater than 300 users, skip to the Office 365 Enterprise Plans section below.
Office 365 Business Essentials
As befitting its name, Office 365 Business Essentials is the most basic of Microsoft's offerings for companies. Microsoft charges just $5 per user per month (annual commitment is required) or $6 per user per month on a month-to-month basis. Your users will get new features as they are rolled out during your subscription period.
Each end user gets business-class email, calendar, and contacts including a 50GB inbox as well as 1 TB of storage in the cloud. While on the go, users can work with Word, PowerPoint and Excel documents from within a browser. Additionally, your employees have access to Skype for Business that provides them with HD video conferencing, web conferencing, VoIP, and instant messaging.
Office 365 Business
Office 365 Business costs $8.25 per user per month when purchased as an annual commitment, or $10.00 per user per month when purchased on a monthly basis. This plan does not include business email, Skype for Business and a few other productivity apps, but it includes all the new Office 2016 apps that can be locally installed on your employees' desktop PCs, Macs, Android, iPad and Windows tablets and smartphones (up to 5 devices per user). Office applications are constantly upgraded so your users will always access the latest version from wherever they are. The OneDrive for Business system enables you to store files in the cloud for syncing, backups and ease of collaboration.
Office 365 Business Premium
Microsoft charges $12.50 per month for each user under an annual commitment. Your team will get all of the tools in Office 365 Business Essentials as well as Office 365 Business integrated into a single plan. What's more is this version includes email with 50 GB mailboxes for each user.
Below are all three versions in an overview. (Image Credit: Office Blog)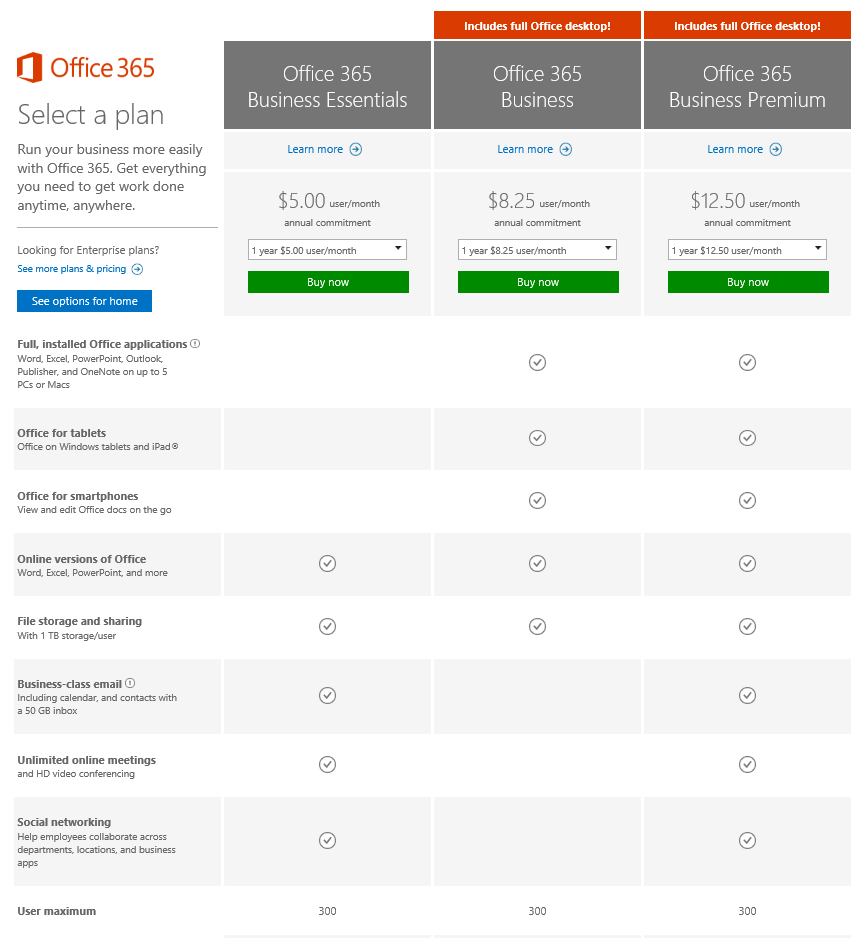 Office 365 Business ProPlus
In addition to the above mentioned business plans, Microsoft offers a fourth option: the Office 365 Business ProPlus. With a yearly commitment and a monthly fee of $12 per user, this is the more advanced version of Office 365 before the Enterprise versions of Office. There is the full suite of Office applications to run on Macs or PCs.
In addition to the locally installed and in-cloud Office apps, Office 365 ProPlus features self-service Business Intelligence in Excel. Your users will use Power Query to connect with data and then model or analyze it with Power Pivot. Visualization for reports and interactive maps are easy to set up with Power View and Power Map.
Also, if you are choosing between Office Professional Plus 2016 and Office 365 Business ProPlus, you should know that Office Professional Plus 2016 is connected to the hardware or device it is installed on, while Office 365 Business ProPlus is tied to the user. This means the employee can use the same license to install Office on up to 5 devices — reflecting your real-world business situations in your license estate and therefore making Office an operational cost instead of a software asset.
This is especially important for businesses implementing a bring-your-own-device (BYOD) strategy. With Office 365 ProPlus you can now de-activate Office on user-owned devices when people leave the organization, or if their devices are compromised.
Office 365 Enterprise Plans
In addition to the business plans, Microsoft's Office 365 line-up includes three "Enterprise" plans.
Office 365 Enterprise E1
For the smaller enterprise organizations that need something more robust than the ordinary Office 365 business plans, Office 365 Enterprise E1 is a great starting point. This plan comes in at $8 per month for each user, but volume discounts are available for Office 365 enterprise agreement customers (typically 250+ licenses) if you are purchasing through volume licensing.
With Office 365 Enterprise E1, your employees will have access to a rich enterprise-ready productivity suite that includes but is not limited to the following:
Business-class email through Outlook (accessible on the desktop or from a web browser using Outlook Web App) that comes with 50 GB mailbox per user and the ability to send attachments up to 150 MB
Skype for Business for online meetings with audio, HD video, and web conferencing over the Internet and broadcast

meetings on the Internet to up to 10,000 people

1 TB of personal cloud storage (through OneDrive for Business) that can be accessed from anywhere and that syncs with their PC/Mac for offline access
More effective team collaboration and communication with social networking (Yammer) and team sites.
Office apps included in the cloud:

Word, OneNote, PowerPoint, and Excel
This Office 365 Enterprise plan requires a reliable and fast internet connection since the entire offering is available only via the cloud, which your users will access through their browser. Since no applications are stored on your users' mobile devices you'll want to deploy a higher tier of Office 365 Enterprise if you have sales teams out in the field that needs to use Microsoft Word for example.
Office 365 Enterprise E3
While Office 365 Enterprise E1 offers enterprise productivity, collaboration and communication in the cloud alone, the next (and most common) version up, Office 365 Enterprise E3, adds locally-installed versions of Office products. In addition to the many enterprise capabilities of E1, E3 boasts more integrated collaboration capabilities coupled with advanced data security and compliance features, as well as better control for IT management:
Advanced Email: If compliance is a concern, you can leverage E3's archiving and legal hold capabilities as well as its unlimited storage capacities. In addition, you can help to implement enforcement by educating your employees on your data loss prevention (DLP) policies and policy tips via email.
Document & Email Access Control: Leverage Rights Management Services to restrict access to documents and email to specific people. You can also prevent anyone else from viewing or editing certain documents or emails, even if they are sent outside the organization.
Enterprise Application Management: Managing applications is a huge IT concern which your IT team can tackle with E3's Group Policy, Telemetry, and Shared Computer Activation.
Advanced Compliance Tools: The unified eDiscovery Center allows IT teams to search across Exchange, Skype for Business, OneDrive for Business, and SharePoint mailboxes with an integration with advanced retention, archiving, and analytics enables in-place, predictive eDiscovery, increasing relevancy while decreasing cost and risk.
Information Protection: Rights management, data loss prevention and encryption for Exchange Online, Skype for Business, and SharePoint Online help keep your content safe in email, IM and meetings, and team sites.
Unified Communication / Voicemail Integration: Hosted voicemail support with auto-attendant capabilities.
This version of Office 365 for Enterprise costs $20 each month for every seat in your organization. If your organization needs more advanced communication and collaboration, enterprises can purchase a PSTN calling and conferencing or Cloud PBX add-on.
Office 365 Enterprise E5
At a monthly fee of $35 per user, this is the most expensive and most powerful version of Office 365 Enterprise.
You get everything in the E3 version with some additional features such as strong analytic tools and some sophisticated security features to guard against viruses (including zero-day malware). If you have advanced communications needs, you should know that Office 365 Enterprise E5 also includes PBX services so you can manage your telephone system via the cloud:
PSTN Conferencing: With PSTN conferencing, your employees can

join Skype for Business conferences from any telephone by dialing a local access number or using their PC, smartphone, and browser with a single-touch option, as well as dial out from a meeting to add others when needed. This allows people to join in places where there is no Internet connection.

Cloud PBX: Use Cloud PBX to m

ake, receive, and transfer phone calls to wherever they are (home, office, or even on the road) without the need for a traditional phone system.

Advanced Security: One of the most anticipated features of E5 is the Advanced Threat Protection which helps defend enterprises against sophisticated threats hidden in emails, attachments, and links. Limit data with pre-assigned, two-factor-authenticated administrator approvals for greater control and transparency (Customer LockBox) and leverage other built-in features of Office 365 Advanced Security Management for enhanced visibility and control of your Office 365 environment.
Analytical Tools: Big Data is all the rage today. With E5, even your non-technical employees can make sense of all the data available to them using the live dashboards and interactive reports of Power BI. Delve Analytics leverages your communications and collaboration data to provide individuals rich insights to help get time back and spend it effectively.
No matter which option you choose, there are a few things you should consider before moving forward.
Consolidate & Rationalize Before You Choose
Instead of simply focusing on the seat number and being scared off by the label "Enterprise", it is worth looking into your current and near-future productivity needs and evaluating the three versions of Microsoft's Office 365 Enterprise E1, E3 and E5.
However, it is crucial to get an accurate understanding of what your organization needs, what Office licenses you already have in house (and which are being used) and how you could consolidate them. Consider whether you have other software or tools (e.g., video conferencing) you already have in house that could potentially be rationalized when moving to Office 365. Too often organizations move to the new platform without proper analysis, migrating mailboxes that haven't been used in months, calendar and room booking systems that are obsolete and data that should be archived onto lower cost storage. By tidying up beforehand, your migration and subsequent annual cost can be significantly reduced.
Mix & Match Different Plans
Last but not least, you should know that you can mix and match Office 365 plans. While the Office 365 Business Plans each have a limit of 300 users, the Enterprise plans are for an unlimited number of users. So, for example, depending on your needs, you can purchase 300 Business Premium seats, 300 Business Essentials seats, and 500 Enterprise E3 seats on a single tenant.
This represents possibly the biggest cost saving opportunity, especially if you can identify how your users are utilizing the Office suite today. By understanding the technology profile of each user, selecting the appropriate Office 365 plan and managing the usage profile on a monthly basis, you can flex up and down to ensure the lowest cost for your organization.