If your organization has been interested in upgrading Microsoft's Office 365, you should know that the company just released its long-awaited Enterprise E5 version of the Office 365 plan on December 1. Now there are four versions of the plan from which to choose. You will need to examine the options in terms of cost and which features your team must have and those you may be able to do without.
The latest plans for the enterprise are Office 365 Enterprise E1, Office 365 Enterprise E3, Office 365 Enterprise E5 and Office 365 ProPlus. Microsoft has discontinued versions E2 and E4, as those features are now included in the new plan options.
Each of the four plans is available on a subscription basis using cloud computing services. The monthly user fees for the plans are based on an annual commitment. An unlimited number of people in your organization can use the software.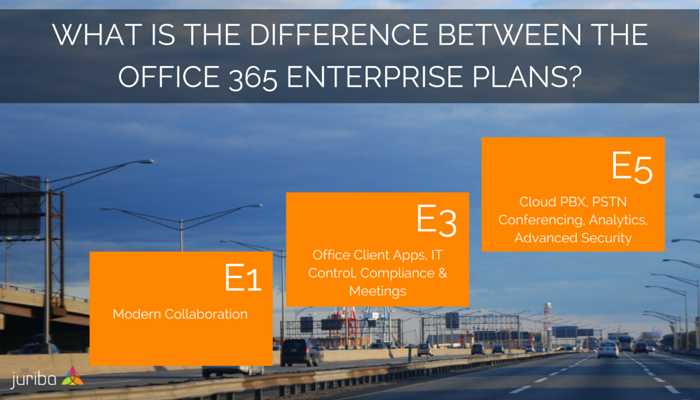 IT project managers with limited time and resources to absorb all the details about each Office 365 plan can ease their burden by working with a trusted third party to consult and advise on the best approach for deployment. In such cases, getting an overview of each plan will help speed up the conversation so you can get back to business.
Office 365 Enterprise E1
This entry level version of Microsoft's software is the least expensive of the plans, at $8 per month per user. Your users must have an Internet connection to use E1 because this version does not include installed versions of the applications.
If your organization has people working out in the field, relying on tablet computers or smartphones to do their work, E1 is not for you because it does not install applications on mobile devices either. You do get online versions of familiar Office products, such as Excel, PowerPoint and Word. Each user gets 1 TB for storing and sharing data, as well as 50 GB per inbox with Microsoft's business-class email, calendar and contacts.
Office 365 Enterprise E3
Microsoft's midrange plan costs $20 per month per user. The main benefit here over the less expensive E1 and ProPlus plans is that this includes fully installed Office applications: Excel, Word, PowerPoint, Outlook, Publisher, OneNote as well as Skype for Business.
You can install these applications on as many as five PCs or Macs and on up to 5 mobile phones and 5 tablets per user. Being a cloud services solution, there are also online versions of Excel, Word and PowerPoint and other Office apps, so your users will not have to rely on devices with software already installed.
Office 365 Enterprise E5
For maximum flexibility and horsepower, you'll want to go with the E5 plan. It costs $35 per month per user. In addition to a full installation of all Office applications on users' devices, you gain access to advanced security to protect your organization's data against heretofore unseen malware and viruses, with additional protection against zero-day exploits.
E5 is the only plan that includes analytics tools. It is also the sole version that enables PSTN conferencing to facilitate Skype for Business meetings by letting participants connect over mobile phones or landlines. For companies that require more communications options, E5 also includes cloud PBX services to give you cloud-based call management (placing, receiving and transferring calls on multiple devices).
Office 365 ProPlus
The ProPlus version of Office 365 requires a monthly fee of $12, making it a suitable compromise between the E1 and E3 plans in terms of price. The main distinction here is that ProPlus has enterprise features but no email.
If your organization already has a preferred client for email or relies on webmail, this may be the best plan for you from a budget perspective. Likewise, if you already have an employee portal or dashboard in place, you won't miss the fact that Office 365 ProPlus lacks an intranet site, corporate social networking or a corporate video portal. Companies that need advanced security or analytics tools should skip ProPlus and go with the E5 solution.
Conclusion
There's no question that your company will need to either begin using an Office 365 plan soon or are already using an older version of Microsoft's suite of business applications and are in need of an upgrade. Once you settle on the plan that will meet all of your budgetary and user requirements, it will be time to develop a plan for upgrading and integrating the applications with the rest of your information infrastructure.
Additional Resources: Microsoft: Compare All Office 365 for Business Plans