There is no question that Office 365 is taking the productivity world by storm.
According to a new study by Bitglass that scanned the cloud environment of more than 120,000 companies, 59% of organizations are using either Google Apps for Business or Microsoft's Office 365. Microsoft's cloud productivity suite is clearly leading the pack and not only continues to gain market share every day but is expected to gain even faster traction as Microsoft just announced Office 365 Teams — coined the "Slack Killer" — to fend off the third largest cloud-based enterprise productivity solution.
For 2017, Microsoft has big plans. The software giant just announced their Q1/2017 quarterly results. They also revealed that their annualized revenue run rate for commercial cloud products is slated to exceed $13 billion! And Microsoft isn't done yet. The company's goal is to reach the $18 billion milestone by the end of June 2018.
While Azure is growing a lot faster than Office 365, the productivity suite is an important part of Microsoft's cloud offering. At its Ignite conference, Microsoft announced that the product is now utilized by "over 85 million" active users. That is 15 million more active users since April and equates to a year-over-year growth of 40%. At that rate, this number will exceed the 100 million mark in early 2017!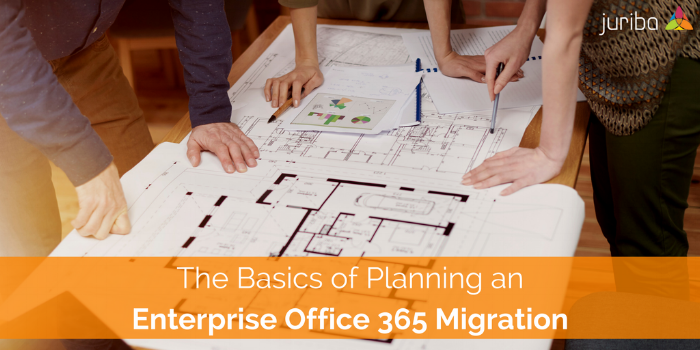 With scalability, lower support and infrastructure cost and rapidly growing functionality, many organizations have started to investigate and budget for their Office 365 migration project. But large-scale deployments with tens of thousands of mailboxes and hundreds of dependencies, hybrid environments, and other complex scenarios make the migration process more difficult to manage. Consequently, moving to Office 365 requires diligent planning and analysis before the project kicks off.
In the past decade, we have successfully readied more than 5 million assets for migration using our IT Transformation software, Dashworks. Many of these assets have been mailboxes, so we thought we would share a summary of the essential components we believe are required for planning a successful enterprise Office 365 migration project. Here are 11 easy-to-follow steps:
So without further ado, here we go:

1. Plan For The Plan
Have you ever heard the saying "Every journey begins with the first step"? Well, in the case of a complex IT migration, the journey actually starts with step zero — Planning for the Plan! While you might feel that spending time on planning to develop a plan is organizational overkill and a waste of time, you may have to base your business case and project planning on assumptions — without real data to back you up.
You will also need to identify your key stakeholders and ask them questions such as:
What are their expectations for switching to Office 365? Do these align with your overall business goals?
What should the key milestones be? What will the scheduling look like?
How will the engagement between our internal and external teams be managed?
How do we identify the costs and risks of the project?
What are the reporting needs for each group involved?
Your first deliverable, therefore, should be a project plan outlining the planned timeline (including a start date and the projected end date that is agreed upon by all parties), the scope and key objectives, as well as any anticipated constraints and roadblocks.
By creating a plan for the plan, you will identify the key objectives and get the needed buy-in before you get deeper into the real plan. This document is important in its right as you can plan for a more realistic project in terms of budget and resources as well as refer back to it if things change.
At this point, you may want to consider a rough draft of your overall project plan - or download and adjust our Office 365 project plan template.

2. Plan & Build Your Project Scope
In the past decade, we have seen our share of large IT transformation projects succeed — while some failed to achieve the required velocity. Of those that delivered slowly, an overwhelming majority failed due to an adequate lack of planning!
Most likely, you will start your project off by building a business case that is based on previous experience and any reliable information available. Typically this involves some conversations with the technical team to understand what you have out there today and learning the lessons of what will be required to get to the target state.
IT project managers often struggle putting together the business plan quickly. In addition to the big picture (e.g. number of mailboxes, storage size etc), they need to have many data points on the supporting infrastructure and the required deployment tools, as well as the planned project support structure that will service project delivery. Without properly defining the exact scope of your project, you will inevitably end up with bottomless scope creep. As such, you will need to ensure that you are defining your project goals as specifically as possible, so your results can be measurable.

3. Plan Your Project Team & Structure
When tackling an Office 365 migration project for tens or hundreds of thousands of users, it is safe to say that one of the most important criteria for your project's success is having the right people and skills. In other words, you will need a strong group of IT migration experts spread out across multiple teams to back you up.
In order to organize your people resources most efficiently, you will need to put the proper project structure, governance roles and responsibilities in place. Depending on the size of your project, the resource requirement could be anywhere from a couple of individuals to a couple of hundred team members across the globe. But no matter what size your team is, the challenge is to implement a strategy that allows you to keep everyone coordinated and collaborating to get numbers on the board as efficiently as possible.
Besides that, you will need to ensure that your team contains the right skill sets — for example, project managers, technical project managers, program officers, process experts, mail client engineers, infrastructure experts, business liaison officers, communications experts, risk managers, logistics coordinators, schedulers, deployment engineers, software developers, application administrators, application discoverers, application packagers and user-acceptance testers.
When assembling your team, consider which skills you already have in-house and whether or not you have the bandwidth to run the project internally. Most likely, you will end up with a mix of internal and external resources, so you might need to supplement resources or hire a third-party (e.g., service integrators such as HP Enterprise, Atos, Wipro, Fujitsu, HCL, Microsoft Consulting and others).
For your project to kick off successfully, everyone involved needs to understand the objective of the migration project, their individual role in it, and how they will interact with the rest of the team.

4. Plan Your Target Infrastructure & Platforms
Successful email and productivity app migration projects have one element in common: a well-designed platform from which to deliver your mailboxes, calendars, collaboration and much more.
Depending on your organizational needs and goals, or data security requirements and federal regulations, your enterprise must consider with this migration; you could possibly end up with a hybrid mix of cloud-based and on-premise mailboxes, file and folder structures, mobile devices and other online collaboration solutions. This is why the right amount of time should be spent understanding what the Office 365 can support, and nominally, the process steps required to move to it.
It is advisable to estimate your target numbers for each migration and to size your infrastructure accordingly to be able to manage your migration as smoothly as possible. In addition, you should ask yourself:
Does any of your

existing email management infrastructure (e.g., Exchange) need to be updated and upgraded before migration? How about your deployment technologies and supporting systems such as Sharepoint?

Are we planning (or should we plan) to

improve asset management processes and get the environment into a healthy state (e.g., by adopting Evergreen IT) prior to migration?
How will switching to Office 365 impact our current collaborative technologies (such as IM, web conferencing, VoIP telephony)?
How will switching to Office 365 impact our current infrastructure (e.g. Active Directory), storage, client environment, remote mail access, and archive methodologies?
Oftentimes, these considerations come up much too late, like when the project is already underway. When that happens, the initial project scope, budget, and resources have to be adjusted, which causes the foundation of the project to start to crumble. Set yourself up for success by considering these critical questions at the onset of the undertaking and by setting realistic targets from the get-go.

5. Plan How You Will Design, Build, Test & Manage Your End To End O365 Environment
It is understandable that you want to get numbers on the board as soon as possible, as it is critical to show progress! However, it is also critical to plan out how you will design, build, test and manage your Office 365 environment, as way too many migrations get stuck at this step! By doing so, you'll not only avoid wasting time and budget, but you'll avoid discovering too late that your user requirements have changed or that you have to apply a number of patches and updates to get your client software or infrastructure dependencies to the right state.
This can only be accomplished if you have a clear vision of your O365 infrastructure and how it will interact with the end state user environment. In addition, you need to decide on a technology that will manage analysis of your existing estate, the scheduling of migrations, and any amendments as you prepare for your rollout and beyond, throughout the deployment.
You can ensure a more supportable client configuration by specifying your requirements and building it using the appropriate security products and settings, applications, policy and profile settings. Finally, fully test your clients against any possible infrastructure scenario, whether it is a virtual machine, a laptop, a desktop, thin client, or mobile device.

6. Plan For Dependencies, Storage & Network Issues
There are many roadblocks you can run into with a large Office 365 migration — we talked about the most common hiccups in the past. To avoid running into those, here are some of the questions you should ask in your planning phase:
Which users belong to groups or are delegates for one or several mailboxes?
Which mailboxes will be moved to the cloud and which stay on-premise?
Where is my local Office data stored?
How much storage and network capacity will be needed?
Where are local archived mailbox data files (PST files) located?

Will I determine application usage to decide which to take forward?

What will be my testing and sign-off process?

How will I perform business user-acceptance testing?

How will I refresh my dependent application readiness data into the project?

How will I manage the deployment of applications and O365 dependent updates to my users?
List all the relevant questions based on your migration project scope and goals. Once you are able to answer those, you have made significant progress towards the planning for your implementation.
With Office 365, particularly in branch situations, moving data to the cloud that has previously been on-premise could have a significant impact on the bandwidth you require. Make sure you test and document the recommended requirements based on your existing data to ensure performance is not degraded for your users after the switch. The same is true if you are moving some or all of your current storage into the cloud.
Likewise, you may have issues with where your Office 365 data is being located (i.e. which Microsoft data centers), or security aspects that need to be reviewed and revised with the new platform. Ensure that these dependencies are known well in advance of any project migration activities.

7. Plan Your T-(minus) Timeline
Another element to handling a migration project of this size and complexity is timing. Thinking through all aspects of your planned scheduling is especially essential to Office 365 upgrades as you will have to deal with hundreds of dependencies resulting in a massive spiderweb of scheduling conflicts.
Consequently, it is best to decide how you want to handle migrating your mailboxes — e.g., migrating all mailboxes that have no dependencies, while using self-service to validate the still existing dependencies for accuracy. Knowing this allows you to plan for your T(minus) process and what criteria will need to be met to enter the process.
By mapping out the initial project onboarding right the way through to post-migration clean-up steps, you will be able to easily identify the activities that need to take place during each phase. Whether these are technical tasks, planning tasks or communication tasks, everything needs to be documented into a clear workflow that provides the picture of the migration.
As you plan this process step, make sure your timeline includes every aspect of the migration preamble, scheduling, and deployment, and is documented in a way that allows you to figure out which tasks can be further automated later on to reduce resource requirement.
Your chances for a successful (and truth to be told, accelerated) migration increase with greater scheduling clarity!

8. Plan Your Scheduling Methodology
Planning on how to structure your team, infrastructure and scheduling should be enough, right? Well, not quite. Often, one of the most overlooked aspects of planning for migrations is how the actual migration scheduling is going to happen. For example, how will you handle the roles and responsibilities of the project team, as opposed to the business liaison officers?
Also, consider whether there are capacity constraints for your migration. It is unlikely that you will be able to migrate every mailbox at once due to bandwidth limits, so careful planning will be required to ensure that users still have the required access to both new and legacy mailboxes for a period. Advanced tools will prepare the environment for synchronization between the old and the new, enabling a simpler schedule to be built with fewer dependencies, but greater cost.
To ensure that you plan your scheduling methodology adequately, you should ask yourself:
Who is going to build the deployment schedule?

What drives the schedule (user readiness, mailbox dependencies)?

Who handles changes to that schedule?

How will the roll-out to different Office 365 functions be handled (e.g. storage vs. mailboxes)?

How are deployment capacity constraints defined?

What change control will be required to manage the schedule (e.g. is there a lock down period)?

Are there any business or company blackout dates that impact the schedule?

How will the project team and business liaison officers communicate the schedule?

What will my users have to do to prepare for migration?
Scheduling is an area that can become extremely complicated if it is not planned correctly at the beginning of the project. The best way to manage the scheduling complexities is to employ a centralized tool like Dashworks to manage the schedule. Passing spreadsheets around will just add cost and resources, and will increase complexity for what should be a relatively simple logistics task once you have all of the building blocks in place.

9. Plan Your End-User Engagement
Nothing determines the success of your project more than the engagement of your end users. Today's employees aren't putting up with having a significant change done to them — especially to their email platform that they depend on every single day to get their job done. By planning your end-user engagement properly, you can get them on the board early.
On the most basic level, your end-user engagement plans should include email communication informing all affected employees of the upcoming migration and giving them more information on the planned changes, roll-out dates and support options.
However, there is so much more that can be done to sway the users to feel excited about the change rather than feel forced to comply. You can use automated email communication to send emails that are tailored to their migration, in their preferred language or that get triggered by a specific set of events. We often require users to perform some of their own pre-migration activity like reducing mailbox size, clearing out deleted items, moving large attachments to a more appropriate platform and sometimes even moving their PST files. How we are going to effectively help them achieve this so that we can accelerate their migration is a critical project success factor.
You may also need to plan for other means of user engagement, potentially by allowing your users to become part of the process. If your engagement plan has a self-service component (like Juriba Dashworks), they can validate data (e.g., mailbox ownership, need for delegates, need for folder permissions) directly for you, enter out-of-office or vacation times or, as an even more sophisticated form of engagement, let early adopter volunteers choose their own more appropriate migration date.
By doing so, you involve users directly in the migration process and therefore turn this project into something they want to be a part of and they stand behind. Planning the how, when and why of end-user email communications will help to speed the implementation when the time comes.

10. Plan Which Software Tools Will Best Support Your Migration Efforts
If you consider how fast Office 365 adoption has been growing, it is no wonder that there are a lot of different approaches and migration software solutions on the market. Your organization may even already have a solution in place for managing user directories, mailbox dependencies, and storage usage.
Generally, these existing tools are great business-as-usual tools and can provide excellent sources of project data, but are not equipped to handle the project management and scheduling part of the migration. You will need to deploy a data warehouse-based IT transformation management tool for that purpose.
Undoubtedly, these tools can significantly accelerate your migration efforts, but they need to be planned correctly. However, a well-managed project will also consider the following:
Do I need to discover mailbox and storage usage?

Where will my data warehouse be, and how will I refresh the data periodically?

How will my project team communicate and collaborate?

How will I test for application compatibility?
How will I group mailboxes for deployment?
How will I track the activities of the project team in one place for status views?

Do I need end-user acceptance testing, and if so, how will I perform and track it?

How will I communicate to my end users and do I want to automate this?

Do I want to automate/trigger deployment?

How will I manage my user profiles?

How will I work with third party vendors (e.g. Microsoft FastTrack)?
A word of warning regarding purchasing tools: Too many projects purchase software tools without the requisite efforts or strategy to integrate them. Consequently, the project does not work as efficiently as it could have. To accelerate your migration project, allow for sufficient time and appropriate expertise to learn and build your IT transformation management tool properly.
Remember: While it takes time to plan for all the tools, processes, and workflows to support your migration, you will reap the reward when you put your plan into action!

11. Plan Your Deployment Logistics
Last, but not least, let's talk about your deployment logistics. Many IT project managers are concerned with how to get the IT landscape data to scope out their projects but don't give any thought to what they will do once they have the data. It is critical to consider the 'hows' of your deployment logistics as not to end up with a completely unrealistic project scope. To gauge your capacity, you should ask yourself:
Can you migrate mailboxes and storage for all of your offices globally at the same time?

What capacity can your teams physically deliver in a given timeframe?

Can your migration process support the required volume of data migration required?

How will you interface with any logistics partners (e.g. third parties performing the migration)?

How much time is needed between readiness and migration, and does it change per country?

How will you track migration success?
If you are using service integrators, you will also need to ensure that their service is planned for in the same meticulous detail as all other areas as they often tend to oversimplify this complex area. Plan for how you will interact with any third-party vendor and agree on service terms in the context of your project goals.
Just as you cannot throw more people on your project at a moments notice when things go awry, neither can service integrators. By not planning your development logistics correctly, you will end up with under-utilized resources which are a budget killer!
Want to download this article as a PDF?
No problem. Simply fill out the form below, and you will be able to download the PDF version of the article right away.