Enterprises striving to remain nimble beyond their initial growth stages must be able to recognize and adapt to the changes in today's workplace which often require them to make adjustments regarding hardware and software solutions. This involves keeping the lines of communication open and periodically reviewing your IT strategy to make sure it will continue to support your operations as efficiently as possible.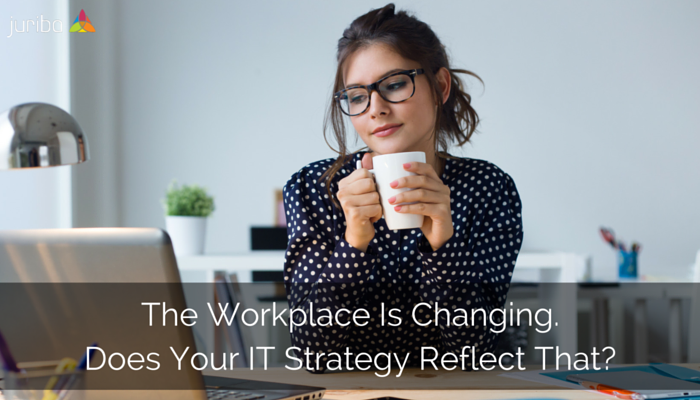 Chief concerns to address include how you handle employees wishing to bring their own devices to work (BYOD), when or whether to allow any members of your team to work offsite and how to maintain your computing infrastructure in the most efficient and economical manner. How much of your technology should be moved to cloud based providers? Technology advances inevitably lead to changes in the workplace, but not every technology is right for every Company. How does your particular IT strategy in 2016 reflect that?
BYOD

Policy

Employees are increasingly reliant on their own mobile devices to give them access to the Internet and to help manage many aspects of their lives. It's only natural that they would want to use their equipment, which they are most familiar with, rather than having to carry around a second device just for their job. Companies that ignore this available technology being carried by each worker may be doing themselves a disservice concerning productivity and lowered morale. But there are many considerations before BYOD can be adopted such as whether the entire productivity suite of applications will be made available, or just a small subset such as email.

It's best to establish a BYOD policy sooner than later, so you can quickly establish and enforce standards. For example, you'll want to control the types of devices, and operating systems (Android, iOS, Windows) employees can use and how such equipment will be secured for the corporate environment.
Centralized Control Is Crucial
Centralized control is of the utmost importance. No company should allow workers to have complete control over their mobile device or laptop if it is going to be used to work with confidential, proprietary information owned by the enterprise. For example, IT must have the ability to wipe the memory of an employee's device remotely if it should go missing or get stolen.
It's worth noting that a centralized command and control center, such as Dashworks as well as a self-service facility such as an employee portal will help speed up the enrollment and management process for your new BYOD program. Your users will sign into the portal and agree to your policies before activation. At this point, IT can verify the device and let the employee install enterprise software from a centralized location under your control.
Your policy will naturally include provisions for what happens when an employee is terminated or quits, with an eye toward keeping your confidential and proprietary data safe and secure. The key is to perform an enterprise wipe that removes information from emails and other documents while leaving the end user's personal information intact, of course.
Working Offsite
Before letting anyone work outside of your own facilities, you need to make sure you've covered all aspects of security. Begin by categorizing job titles and functions to determine which are more suitable for offsite or home office work and which ones you cannot allow to be done outside the Company premises.
Cloud Computing Services
The nature of your IT strategy will naturally be influenced by budgetary concerns as much as the needs and growing requirements of your organization. With so many productivity applications making the inevitable move to the cloud, how and when to adopt the new technology will be one of the major considerations for your 2016 IT investment plan.
One other problem for companies on a growth path is trying to predict just how much server space and computational capacity your employees (and customers) will need to keep apace. Instead of potentially wasting money or getting caught short in terms of technology, it can be much easier to work with a cloud computing services provider. Their staff will keep on top of server demand and will handle all the upgrades, leaving your IT department free to focus on more pressing issues.
No Time Like the Present to Update Your IT Strategy
If your IT department has not yet formulated an enterprise mobility policy, why continue to put it off? In some cases, organizations are reluctant to go forward with BYOD system out of fear that it will be too difficult to manage.
To clear the road of obstacles, they can partner with a third party team of experts for consultation on BYOD deployment as well as how to best support offsite work while safeguarding crucial intellectual property and other confidential information. Cloud computing services bring an added benefit of stability. Turning to the cloud for at least some data and software services benefits companies because doing so takes much of the guesswork out of IT operations, such as no longer needing to predict future server needs.
The ability to react and adapt to change quickly and efficiently will be more vital than ever before to enterprise IT organizations as hybrid/cloud computing become increasingly mainstream and Evergreen IT becomes a crucial key to success. But how do you achieve that? Let's talk about it!