With so many Enterprises stuck on version 1809 of Windows 10, it is not surprising to see organizations looking towards the open market to find a solution to the ongoing Windows 10 update problem. Microsoft has a well-oiled pitch to leverage Desktop Analytics as the means for managing this sometimes complex upgrade process. Upon first glance, their proposal makes a lot of sense: it is a free Microsoft-developed service that is specifically designed to provide "insight and intelligence for you to make more informed decisions about the update readiness of your Windows clients."
However, many large organizations find out very quickly that, while the tool gives useful data, it is by no means sufficient to manage the entire process. This leads to a lot of wasted time and resources and, of course, frustration. Today, I want to map out the delta between Desktop Analytics and Juriba Dashworks, a dedicated Windows Servicing Management tool, and provide our recommendations for how you can still utilize Microsoft's free service in the most efficient way. To do this, I want to compare some of the functionality side by side. This won't be an exhaustive list, but it will touch on the key aspects.
[The purpose of this post is not to create a deep dive into what the tool is, as we have covered Desktop Analytics extensively in the past. For more information on what Microsoft Desktop Analytics is, please refer to the Microsoft Documentation. In addition, here is our take on the first impressions of the extended feature set and how it can be used to complement Dashworks.]
Below, I will take you through three major groups of criteria — 1) inventory information and data sources, 2) reporting and dashboarding, and 3) project management and automation — to gather together the specifics you should consider when determining whether or not Desktop Analytics is enough to manage your Windows 10 Servicing projects.
Inventory Information & Data Sources
When it comes to tooling, two of the most important considerations for managing Evergreen IT servicing are the data sources that can be consumed and, as a result, the quality of inventory data that you will have to work with. With complex combinations of users, devices, applications, business units, and locations for many organizations, the dependency criteria can become the difference between stop and go.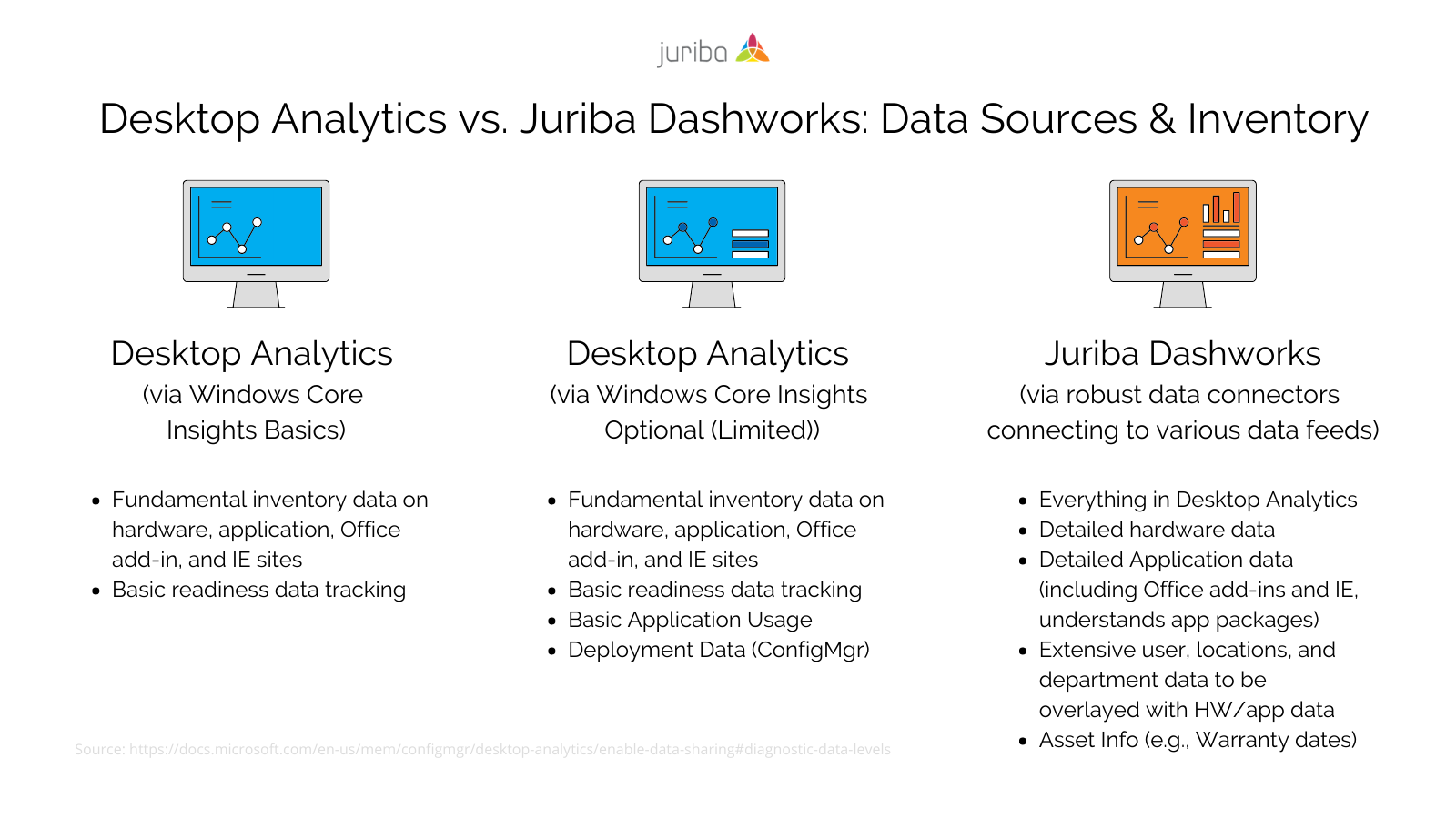 Microsoft's Desktop Analytics collects data from machines using Microsoft Telemetry which is sent directly from the machine to the cloud service. This needs to be configured and switched on in advance (with appropriate security certification — assuming this type of data collection is even allowed). In order to get more than the basic application data and readiness data tracking (simple yes or no) from Desktop Analytics, you have to run Windows 10 version 1709 or later and disable the "Limit Enhanced diagnostic data to the minimum required by Windows Analytics."
Microsoft collects inventory data on hardware (e.g., which drivers are installed) and applications including Office add-ins and Internet Explorer sites which Desktop Analytics (DA) collates using a combination of telemetry and Add/Remove Programs data. This means that DA can tell you which applications are installed in your estate and how many times, and DA can reveal what percentage of productivity or cloud storage apps are installed. It can also report on whether the applications have been used, which is important if you want to keep rationalizing your application estate. Unfortunately, most of us recognize application packages as our authoritative application source, especially given the number of application rows that return on a typical estate using add/remove programs data. With the inventory collected, DA will categorize applications as:
"Supported Versions Available" (Ready for Windows),
"Highly Adopted" (> 100k machines),
"Adopted" (> 10k machines),
"Contact Supplier",
"Blank", or
"Insufficient Data".
While this categorization is certainly useful, it is important to know that we have had example clients with 66% of their apps categorized as either "Blank" or "Insufficient Data". Seemingly missing data can often be attributed to in-house developed applications, or to the simple fact that this combination of the application name, version, and manufacturer has not been seen in the past by the DA solution. In addition, it is worth noting that data in Desktop Analytics is returned in thousands of rows that need to be filtered through manually, and only 10,000 data rows can be exported, making it very difficult to work with large data sets.
Microsoft has attempted to address this data size issue by normalizing the application versions down to one row, but as you would expect, this will only get better over time as rules need to be built to perform this matching. Finally, Desktop Analytics does not support additional data sources or data imports, so any application criticality categorization, self-service data validation surveys, or other input cannot be considered. Consequently, many of our customers consider DA as a useful data source upon which to layer additional information, rather than an authoritative source to drive the entire upgrade program.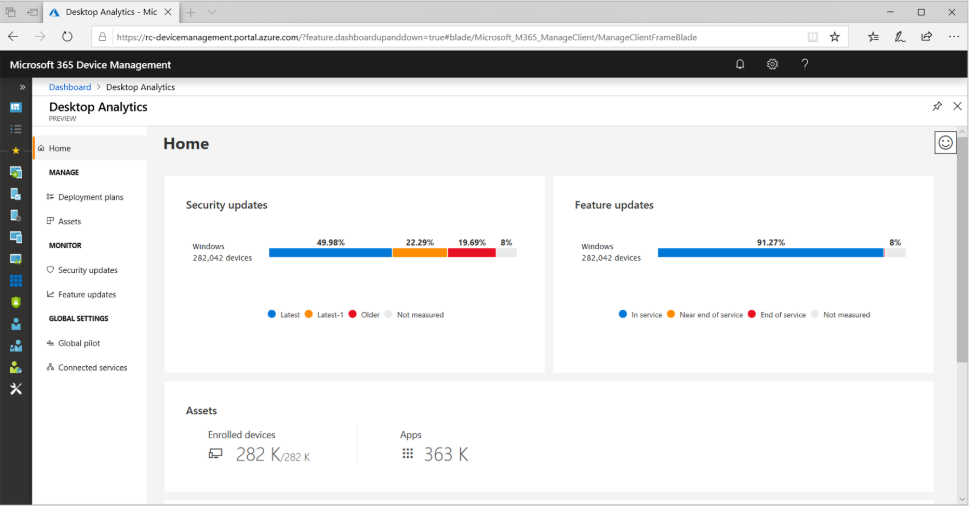 (Image Credit: Microsoft, 2020)
In contrast, Juriba Dashworks harvests user, hardware, application (including Office add-ins and IE), location, department, and asset data from existing inventory tools, such as MECM, Active Directory, Desktop Analytics, HR feeds, and many other sources. For a full list of our data source connectors, please refer to the Dashworks Connectors page. This data is automatically cleansed using de-duplication routines.
Rather than manually sifting through rows and rows of data, you create rules that can be applied and integrated into sophisticated and automated workflows. This is a huge time saver. For example, Dashworks can automatically determine which users are closest-to-ready for migration and quickly smoke test the appropriate applications using its Application Manager Smoke Testing component before switching them to green. In addition, the detailed hardware data can be used for better reporting and project scoping.
Reporting & Dashboarding
Desktop Analytics' management console UI as well as its reporting and dashboarding is relatively basic and pre-canned. Efficient Win 10 servicing is all about knowing exactly where you stand now, where you need to go, and what you need to do to get there at any moment in time. Therefore, it is crucial to be able to slice-and-dice and drill into the available data and run rules over them to determine the fastest migration path.
The Desktop Analytics management console can be accessed through the organization's OMS console. Microsoft has had to put some limits on the data shown and the drill downs available. For example, you cannot navigate to one particular device to see the specific applications installed, but you can export the data 10,000 rows at a time into an Excel spreadsheet to go through it. The dashboarding is fairly limited and you cannot create your own charts. You also cannot use fuzzy search, and you will have to manually group the data into specific locations and departments as those filters aren't available.
Juriba Dashworks, on the other hand, understands the importance of efficient and precise reporting and dashboarding in Win 10 servicing. Project managers log onto a fully functional web management console which gives them sophisticated capabilities such as unlimited attribute filtering, column adds, current and target state reporting, and much more. Dashworks also allows organizational views by drilling down into single devices (asset level).
All dashboards are configurable to visualize any data held within its Data Warehouse, and all data can be filtered, sorted, and exported without any limitations. Fuzzy search can be used (3+ characters) to find all kinds of information, and location and department data can be automatically categorized.

Project Management & Automation
Finally, your tooling's project management and automation capabilities will be the third way to determine how much you can accelerate your transformation.
While Desktop Analytics offers helpful insights, it really isn't an adequate tool to manage any Win 10 servicing project with a thousand seats or more. You can only use the out-of-the-box, pre-canned workflow, as it does not support any kind of project framework setup or custom workflows. Application readiness can only be tracked using "Ready" or "Not Ready" and ring planning has to happen using a basic interface in a quite manual process.
For many organizations, relying purely on a Microsoft application compatibility determination is not enough, and UAT of different forms will be required to complete the readiness process. This is where the Juriba AppM platform can help to accelerate smoke testing and functional testing of applications against the new version in an automated fashion.
Alongside the compatibility analysis sits ring scoping, Microsoft's way of batching devices into deployment waves. DA does this using some volume-based mathematics. Again, most large organizations will require a more detailed analysis, such as the coverage of critical and important apps that you are achieving per ring, the ability to spread departments and locations across the rings, and the ability to drive velocity into the process by analyzing those apps which open up the largest number of deployments.

In DA, there are no capacity management or end-user engagement capabilities, so it is much more of a technical solution. It also only supports Win 10 servicing — something that would be problematic for a lot of enterprises that want to piggyback other workstreams onto the primary projects (e.g., a hardware refresh on the back of a Windows 10 migration) or manage all of their Evergreen IT streams in one place (e.g., Windows 10 Upgrade + Microsoft 365 Servicing + hardware lifecycle management).
Contrarily, Juriba's Dashworks is specifically created for this purpose. The IT Transformation and Evergreen IT Management tool streamlines, automates, and therefore significantly accelerates your project by providing you with:
A fully-configurable project framework that includes email templates, capacity management, task management, and different workflows,
A pre-built, ready-to-deploy, reusable Windows 10 Servicing framework that can be tweaked to accommodate your unique processes,
The ability to track your application readiness in workflow stages (e.g., discovery, packaging, UAT, deployment, etc.) to instantly create a picture of your global readiness as well as individual asset readiness,
Support for end-user engagement to take advantage of fully-automated communication and self-scheduling (the heavy lifting in any transformation),
A full automation engine that helps you check for prerequisites, workflow decisions, scheduling, migration paths, and
A deployment ring scoping and impact analysis as well as its capacity management system for slot booking and automated scheduling.
In summary, Desktop Analytics provides helpful insights that should be used as one informational source. But it doesn't provide you with the breadth of data sources and inventory or the depth of reporting and dashboarding you need, nor does it give you sophisticated enough management and automation capabilities to gain the maximum velocity of speed you must achieve for a Modern Desktop Win 10 Servicing process. However, using Desktop Analytics and Juriba Dashworks together gives you the best of two worlds!