A few weeks ago, we had an interesting internal discussion about whether or not Microsoft might be moving towards once-a-year upgrades to fall in line with the upgrade pace that most enterprises have settled into. The idea was that while they would still officially release two updates:
A Spring Update that would include the new features suitable for enterprises that were very efficient in managing their upgrade process and wanted early access to all the new capabilities and
A Fall Update that includes the Spring Update features but is more mature targeted to larger enterprises.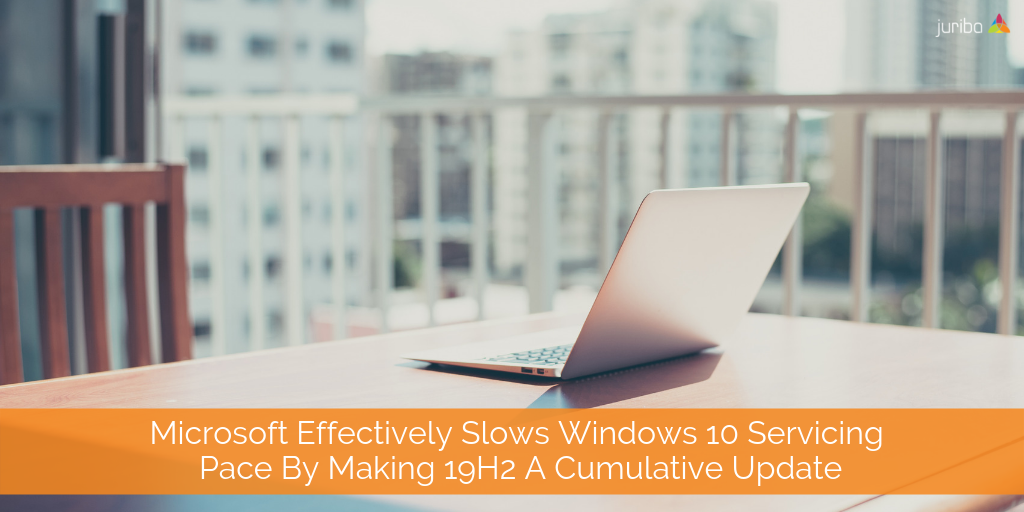 Essentially, this would reflect how Microsoft had initially envisioned its rollout with its Current Branch and Current Branch for Business concept but instead of two (updates) times two (branches), there would only be one update split into two branches per year.
After Microsoft's cryptic announcements on July 1st, others have been speculating and commenting about this change as well. For example, Gregg Keiser published an article yesterday entitled "Microsoft pares Windows 10 feature upgrades to 1 a year" making pretty much the same argument (more to that later) and Microsoft MVP Anoop C Nair posted a poll on Twitter asking which Windows 10 deployment strategy people would prefer: a feature rich Spring Update or a more stable, cumulative Fall Update?
Windows 10 Deployment Strategy ? ?? which version you would deploy?#H1 (e.g 1903) = Feature Rich Version#H2 (e.g 1909) = More Stable Or Cumilatve Update?
=========https://t.co/ECllbbRXt7

— Anoop C Nair✳️ (@anoopmannur) July 2, 2019
While there has not been a definite statement or confirmation from Microsoft that it is in fact putting on the brakes for good, all the signs are there.
But before we start, let me ask you two questions:
1) How fast does your organization upgrade their Windows-as-a-Service?
2) How do you feel about a one Win 10 upgrade a year?
So, let's have a look at what actually has been announced.
Win 10 19H2 Will Be A Cumulative Update With Limited Scope
According to this July 1st post from John Wilcox, the next version of Windows 10, which is code-named 19H2 but will probably be renamed into 1909 or 1910, will be a "scoped" release:
19H2 will be a scoped release with a smaller set of enhancements focused primarily on select performance improvements, enterprise features, and quality enhancements."
John Cable, the Director of Program Management, Windows Servicing and Delivery, uses almost identical language in his announcement post, also on July 1st, 2019:
The next feature update for Windows 10 (known in the Windows Insider Program as 19H2) will be a scoped set of features for select performance improvements, enterprise features and quality enhancements."
Only Dona Sarkar and Brandon LeBlanc in their announcement of the Windows 10 Insider Preview Build 18362.10000 (19H2) are clearly saying that 19H2 will be cumulative:
19H2 will be delivered to Insiders in the Slow ring via servicing as a Cumulative Update and not full build updates."
In other words, the new features and functionality of the upcoming Fall Upgrade will be negligible because the focus is on maturing the Spring Update, fixing potential bugs, and making it enterprise ready.
19H2 Will Be Delivered As A Service Update For Some
Hidden in the warm fuzzy Microsoft marketing lingo, there is another gem: Microsoft will change the way the Fall Update is delivered. John Cable in his announcement said:
To deliver these updates in a less disruptive fashion, we will deliver this feature update in a new way, using servicing technology (like the monthly update process) for customers running the May 2019 Update who choose to update to the new release. In other words, anyone running the May 2019 Update and updating to the new release will have a far faster update experience because the update will install like a monthly update.
In other words, the feature delta between the first and the second update is so minimal that customers on version 1903 can upgrade to 19H2 in the same fashion as they would essentially patch in a new Monthly Security Update. However, if your organization is still running any previous versions like 1809, you will need to continue using your regular update method (i.e., SCCM, WSUS).
Microsoft Skips To 20H1 In Unprecedented Move
On April 5th, Microsoft communicated that it planned to merge its Skip Ahead and Fast Ring testing pools to test next year's Windows 10 20H1 build instead of the upcoming version 19H2. While Microsoft claimed to require longer testing times for some unknown new features, Mary J. Foley has sources claiming that the organization is trying to align Azure and Windows engineering schedules.
Past Behavior Sets The Stage For Another Major Win 10 Servicing Model Shake-Up
The history of Windows 10 Servicing has been erratic to say the least. While there hasn't been a single update in a year since 2016, Microsoft has made several moves that could warrant a big change in the making, for example:
Microsoft extended the support for Fall Updates to 30 instead of the standard 18 months giving enterprises the option to migrate only once a year.
After the disastrous roll out of 1809, Microsoft has been trying different phased roll out approaches to stagger broader deployment and ring fence any potential problems fast. For example, new updates will check for app compatibility issues and stop and update if there could be conflicts.
After some back-and-forth, Microsoft has now (with 1903) finally done away with announcing "Broad Deployment" readiness by not designating anymore Semi-Annual Channel (Targeted) and Semi-Annual Channel.
I assume, we will hear some sort of bigger announcement as part of the release communication of version 20H1, so in Spring 2020.
Is The H1 Major/H2 Minor Update Pattern The New Normal?
Considering all the different parts of the puzzle, it is easy to believe that a larger Windows 10 Servicing Model restructuring in the near future is possible. This could be a one-time fluke and 20H1 and 20H2 could be equal size updates again. But couldn't this be also a sign that we will see this H1 Major / H2 Minor Update pattern in the future.
May J. Foley asked the same question and was given this answer by a Microsoft spokesperson:
Given the scope of the 19H2 release, we're taking the opportunity to try something new to continue to improve the Windows 10 update experience. This may provide us future flexibility to offer a balanced range of Windows 10 feature update delivery methods including OS swaps as well as servicing technology (like the monthly update process)."
Considering the newly introduced Controlled Feature Rollout (CFR) method to "progressively rollout new features by gradually increasing the audience in a controlled manner", Microsoft also could do away with bigger updates all together and progressively roll out new features every month in a staggered fashion.
What We Do Know: Enterprises Need To Move Off Windows 7 And Microsoft Offers 36-Months Of Stability To Get Them There
Thanks for bearing with me — there were a lot of "ifs" and "whens" in this article. No matter which route Microsoft will take, two things are for certain:
While there are already 800 million active Windows 10 devices much of Microsoft's enterprise base is still running on Windows 7, Doom-Day for Windows 7 is just a few months away (Jan 14th 2020) and these customers will loose support. One way or another, Microsoft must figure out away how to eliminate any still remaining migration barriers so they will upgrade.
By releasing a feature-rich Spring upgrade, Microsoft is buying enterprises and large education customers an additional 6 months of time on top of the already extended 30 months of support Fall Updates receive. That is 3 whole years of support for the enterprise-preferred option.
Considering this, an organization could start rolling out the spring update in Pilots as soon as it comes out and be the time the Fall Update comes around, they are ready for broader deployment. Since the newest update just means an additional patch, all previous work can be just used as is and the process isn't disrupted. As a result, this could easily encourage enterprises to skip a year.
I would love to hear your thoughts on this! Please share them with me and other readers in the comments below or in our Linkedin group.