Like most enterprise IT project managers, you are probably up to your elbows in the midst of planning or rolling out Windows 10 to your entire user base. For your organization, this might encompass tens or even hundreds of thousands of devices, which can take months of tedious project management!
But imagine what would happen if you told your user base that it is their responsibility to migrate themselves? This might sound ridiculous, but this is reality for one company. Microsoft expects all of their 94,000 employees to migrate their devices at their own pace with a company-wide deadline. Most (if not all) of their end users are excited about the new OS, so they can rightfully expect the majority to upgrade relatively fast! But it's also part of the company's DNA: A lot of Microsoft employees are the first true testing ground for each new version before it gets released into the wild, and it is important that the company eats its own dog food before pushing it out to the general market.
As unimaginable as this approach may sound for your company, I believe that sooner rather than later we will see a movement into this direction: User-driven IT migration management — or as "Business As Usual" (BAU) IT upgrades. A lot of fellow technology executives are already pondering this. They are asking: When does it make sense to treat something as a one-time project and when is it better to turn it into a series of perpetual mini-projects? And where does "Business As Usual" fit into all this?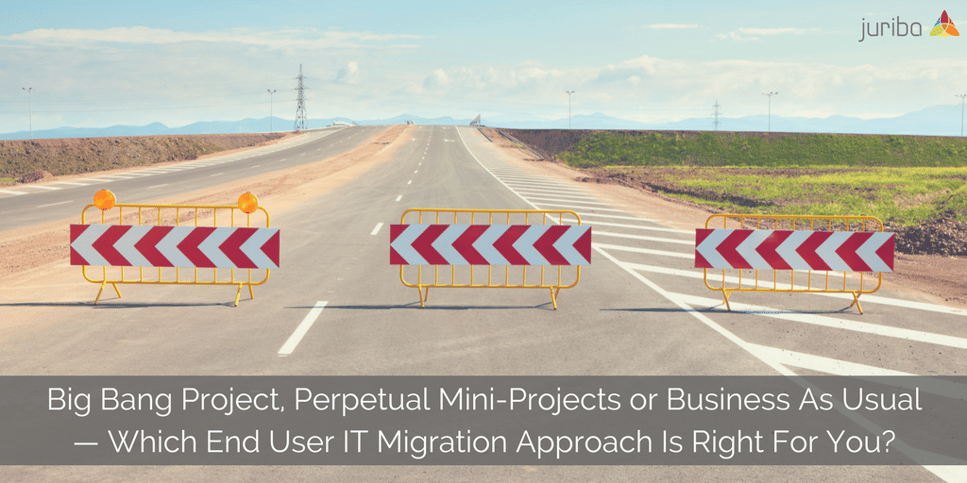 IT Project vs. Running IT In Business As Usual Mode
Those questions are really interesting (and important). They determine your project management strategy, required tooling, associated resources and allocated budget. They also lay out your organizational approach to IT lifecycle management. But when I have these conversations and I ask whether they are running a specific aspect of their IT as a project or as Business As Usual, the answer is often the same: "We don't know!" So, before we go any further, let's first define in more detail what the difference is between managing IT on a project basis and as Business as Usual.
IT Change As A Series Of Projects
The goal of a project is to produce a product or outcome in a finite timeframe. Since projects are all about driving change, you will need to create bespoke and unique project plans, specifications, and use implementation approaches and operating practices that are potentially different every time depending on the scope. You need to assemble a project team solely for the sake of the project. Most distinct projects entail a lot of unknown elements, and therefore contain a higher risk profile. As such, they typically require new investment and more control.
Examples of IT projects are big-bang IT migrations like a merger or acquisition, or efforts to implement organization- or department-wide upgrades of hardware or applications, such as one-time software license audits, hardware refreshes, or VDI migrations.
IT Management In Business As Usual Mode
If you are running your IT in a Business as Usual mode, your goal is continuous, iterative improvement. You want to reproduce the same product over an indefinite timeframe (semi-permanent or permanent), while improving over time. Since it is repetitive, this practice involves known and proven procedures, processes and policies — resulting in virtually no risk. On the downside, BAU can also result in little-to-no change if your resources are not able to spend any time iterating the environment to later product versions, and instead are consumed with reactive problem fire-fighting.
Examples for this method fall mostly in the realm of IT activities which keep the lights on, such as ongoing software license management (new procurement requests), hardware break-fix, legacy application and database maintenance, and security patching.
Which Approach Is Better?
At this point, I usually get asked, "So as we enter this new proactive world with Windows 10 and Office 365, which approach is better?" And as with so many things, the answer is, "It depends".
Today's IT departments struggle with compounding IT debt that is on track to double within the next five years. Instead of focusing on Digital Transformation, they are struggling to keep the lights on and spend the majority of their time managing issues. The IT executives I talk to know they cannot continue like this.
They know they have to pave the way to Evergreen IT — maintaining, managing, and improving their IT environment on an ongoing basis to free up resources, time, and budget for innovation and better productivity. They know that a faster cadence of change is coming, and quite frankly, they are concerned about the ability of their IT organization to keep up. But simply asking your Business As Usual teams to pick up and run with this proactive lifecycle management methodology will lead to a doomed enterprise without a significant investment in people, process and tooling.
Perpetual Mini-Projects
It is commonly recognized that jumping head-first into turning your IT organization inside out and adopting "Business As Usual" isn't setting you up for success! We have seen too many organizations invest in expensive technical solutions, but then not follow up by putting adequate resources in the right seats, or implementing organizational process change to adopt the new project management methodology.
Which is why at Juriba we think there is a hybrid approach available. Because BAU often fails at projects, and projects often fail to put repeatable BAU processes in place, the solution may be a combination of the two. When you are managing any lifecycle event, you typically want to ensure that it has the rigor of a proper project, including a start and end date, resources that are dedicated to the task, and the appropriate drive to get it done. However, in the new world, you also want these events to be as repeatable and undisruptive to your business as possible, taking lower-cost BAU resources to deliver well-managed change to the end-user estate.
To be successful, you need the right project framework and tooling to drive this change in culture to completion. To get started, you need to map out all your upcoming change initiatives and assign them to perpetual mini-projects, while also putting the ongoing IT maintenance tasks onto a complete Evergreen IT track. For example, ongoing Windows 10 upgrades as part of the branch management will be a series of mini-projects for a while, but in the future we can envisage a move into a self-service migration environment, where IT migration becomes a "Business As Usual" activity driven by time-bound lifecycle events.
Conclusion
Today, empowered customers are shaping corporate strategies and the technology agenda. In response, CIOs are investing in innovative technology, systems, and processes to enable their organization to win, serve, and retain customers while switching regular maintenance activities to auto-pilot by going the "Business As Usual" route.
However, you will not get there by simply switching to the cloud or purchasing new technology. You will need the ability to manage your IT operations within the entire spectrum of project management approaches — from big-bang project to perpetual mini-projects to business as usual.
For this, you will have to have adequate tool frameworks and processes as well as skilled resources in place. At Juriba, we are focusing our entire development roadmap on helping organizations to make this shift to a new way of operating. By utilizing our Dashworks product to both constantly analyze and assess the IT estate, while running multiple perpetual mini-projects in a repeatable fashion, your organization will be better set to embrace the faster cadence of change. We'll be writing a lot more on this topic in the future, so stay tuned and subscribe to our blog to stay in touch.