London, UK & New York, USA – December 17, 2015 – Juriba, a developer of IT migration project command and control software and Archive360, the leader in email archive migration software, today announced a technology partnership. Under the terms of the agreement, Juriba and Archive360 will share detailed technical information to facilitate deep integration of their products to enable customers to better control their email and archive migrations.
Juriba's flagship product, Dashworks, enables organizations to accelerate complex email migration projects through agent-less, user-centric readiness analysis, and dynamic project delivery management. Trusted by large enterprises and major service integrators worldwide, Juriba's software and process methodology has helped manage over 4.5 million assets to a later platform. Archive360 has helped more than 450 organizations worldwide rapidly and defensibly migrate more than 10 petabytes of archived email to a later platform.
The initial release of the joint offering allows the exact status of an email archive migration to be managed directly within the Juriba Dashworks framework, providing migration teams with a single, unified view of their entire migration project.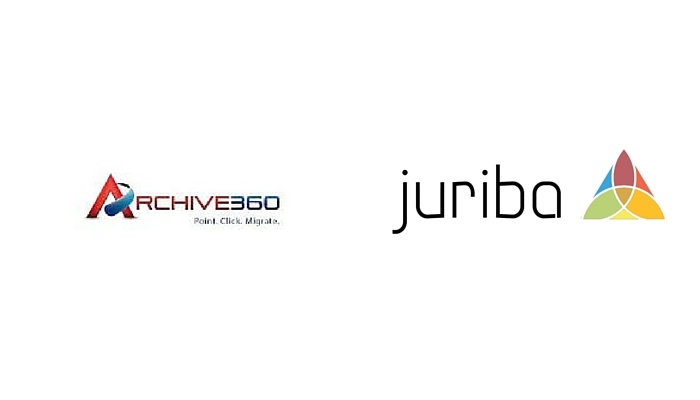 "It's always been our policy to build only the most strategic partnerships to get our offerings to market, and this arrangement definitely fits into that pattern," said Bob Desteno, CEO of Archive360. "Juriba has a great track record of transforming how organizations undertake large scale IT migration projects. We believe that our joint offering can further drive down the time, costs, and risks of complex, large-scale mail migrations ."
The two companies are already successfully working on a number of projects in the UK including a large Office 365 migration in the insurance sector, and a multi-department government email migration.
"Juriba's success lies in our ability to successfully manage complex enterprise IT transformation projects. Archive360 is the only email archive migration vendor we've encountered whose technology directly addresses the inherent complexities and risks associated with email archive migration," said Barry Angell, CTO of Juriba. "We are committed to reducing the costs and increasing the accuracy of mail migration projects and know from experience that Archive360 can be an important component in that process."
About Juriba
Juriba is a software developer whose market leading Dashworks IT migration project command and control system is responsible for over 4.5 million successful desktop, user, application, mailbox, mobile device and server migrations. A global organization, Juriba helps accelerate IT transformation projects through a unique combination of data warehousing and project management software built specifically to aid planning, scheduling and execution of large scale project delivery. Juriba delivers its solutions both directly and through a network of specialist service partners.


About Archive360
Archive360 is the market leader in email archive migration software, successfully migrating more than 10 petabytes of data for more than 450 organizations worldwide since 2012. The company's flagship product, Archive2Anywhere™, is the only solution in the market purpose-built to deliver consistently fast, trouble-free, predictable archive migrations, with verifiable data fidelity and defensible chain of custody reporting. A global organization, Archive360 delivers its solutions through a network of specialist partners.