You may have heard that Evergreen IT is very beneficial as it increases your IT landscape's security and performance. You may have also heard that it lowers your ongoing IT maintenance costs. But how can you REALLY know how Evergreen IT will impact your IT management? By measuring critical key performance indicators of course!
Today, I will take a look at some of the operational KPIs you will most likely see significant improvement on. While this certainly isn't an exhaustive list, these KPIs were chosen because they visualize the broad potential of benefits Evergreen IT can bring to your IT environment: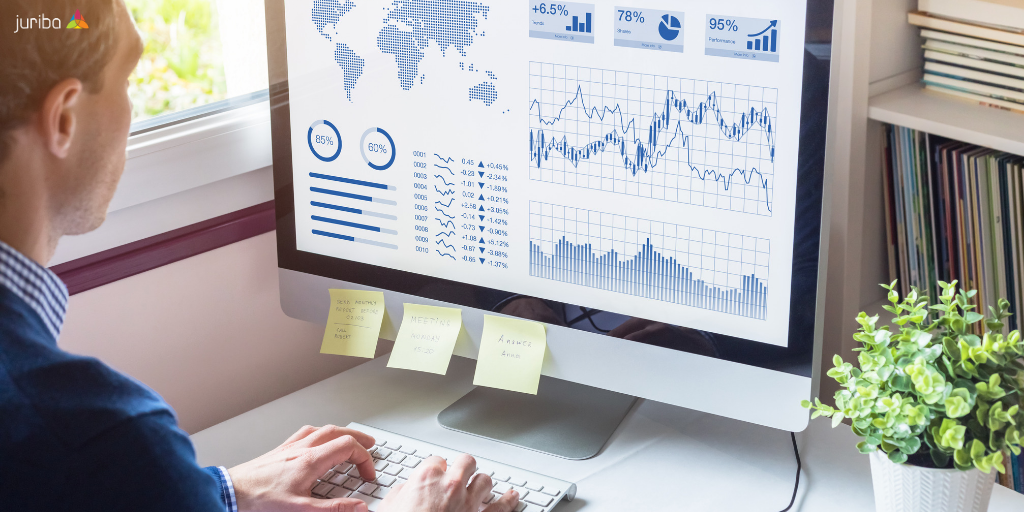 1) Security Compliance Rate
With cyber security concerns steadily increasing, keeping the organization safe is one of the number one priorities for CIOs. Therefore, security compliance is a major goal, including cyber security and resilience, GDPR compliance, and protection from data breaches.
By measuring your security compliance rate, you are assessing the extent to which your entire IT landscape is compliant with your IT security policies. This can be done by aggregating different individual KPIs or by tracking them separately.
Most cyber attacks exploit vulnerabilities of aging hardware or software, e.g., WannaCry using a backdoor in devices running on Windows 7. By moving to Evergreen IT, your hardware, applications, operating system, etc. are continuously updated — exponentially decreasing the risk of exposing yourself to those risks.
2) Technical Debt Rate
Another huge CIO priority is to drastically reduce the compounding technical debt they have been carrying around. Traditionally, organizations earmarked as much as 80% of their entire IT budget for just "Keeping the Lights On". The rest was allocated to larger IT Transformation projects, like a Windows upgrade or a 5-year hardware upgrade cycle. This didn't leave much room for innovation.
However, with CEOs pushing IT teams to play a leading role in the company's Digital Transformation efforts, most CIOs need to figure out how to pull that off without a significant budget increase or more resources. And just like it is impossible to build a financial nest egg while carrying around large credit card debt, the only way out is to drastically reduce the technical debt.
The entire premise of Evergreen IT is to set yourself up to eventually get to the point where managing your entire estate is what can be best described as a "constantly fluid" state. By taking steps towards Evergreen IT, you eliminate technical debt step-by-step while taking precautions to never return to accumulating technical debt.
Or, in the words of CIO Magazine columnist Myles F. Suer: "reducing technical debt needs increasing focus. It isn't wasting money. It's about replacing brittle, monolithic systems with more secure, fluid, customizable systems. CIOs stress there is ROI in less maintenance labor, fewer incursions, and easier change."
3) Shadow IT Percentage
Internally-forming rogue "IT teams" within business units (so-called "Shadow IT") are a major threat to the security, health, compliance, and performance of any larger organization due to the unauthorized and unsanctioned applications and hardware brought in. This can span from innocently storing company-internal documents on a public cloud service, all the way to much more sophisticated server installations that hook into the company network and expose all connected devices to serious security vulnerabilities.
With full executive buy-in and support, implementing Evergreen IT introduces new, stringent upgrade processes that the entire organization will have to comply to. Rather than allowing problems to pop up like mushrooms everywhere, it encourages everyone to work together collaboratively. Anything out of the ordinary will quickly become apparent. The rogue IT teams could even be converted into business unit liaisons responsible for facilitating updates in their business units by working with central IT.
4) Number Of L1 & L2 Support Tickets
What are your most common IT tickets? A slow printer, a frozen computer, an application that doesn't work, a network connection that won't connect, a password that needs to be reset? What is the root cause for those issues?
While some are simply human error ("I changed my password before going on vacation and now I forgot my password — again!"), most of these issues can be avoided in the first place by keeping your estate up-to-date! By updating Windows-as-a-Service, Office 365 ProPlus and line of business applications to the latest version as soon as possible while maintaining a tight handle on the rest of your estate ensures the minimum number of support tickets created.
5) IT Resilience & Performance
IT resilience and performance are absolutely crucial as the pace of change will only accelerate. Long gone are the times when we could take 5-6 years to move to a new operating system or stave off central application lifecycle management indefinitely.
With the growing digital transformation of enterprises, IT has to be able to respond with lightning speed to cyber threats and possible disruptions to minimize the potential for loss of employee productivity or revenue.
Evergreen IT helps you to significantly improve your IT resilience and performance by improving the:
Percentage of hardware within lifecycle
Lowering the number of application versions supported by maintaining a strict N-x policy
Rollout speed of new OS quality updates, feature upgrades, and patches
Number of months spent moving to the latest version of Windows 10 after SAC release
and many more.
Conclusion
While this article cannot list all possible key performance indicators that will improve by switching to Evergreen IT, I hope this gave you a good sneak peek and motivates you to consider moving to Evergreen IT step-by-step. Be sure to define your Evergreen IT roadmap in manageable chunks and utilize the right kind of tooling like Dashworks (Juriba's IT Transformation and Evergreen IT Management solution) to enable you to not only plan and execute one-off projects alongside ongoing tasks, but manage all work streams in parallel so they benefit each other.