2015 was a busy year for Microsoft with the release of Office 365 E5, Windows 10 and Windows 10 Mobile, an entirely new version of its Windows operating system. By the looks of things, 2016 won't be slowing down as the company prepares for the release of SCCM 2016, SharePoint 2016, Exchange 2016, Server 2016 and many more new Azure based products and features to come.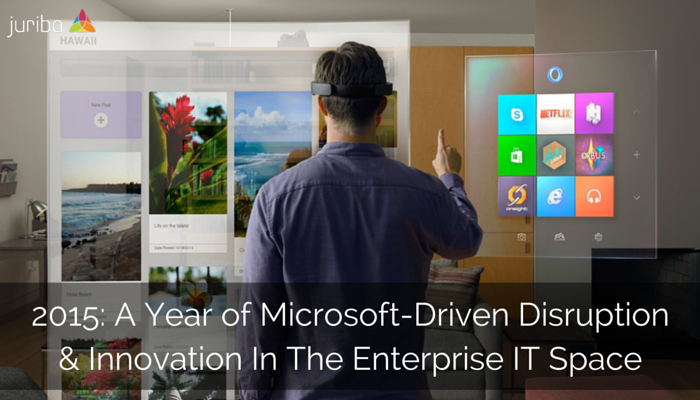 So let's take a closer look at what industry disruptions and innovations Microsoft brought to market in 2015. Microsoft did far more than just release three new products in the last year. There were five distinct ways that Microsoft has transformed, disrupted and driven innovation in the Enterprise IT space on 2015 and will continue to do so in the upcoming year:
The Digital Workplace & Increased Productivity
The average workday has evolved, and Microsoft technologies have changed with it. With mobile technology, email in the palm of your hand, and unlimited access to the internet, employees are no longer confined to an eight-hour workday at their desk. Whether this means hiring from a larger talent pool with remote employees, setting up new offices with satellite locations or your sales team having the time and freedom to meet with clients in person, the workplace as we know it has changed. Unfortunately, this newfound freedom and access to the internet come with a unique set of challenges.
Today's technologies have helped offices grow to a global scale, fostered a more collaborative work environment, and have also created a new breed of distraction that some managers may find virtually unmanageable. According to the Harvard Business Review, in the past decade, the world has gone from a total of 12 billion emails a day to 247 billion, from 400,000 text messages to 4.5 billion, from an individual average of 2.7 hours a week online to 18 hours. Is this a sign of distraction, or increased productivity? If a worker is sending an email and pulling up a report on their laptop during a meeting, is that employee distracted or only communicating at a rate he or she was previously unable to accomplish?
Gloria Mark, a professor at the University of California, Irvine, revealed that current employees switch tasks an average of once every three minutes. Once an employee's focus on a given task has been interrupted, it takes an average of 25 minutes to return to it. Instead of fighting the constant distraction of technology in the workplace, programs like Office 365 Groups, Planner, OneDrive for Business and Skype have allowed associates and managers alike to thrive off of it.
Internet of Things
Imagine the most vital parts of your business all interconnected? That's exactly what Microsoft's Internet of Things team (IoT) has enabled users to do. What is the Internet of Things? It may sound like a futuristic technology trend but, according to Microsoft, it's the first step in becoming a truly digital business. The beauty of this concept is that it starts with YOU. Your line-of-business assets and the data they produce, your cloud services, and your business intelligence tools. By implementing a strategy to capitalize on this growing trend, you can take energy away from the day-to-day and put it into making your business thrive.
Cloud vs. On-Premise Computing
As both storage and bandwidth come to increasingly affordable, cloud-based services are becoming more attractive to companies that are seeking to reduce costs by avoiding the recruiting of additional IT staff. Although the cloud computing provides companies with a cost-effective alternative to on-premise options, companies may want to avoid transitioning to "All-Cloud" solutions.

When deciding which is the best solution for your company, it is important to recognize the difference between the two. The most obvious of course is the way each is accessed. On-premises solutions are just that, on-premises, installed on a user's computer where cloud solutions, are accessed via the internet, and typically hosted by a third-party vendor. While cloud solutions may offer convenience, mobility, and even cost efficiency they potentially open your data to a new security risk.

So what's the answer? Is it worth saving money at the risk of your company's security? The good news is you don't have to choose. With a hybrid delivery model, businesses can have the best of both worlds without long-term commitments, potential security risks and the inefficiencies of an on-premise model. Microsoft's hybrid model allows you to maintain consistency across clouds with familiar tools and resources, extend your datacenter with a consistent management toolset, get enterprise-grade performance and security in the data center and the cloud while meeting the changing needs of your business with greater flexibility. There is no one size fits all solution, and every business has a unique set of requirements. What's important is finding a balance between security and efficiency.
Moving Towards Evergreen IT With Windows As A Service
With the release of Windows 10 came an announcement that this would be the last Windows Operating System, but how is that possible? Microsoft has radically altered the way it engineers and delivers Windows moving forward. Instead of big releases in the future, there will be systematic improvements and updates.

This is a considerable reorientation requires a change in the way businesses think about their IT as well — as big bang migrations will ideally be a thing of the past. This truly is a significant improvement that will not only protect your system but also keep you ahead of new tools for productivity. Windows as a Service lets Microsoft bring continuous security and innovation to our shared customers, through a consistent stream of updates. This is in alignment with the Microsoft cloud services strategy across Office 365, Microsoft Azure, and Microsoft Dynamics CRM Online. This approach supports the four Windows 10 innovation for business promises:
Protection against modern security threats
Managed for continuous innovation
Increased productivity
Innovative devices for your business
HoloLens - Virtual Augmented Reality
HoloLens - Virtual Augmented Reality
Augmented Reality is a new technology that superimposes a computer-generated image on a user's view of the real world, thus providing a composite view that was heavily discussed in 2015 and will be here in full force this coming year. Microsoft's HoloLens devices will begin shipping in the first quarter of 2016 and have thoroughly transformed working with 3D data. The product is intended for developers, commercial organizations, designers, creators although Microsoft continues to develop unique uses and offerings that can be adopted by a wide variety of businesses. With big names like NASA and Volvo already putting HoloLens to work, it's clear that holographic computing is here and will ultimately change the way things are done.
Looking ahead, 2016 will be an equally important and busy year for Microsoft as enterprises are increasingly adopting the new Windows 10 operating system, planning migrations to Office 365 and preparing for new releases such as SharePoint 2016 and Exchange 2016. With the volume of change accelerating, IT departments will be under pressure to adopt technology faster than ever before, driving further requirements for IT migration tools that can help keep pace with business needs.
Are you planning to adopting Windows 10 in your enteprise? Download our new eBook "The IT Project Manager Guide to Windows 10 Enterprise Migration" to avoid which pitfalls to avoid for a smooth and efficient migration.