Evergreen IT has been a hot topic in the enterprise IT world for the past few years. Evergreen IT is the practice of continuously updating your IT systems and applications to take advantage of new features and functionality while simultaneously retiring older system versions that are no longer supported. The benefits of Evergreen IT are clear. By keeping your systems up-to-date, you can reduce costs, improve security and compliance, and increase productivity. But Evergreen IT can also be a challenge to implement, particularly in large organizations with complex IT environments.
If you have been following Juriba for a while, you know that we are all about sharing our expertise, knowledge, and experience in the form of project plans, guides, webinars, and much more with IT professionals around the world. Today, I am thrilled to introduce you to a new tool called the Evergreen IT Readiness Scorecard that enables enterprises to assess their ability to manage the ever-increasing velocity of change and complexity of IT environments across the 12 critical elements that drive Evergreen IT readiness.
The Evergreen IT Readiness Scorecard
To find out how your organization's Evergreen IT Readiness stacks up, head to the assessment tool and answer five questions across each of the 12 Evergreen readiness criteria (60 questions in total). This should take about 8-10 minutes.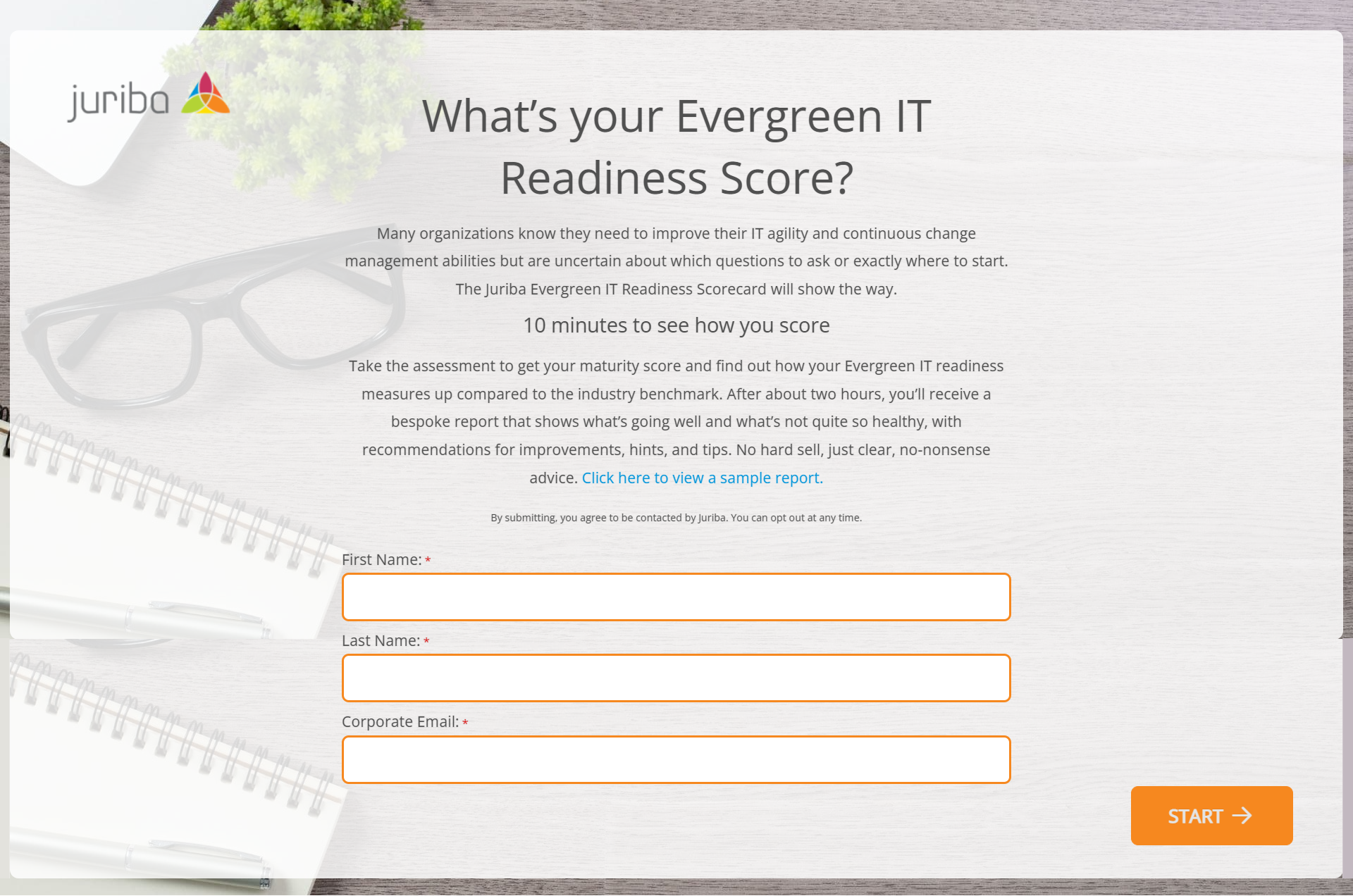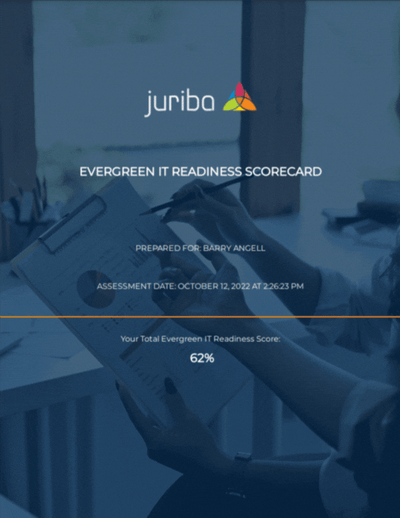 After completing the questions, you will receive a bespoke PDF report of just over 30 pages of detailed advice and guidance for your Evergreen IT journey. The report contains an overview of all your scores (per question in comparison to the industry average benchmark, and in a scorecard view) as well as your scores across the seven different dimensions: People, Processes, and Technology plus Plan, Build, Deploy, & Operate.
It also contains your answers to the questions we asked you (which provided you with a helpful checklist to hold everyone involved accountable), detailed recommendations on how to improve, and additional resources that might be helpful for each of the 12 readiness criteria.
This scorecard is a snapshot of your organizational Evergreen IT readiness now, which can help you identify the acceleration points (things you are doing well or successfully already) and friction points (things that are holding you back or slowing you down).
The goal is to help you pinpoint where you should invest your energy, budget, and resources to get maximum return on investment and drastically increase your Evergreen IT readiness. Come back regularly to retake the assessment and see how much you have improved!
What are you waiting for? Get started on your Evergreen IT journey today! Take the Evergreen IT Readiness Scorecard assessment to see how your organization stacks up against the competition. It only takes 8-10 minutes to complete, and you'll receive a fully customized, 30+ page PDF report with your results. No hard sell, just clear, no-nonsense advice on moving your organization to the next level.