Significant investment in product development has always been a huge priority for Juriba as we pursue our mission to cement our status as the world's leading software platform for enterprise Evergreen IT and IT transformation management.
But in 2021, thanks to our almost explosive growth and the investment by BGF in 2020, Juriba is able to kick its product development into hyper-drive. I am thrilled to announce that we have recently committed to a significant multi-million dollar, multi-year investment focusing on cloud capabilities, enhancing Dashworks' feature set, deepening the platform's integrations, and much more.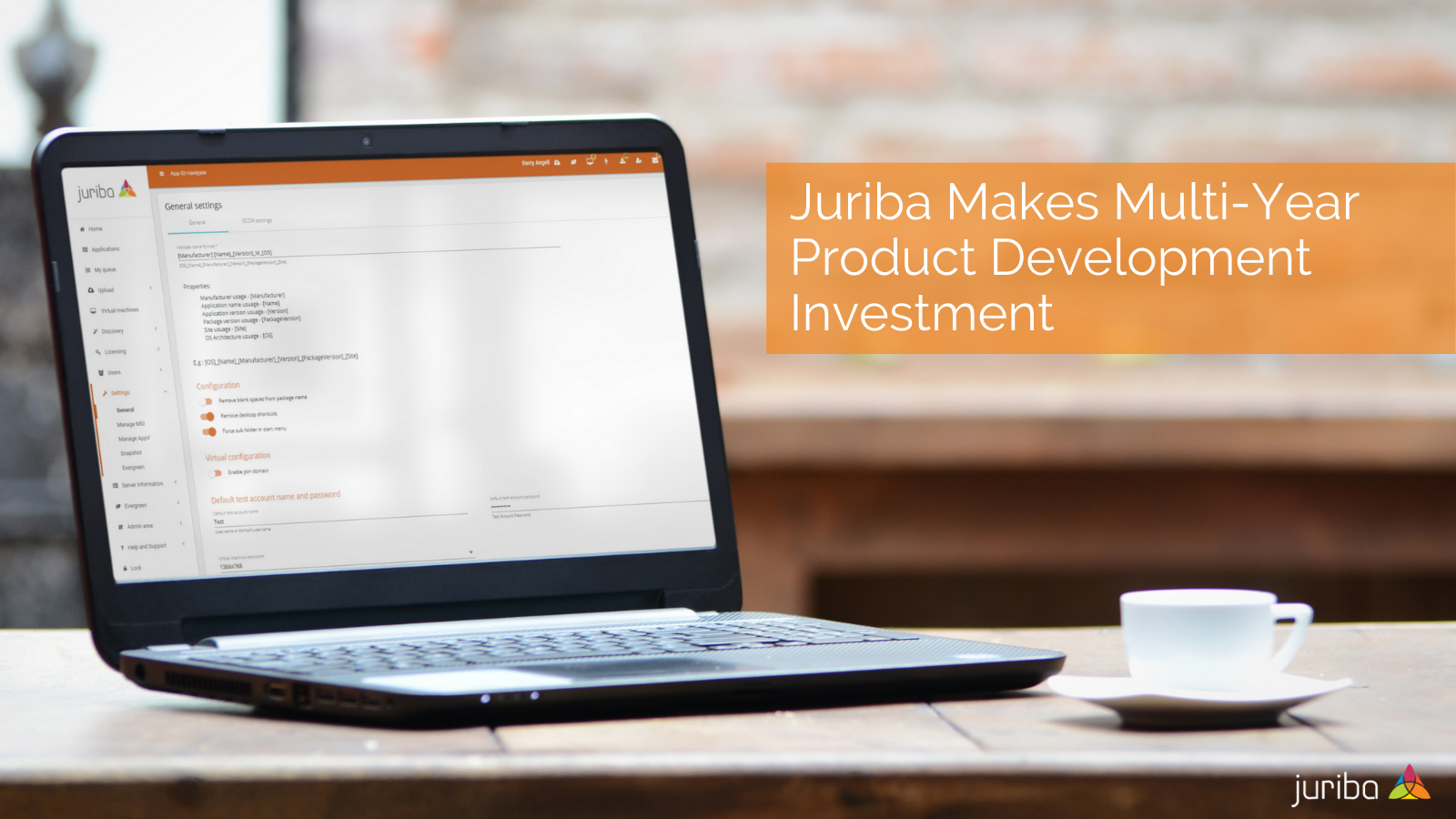 All in all, we have over 200 high-level roadmap items on our agenda that can be categorized by ten strategic development themes, namely: Application Modernization, Hardware Lifecycle, Automated Workflows, Intelligent Ring Planning & Scheduling, Third Party Integrations, Self Service, Application Management, Security & Patch Management, Native Cloud Platform and Desktop Experience Management.
Today, I want to briefly introduce each theme on a high level and invite you to keep watching our blog for new announcements as new functionality becomes available for release. If you haven't done so, please subscribe to blog updates here so you won't miss any important news.
Investment Into Microsoft Azure Cloud Platform
Since native cloud support is one of the major goals, let's start with this theme. As you might know, Microsoft's cloud adoption roadmap has three distinct phases. First, Microsoft customers become "Cloud-Infrastructure Ready" (monolithic or N-tier architectures, Infrastructure-as-a-Service). Next, they move to a "Cloud-Optimized Platform-as-a-Service" (Managed Services and Windows Services), and then finally onto a "Cloud-Native Platform-as-a-Service" (containerized microservices and serverless computing and Managed Services).
We have adopted this concept for our cloud readiness as well with an extra step before as our first phase. The goal is to convert the vast majority of the Dashworks platform to a platform that is cloud native (Microsoft Azure platform). The first step is to be "Cloud Pre-Ready", which means that Juriba customers can simply use Virtual Machines (VMs) dedicated to that single customer with a tunnel to their corporate network. In the second step, called "Cloud Ready", customers can use Internet facing VMs that are either dedicated to a single customer or shared for smaller customers. Essentially, you work within the native cloud infrastructure, rather than being in it. You specify a tenant that is made globally available with a simple sign up.
In the third phase, called "Cloud Optimized", we are planning to offer a mixture of containers and native cloud services, while the database is still a single tenant. Finally, in the last phase ("Cloud Native"), Juriba customers can take full advantage of the cloud platform utilizing a fully-managed, serverless, multi-tenant, infrastructure-as-code, event-driven architecture.
Enhancing The Dashworks Application Manager Feature Set
The new Dashworks Application Manager Platform comes with an extensive set of useful features already. However, application management is currently undergoing a massive tidal wave of change — mainly driven by the advance of MSIX, app attach, and Windows Virtual Desktop (WVD). This, of course, requires cutting-edge adequate tooling and automation to enable our customers to move quickly and confidently to modern app management, as well as empower them to keep their app estate evergreen.
Therefore, now and over the next three years, we are immediately focused on supporting our customers in their move to Windows Virtual Desktop, including MSIX package conversion, MSIX smoke testing, auto-provisioning into WVD and support of app attach, support for Hyper-V, and the Microsoft Virtual Machine infrastructure.
Once that part is completed, we plan on extending our Intune capabilities — specifically the conversion to Intune Win packaging format, and maybe even more importantly, the ability to smoke test WinApps within Dashworks Application Manager. In the long term, in alignment with our cloud platform development roadmap, this will be hosted on Azure — enabling customers to use this capability from the cloud with an express route back into their environment rather than having to have it on-premise.
Investment Into Dashworks' Command & Control Features — Including Intelligent Ring Planning & Scheduling
Of course, we also will make a significant investment in improving and extending the features and capabilities of our core Dashworks platform. First, we plan to further extend the number of use cases Juriba can support.
Additionally, we are solving one of the biggest roadblocks our customers are struggling with when it comes to Windows 10 servicing updates: intelligent ring planning and scheduling! This new capability gives you a mathematical and therefore logical way to accelerate your Win 10 Servicing. Simply define a set of rules for your organization (e.g., the minimum number of clients for ring zero is 20, maximum number of clients 500) and Dashworks will pick the best candidates to put in your rings for application and hardware coverage. This feature is one of the first capabilities being released as part of this development roadmap and we will see the first instance of it in March 2021.
Another new functionality worth mentioning here is the large increase in automated workflows you will have at your disposal. This means more automation supporting more complex, yet easy-to-manage workflows. Right now, you can create millions of workflows in Dashworks that do entirely different things, but we will make them easier to manage (think recipes) and support more or different types of automation. There are many other features and improvements coming, like the revamping and modernizing all of the legacy UI into one new sleeker UI, and the overhaul of the self-service capabilities, e.g., including the ability to build your own pages rather than tweak our pre-canned ones.
Deepening The Dashworks Platform Integrations
With the addition of Application Manager, Dashworks has truly become an end-to-end Workplace Automation Platform. While our tool has always been deeply integrated with and connected to already-existing infrastructure, we are making a commitment to deepen those integrations significantly within the next 18 months.
First and foremost, we will forge an end-to-end iron-clad integration between the Dashworks Command & Control platform and the Dashworks Application Manager products. This means that, going forward, smoke testing or packaging your applications will perform in a single automated workflow within the Dashworks universe. This brings tremendous benefits to our customers who are looking to test and remediate applications as part of their continuous Workplace Automation processes.
In addition, we are planning to enhance our integration input- and output-wise with Microsoft's technology stack, e.g., with Microsoft Endpoint Manager (Configuration Manager), Microsoft Intune, and Microsoft Desktop Analytics, as well as our technology partners like Aternity and ServiceNow. The Aternity integration is a great example of what to expect. Let's say you are planning a VDI migration. With the new integration, you can take an aggregate score on a machine's performance and identify candidacy through that performance score or through the application monitoring scores. For our Desktop Analytics integration, this could mean something like taking readiness or application performance straight from Desktop Analytics and then putting it into your Dashworks projects for acceleration of asset migration readiness.
Automated Hardware Lifecycle Management & Refresh Capabilities
Another investment area is to better support hardware lifecycle management. With the upcoming Dashworks functionality, you will be able to take a device from birth to death — essentially putting your ongoing hardware refresh on autopilot, as it will include a stock management system, the ability to upload devices that do not yet exist in the organization (e.g., for when you have ordered a laptop, but it has not yet arrived), and deeper, more extensive and, most importantly, end-to-end automated lifecycle management capabilities. This allows you to automatically trigger the refresh event (for example, t-minus 90 days from the end of a hardware's warranty day or lease date). In addition, data from our Desktop Analytics and Aternity connectors provides you with valuable insights on how a machine is performing, which can be tracked in Dashworks over time.
We cannot wait to hear your feedback and thoughts on the upcoming new releases and development roadmap! If you want to know more and learn how you can benefit from these capabilities, please reach out to me directly or schedule a risk-free consultation with our sales team!