Windows 10 poses one of the greatest challenges for IT organizations when it comes to rethinking how we manage end user IT. It delivers the operating system as Software-as-a-Service to every device and integrates with other Microsoft solutions such as system management, mobile device management and security solutions that all need to be considered in the target end state. Therefore, a transformation like this requires detailed planning and thorough assessment of your IT landscape in addition to the device migrations.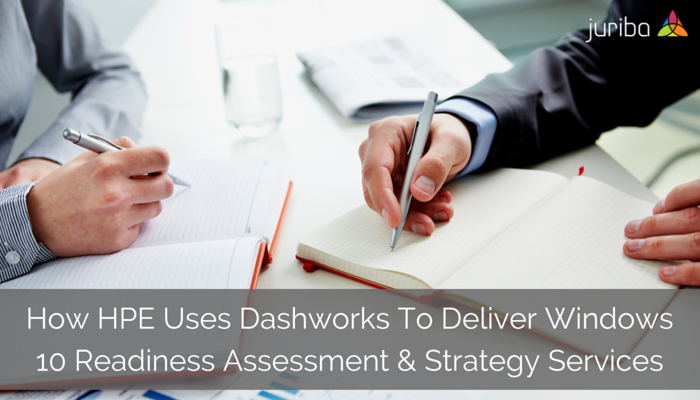 To ease the project startup process for enterprises, HP Enterprise Services (HPE) has developed its Assessment and Strategy Service for Windows 10. As part of this service, HPE will use Juriba's IT Transformation Management platform Dashworks and other tools to collect crucial information, assess it for compatibility and provide its customers with a detailed, actionable output report.
The duration of this service depends on the complexity of your IT landscape but usually takes between 4-12 weeks. It consists of:
Service Planning. As a first step before the service delivery, HPE will schedule meetings with key stakeholders to agree upon the service scope, priorities, and timelines.
Deployment of software tools. Then, all tools that will be used to collect and consolidate required device, application, user and location information (including Dashworks) are deployed. Usually, HPE will gather information for the entire end user estate to provide complete analysis coverage.
A detailed assessment of your IT landscape. This evaluation includes hardware as well as Windows and Web applications, compatibility and readiness for Windows 10, and an analysis of existing system and device management processes and tools deployed. Finally, an analysis of your identity and access management policies and tools will also determine the impact of moving to Windows 10.
Comprehensive Report including recommendations. After the assessment is completed, HP Enterprise Services or an authorized partner will deliver a full report

on the next steps for your Windows 10 migration

including recommendations on how to complete the migration as well as a deployment architecture. This includes possible hardware compatibility and security issues, application compatibility, licensing and usage reports, a detailed review of the desktop management environment, and much more.
Based on these recommendations, enterprise customers can derive valuable insights. It enables you to better understand and evaluate your:
Windows and Web application landscape, e.g., which web applications are required for IE11 or how do you manage Java versions going forward.
Hardware compatibility. This allows you to discover security risks as well as renewal options and shows paths to better migrate your PC fleet.
Application landscape. By using Dashworks application normalization and other tools, HP can rationalize, package and migrate only the applications needed, resulting in lower migration costs as well as savings in licensing by eliminating unused applications.
Windows 10 application compatibility. This allows you to determine which applications are compatible with Windows 10 and what remediation work must be done before the migration.
SCCM Environment Updates. This enables you to achieve enhanced system and device management capabilities and gain control with identity and access management.
Project: Run-Ready.
At this point, the Dashworks engine is also primed to run the readiness tracking, scheduling, and logistics behind a successful migration for your project.
With the assessment complete, devices can be categorized into in-place upgrade or refresh categories, applications have been normalized and can be classified for versioning in Windows 10, Devices are grouped, and the project is configured for tracking and automation. A seamless transition from assessment to the full project run.
Conclusion
Many of our problems with IT migrations stem from the fact that we do not know what we do and don't know. Until we roll up our sleeves and start digging, we will not really know what we are dealing with. Most IT managers think their biggest problem is the access to data (how to set up the data feeds into their hand-cranked database etc.), and it is not until they have the data finally that they see that they have a much bigger problem on their hands: to make sense of it all!
The powerful combination of the HPE Assessment Services and Juriba's Dashworks solution goes even one step beyond and delivers actionable insight. At the end of the Assessment and Strategy Services, you not only know what your IT landscape looks like or what to expect regarding application compatibility but you are all set to manage your readiness tracking, scheduling and migration logistics from one central control and command center. Now that puts you ahead of the game!
Need more information? Let's talk! Just click below and schedule a consultation — don't worry, there are no strings attached — and we will help you understand if this solution would be a good fit for your enterprise.