Juriba is proud to announce our first major product update of 2017: Dashworks 5.1! Having readied more than 5 million IT assets for migration across various enterprises, we continue to drive significant product innovation to help ensure that for your organization, having the right tools in place to help you get the job done as efficiently as possible, is the key to major IT transformation project success.
Whether you are upgrading to Windows 10, Office 365, or managing an IT refresh, Dashworks 5.1 is a sophisticated project management tool that can shorten the time your IT team spends on IT transformation projects, making your business more agile, adaptable to change and accelerating your enterprises IT migration by 65%. The updated version has some improvements that IT professionals on a tight deadline are using to stay on top of their projects, and we are delighted to share the details in this article!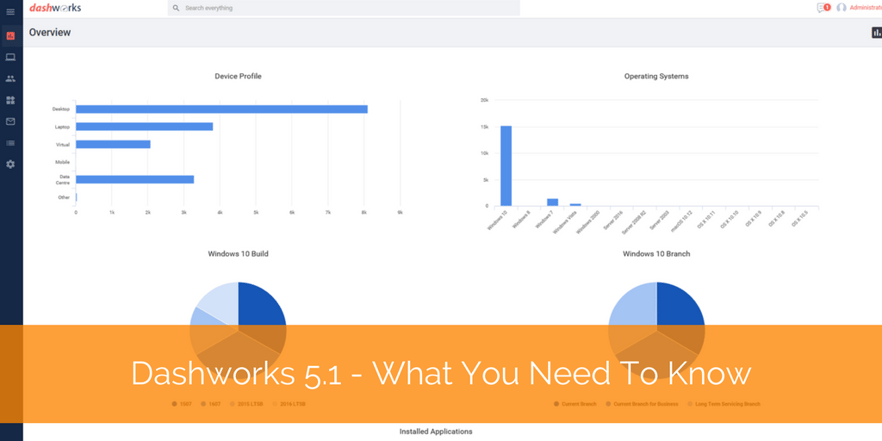 Windows 10 Servicing Data
As organizations move towards Windows 10, the cadence of feature releases and quality updates is driving a perpetual cycle of change within IT delivery teams. To manage this repeatable cycle, Dashworks 5.1 has been enhanced to include all the baseline information you will need to determine who, what, where and when for each Windows 10 release version. Having identified the users, devices and applications in scope, you can quickly move your list into the Dashworks Project system for readiness, scheduling and deployment activities, giving you the fastest time to updated platform adoption.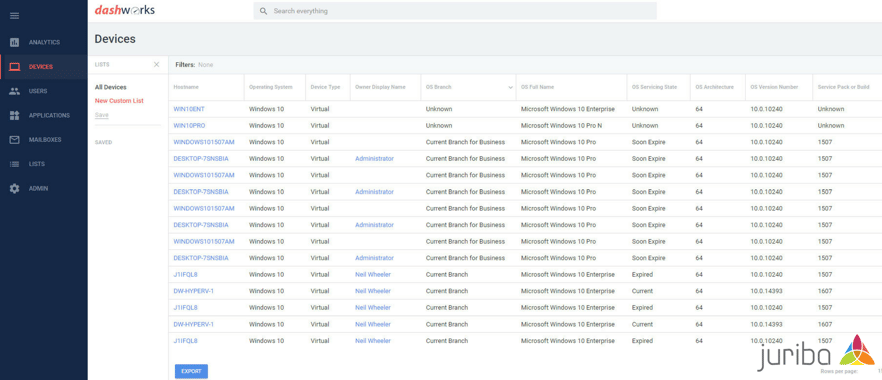 Dashworks Evergreen IT Management
As you may have already seen on the dedicated section in our blog, Evergreen IT is the perpetual migration of end-user software, hardware and associated services such as mailboxes, telephony, file storage and the infrastructure supporting the technology to keep your assets within a defined maintenance lifecycle. It requires a combination of people, process and technology to deliver optimal results, and the appropriate tooling is essential in a successful journey towards this goal.
The Dashworks Evergreen component is the second of the four major improvements in Dashworks 5.1. The new interface enables you to view user, application and mailbox lists to generate self-service reports, each one including specific details and filters that can be saved and retrieved. New colorful charts are also part of Dashworks Evergreen showing trending information on mailbox sizes and other historical data. Furthermore, if you are already using Dashworks, you will recognize the basic dashboard on the front page, which now includes Windows 10 build and servicing specifics imported from SCCM.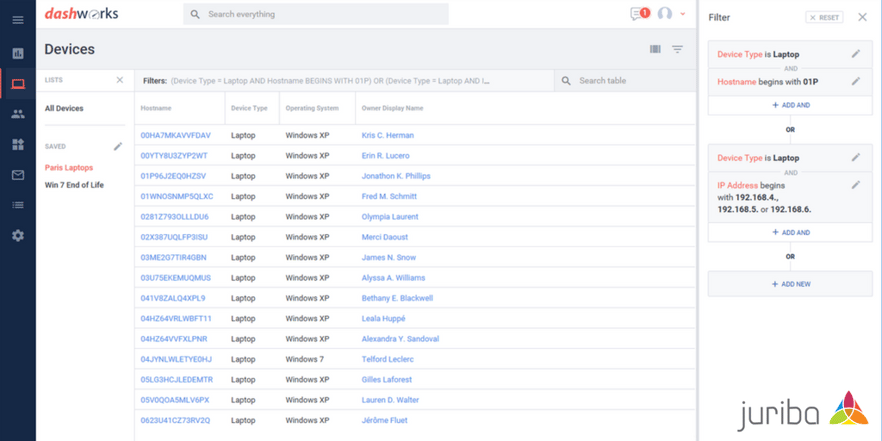 Search Functionality
Extended search functionality is the third main new feature which is also part of Dashworks Evergreen. Using the updated search tool, IT project managers can now find asset information simply and reliably to make faster, better, fact-based decisions. The search results are shown as a list that can be extended by clicking 'enter' and narrowed down further using new and improved filters.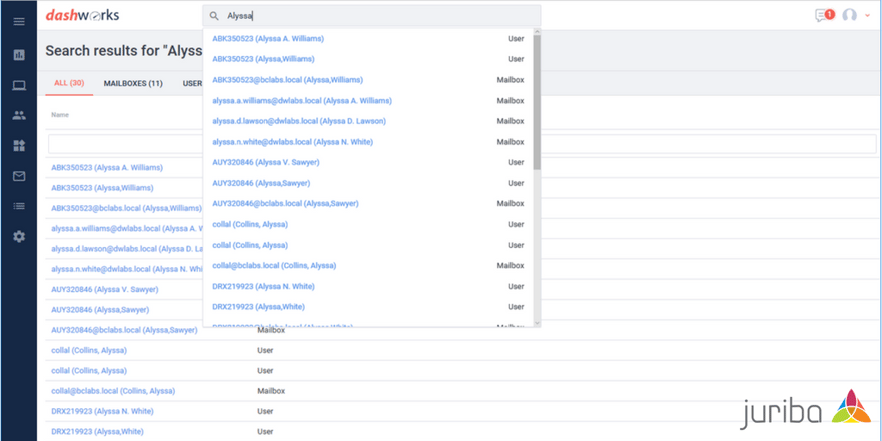 Online Data Transform (Extract, Transform & Load)
Finally, Dashworks 5.1 also includes online transforms. Thanks to this enhanced feature, it is now possible to refresh your data without impacting system access - everything is managed in the background. With the latest Dashworks release, current and future customers will be able to have their new data sets loaded seamlessly! Moreover, the online transforms apply to Dashworks Senior as well.
Additional Improvements
In addition to the previously discussed major enhancements, there are some other improvements that have been made to Dashworks in release 5.1 that IT transformation managers should be aware of. Among the highlights:
Support for Exchange and SQL 2016

SCCM - Servicing State showing what is expiring and on what specific branch (Preview, Current, Soon Expired, Expired) based on Windows 10 Branches Analysis and Support
Conclusion
Dashworks version 5.1 is available immediately to all customers that have purchased product maintenance and support, or who have purchased a subscription service. Please contact your professional services account manager to find out more. As always, we encourage customers who are already using Dashworks to upgrade to the latest version in order to benefit from recent enhancements and fixes.
Keep in mind that Juriba also offers consultation to IT professionals in the enterprise to help them get the most out of this project management tool, such as building bespoke project reports and executive dashboards.