2016 has been a great year so far, first with Dashworks 4.3 released in June and now, just 4 months later, with Dashworks 5.0! After having readied for migration more than 5 million assets across various enterprises, we have collected significant feedback and learned from our experience that having the right tools in place to help you get the job done as efficiently as possible is the key to any major IT transformation project.
IT migration projects have different moving parts depending, for example, on the apps you are trying to migrate or how your end users will be migrated. Whether you are upgrading to Windows 10 or Office 365, Dashworks 5.0 is a sophisticated project management tool that can shorten the time your IT team spends on IT transformation projects, making your business more agile and adaptable to change, and accelerating your enterprises IT migration by 65%.
Whether you are an old pro at using Dashworks, have only begun using it recently, or are considering a purchase or evaluation, you should know that the latest version, Dashworks 5.0, has some improvements that IT professionals on a tight deadline are using to stay on top of their projects.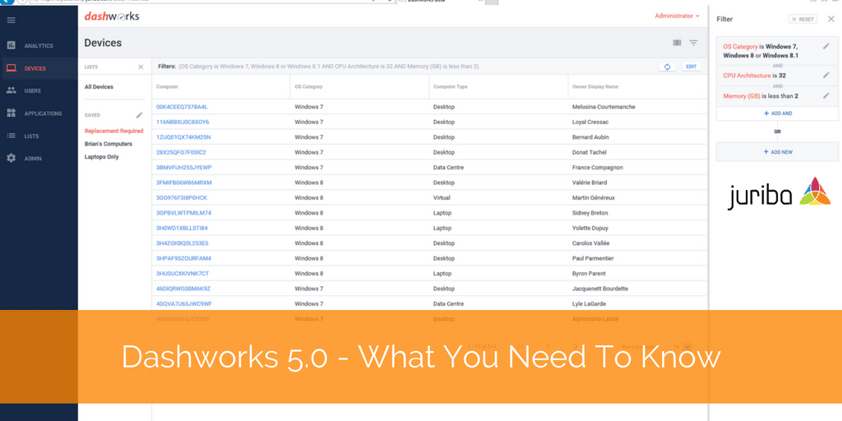 Here's what you need to know about the updates and improvements in Dashworks 5.0:
Application Usage
Application usage information is a new component of Dashworks 5.0 that brings additional levels of visibility to your project decisions on application management, and in your BAU environment. This powerful new version enables project managers to analyze user application entitlements, installations and when (or if) these applications have been launched. You can also use this information to filter down application lists in self-service, thereby asking the user to validate only what they have used in the past. Multiple dashboards have been enhanced to display this information and you can cut, slice and dice to get to the view you need. Dashworks can automatically consume application usage information from commonly used systems such as SCCM, Lakeside SysTrack and LANDesk.
Enhanced Mailbox Information
The Dashworks Mailbox and permission imports have been redefined at a high level to accept more information required to manage projects like an Office 365 migration. The redesigned mailscrape includes a robust, scalable set of batched imports, and incorporates folder permissions as well, facilitating the migration of mailbox delegates. As a result, project managers will have finer control on mailbox users permissions and thresholds. Similarly, Dashworks 5.0 is now able to import more directories compared to previous versions, and it is also more flexible in terms of which data to import and when, making it now possible to bring in a specified amount of historical data.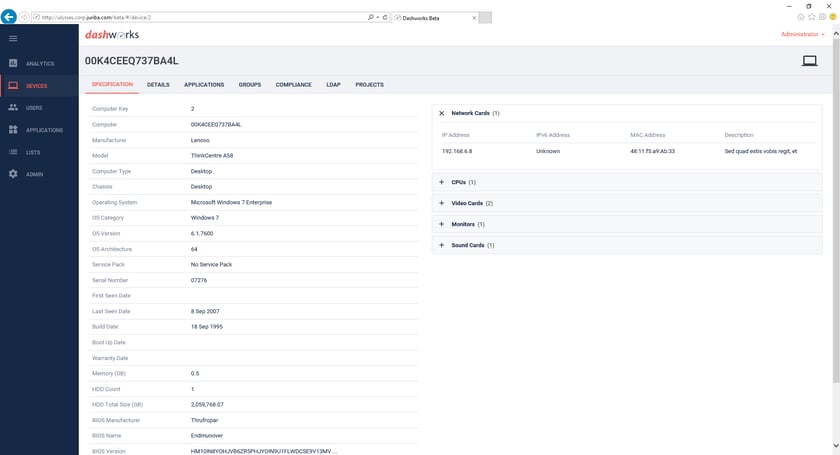 New Dashworks Analysis UI Beta
Dashworks 5.0 includes the beta of the new Analysis UI, aka Dashworks Analysis Beta. It features advanced search filters for devices to create smart lists, a new interface with a redesigned responsive display to show more user, computer and application data, on any device. This new UI works seamlessly with the recently announced Dashworks Analysis+ software and hardware catalog - Dashworks Analysis+.
Additional Improvements
In addition to the previously discussed major enhancements, there are some other improvements that have been made to Dashworks in release 5.0 that IT transformation managers should be aware of. Among the highlights:
The introduction of identification of MacOS 10.12 operating systems

Changes in the behavior of how computers are categorized

Extra end user functionality for self-service data validation and application management
Conclusion
Dashworks version 5.0 is available immediately to all customers that have purchased product maintenance and support, or who are purchasing a subscription service. Please contact your professional services account manager to find out more.
In addition to the new release, we also have been progressing our work on the revolutionary HPE Windows 10 assessment service, Windows 10 project templates, and our recently launched Dashworks Analysis+ product.
Keep in mind that Juriba also offers consultation to IT professionals in the enterprise to help them get the most out of this project management tool, such as building bespoke project reports and executive dashboards.
As always, we encourage customers who are already using Dashworks to upgrade to a later major version in order to benefit from recent enhancements and fixes.