On November 23rd, 2015, Gartner released its latest study on Windows 10 adoption and impact on businesses called "Predicts 2016: Endpoint Technology Shifts Are Accelerated by Windows 10." In the report, leading Microsoft Windows analysts like Stephen Kleynhans, Nathan Hill and Ken Dulaney among others, highlight three specific endpoint technology predictions that are poised to be having a major impact on Windows 10 enterprise adoption.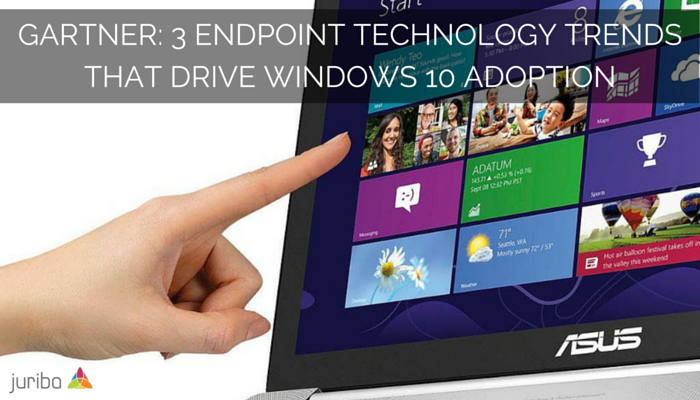 Windows 10 Adoption Will Be Faster and Wider Then Ever Before
When Gartner analyst Stephen Kleynhans addressed his audience at the Gartner's Symposium/ITExpo, he said he was shocked "how good the reception [of Windows 10] has been." He added later that this is "reflective of the fact that this is a good OS." Based on the fact that two-thirds of businesses are still running Windows 7 or older, Windows 10 is slated to become the fastest and most widely adopted Microsoft Operating System ever. In fact, Gartner expects 50 percent of enterprises to have started their Windows 10 deployments by January 2017.
50% of Enterprises will have started their #Windows10 deployments by 01/2017

There are several strong arguments for upgrading. "In the consumer market, a free upgrade coupled with broad legacy device support and automatic over-the-air upgrades ensures that there will be tens of millions of users familiar with the operating system (OS) before the end of 2015," said Steve Kleynhans, research vice president at Gartner. "For enterprises, we expect that implementation will be significantly more rapid than that seen with Windows 7 six years ago."
Most businesses will follow an upgrade timeline similar to this:
H1/2016: Plan to begin pilots for Windows 10

H2/2016: Broader deployment throughout the organization

H1/2017: Production deployment

Early 2019: Complete migration project
Gartner made three additional endpoint technology predictions:
By 2019, Platform-Independent Computing Will Become The Norm
Gartner analyst, Nathan Hill, predicts that within the next three years, organizations will deliver twice as many applications remotely by focussing on platform and device-independent delivery options as these are more financially feasible and operationally more attractive.
The consequence will be that business-critical legacy applications that are platform dependent will need to shift in order to allow the evolution of user-centric computing at the faster pace that users and software vendors are demanding today.
Gartner.: By 2019, organizations will deliver twice as many applications remotely.

By 2018, One Third Of All Notebooks Will Have A Touchscreen
According to Statistica, the number of smartphone users in the United States will reach 207.2 million in 2016. As smartphone usage is estimated a staggering 4.7 hours a day (1/3 of the waking hours in a day) - it is not surprising that the demand for touchscreens is higher than ever. People are so used to navigating the screen by touching it that they now expect the features available with their notebooks.
In addition, the prices for touch screen technology keep dropping which means this type of screen has basically become a default feature for notebooks. According to Gartner, "pricing is expected to get much more competitive in the second half of 2016 as manufacturing processes continue to improve and Windows 10 migration planning starts to accelerate."
Higher Resolution Display Screens At The Workplace
By 2018, 30 Percent of Enterprises Will Spend More on Display Screens Than on PCs.
Since an increasing number of workplaces are digitally oriented, employees are demanding larger and higher resolution screens. Gartner predicts that by 2018, 30% of all enterprises will spend more on the display screens than on the PCs themselves.
@Gartner: By 2018, 30% of enterprises will spend more on display screens than PCs.

"All of these trends portray a new employee workspace that is more mobile, more capable of working more naturally with humans, and, overall, more productive and secure. Endpoint support staff must rethink the workspace and work with suppliers to rearchitect and re-cost standards," said Ken Dulaney, Vice President and distinguished analyst at Gartner. "From an IT perspective, Windows 10 and the move of applications to the back end will dramatically change how those applications are delivered to employees. Updates will be more frequent, more incremental and less obvious to the end user. Software vendors and internal IT have much to do to adapt to this new model and to move away from the image management model for PCs of today."
A more detailed analysis is available in the report "Predicts 2016: Endpoint Technology Shifts Are Accelerated by Windows 10."
Thinking about upgrading to Windows 10? Download our "IT Project Manager's Guide to Windows 10 Enterprise Migration" to find out how to structure your upgrading process, where you should deploy which tools and how you can cut 60% of your project time.