On May 30 and July 2, Juriba's CTO, Barry Angell, presented a session entitled 'How to get your executive management fired up about Evergreen IT after your Windows 10 migration' at the Ivanti Windows 10 Summit. The conference was hosted entirely online and it is still available to watch on-demand.
Over 2,000 people signed up to attend the IT Leadership event so we wanted to share the opportunity to watch it again with our subscribers.
What to expect from the event
The event includes six sessions, all focused on giving you valuable information to achieve Windows 10 nirvana. The Summit started off with a panel of experts at Microsoft, where they gave insight into how to improve your overall experience with Windows as a Service. The following sessions were led by industry experts from companies across the world and they covered how to design the ultimate Windows 10 workspace, how to get your executive management fired up about Evergreen IT after your migration, and more!
Here's the complete list:
Microsoft Keynote Panel: Real Talk About Windows 10

Insights for Windows 10 in the Enterprise: An Insider Preview into What's Coming Next!

Design the Ultimate Windows 10 Workspace

Patching at Full Throttle: Maintaining Security, Compliance, Compatibility, and Quality While Patching Faster Than Ever Before

Windows 10 Migration and Updates – Avoid the Pitfalls and Do it the Right Way
What to expect from our session
We were asked to provide a thought leadership piece on one of the hot topics in IT - how to manage Evergreen IT (Windows 10 servicing among others) once your migration project is complete? There was no product pitching, just thoughts and experiences on the challenges faced by Executives with the new Evergreen IT model, and some hints, tips and best practices on how you can approach this new world of IT management.
Join Juriba's CTO, Barry Angell, as he explains how you can build your Evergreen IT strategy for years to come.
You can watch the recorded webinar below: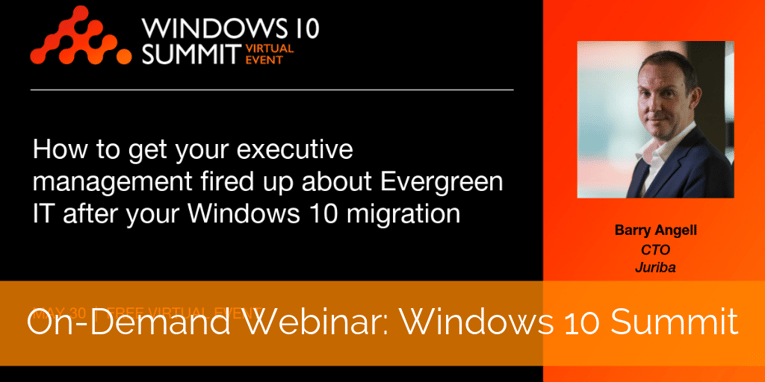 If you want to know more about how Juriba can help with your Windows 10 migration, get in touch with us and don't forget to visit our events page regularly as well!