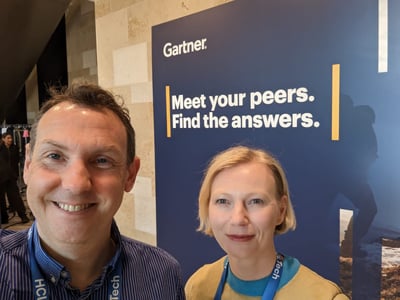 This week, Julia Bell and I attended the Gartner Digital Workplace Summit in London.
The conference brings together IT executives, Digital Workplace leaders, architects, application leaders, and I/O leaders with Gartner analysts to discuss, learn, and innovate ways of creating effective Digital Workplace strategies while rethinking work.
Below, I want to share my key takeaways with you.
#1: Organizations are lagging in Digital Workplace maturity
One of the biggest takeaways for me was confirming that organizations are lagging in their Digital Workplace maturity. Gartner has a great tool called Gartner's Digital Workplace Maturity assessment tool that helps organizations fully realize that value depends on an understanding of and alignment with each organization's Digital Workplace maturity. As organizations gain maturity and achieve their DW ambitions, they climb the ladder from Workplace Infrastructure Modernization (Levels 1 and 2) to New Ways of Working (Levels 3 and 4) to, ultimately, Drive Business Transformation (Level 5).
Dan Wilson's presentation entitled "Digital Workplace Maturity: Myths, Trends, and Facts" dove into the maturity model in detail. Interestingly, although not surprisingly,
80% of organizations only score a Level 1 or 2, lagging in their Digital Workplace maturity.
One of the key points to highlight is that moving from level to level requires cultural change, rather than just a change in tooling or outsourcing the problem. Digital Workplace leaders must have a strategy involving people, processes, and tooling, and have a seat at the leadership table to make progress.
Want to know how you score? Take the survey to get your bespoke Digital Workplace Maturity Assessment.
#2: Application complexity is growing
Another highly interesting fact is that the average application count for users has increased from six in 2019 to eleven in 2023, with many organizations now deploying between 12 and 25 apps per user! In other words,
the number of applications per user has almost doubled on average in the past four years and has almost quadrupled for some organizations.
This highlights how complex the Digital Workplace is becoming, especially given the mix of fat clients and cloud-based apps. The pandemic has placed an even greater focus on how to make our employees productive from different locations and on different platforms. But the biggest challenge for organizations today is enabling employees to do "meaningful" work. This problem can only be solved by focusing on outcomes and empowering users to take more control of their output and how they achieve it.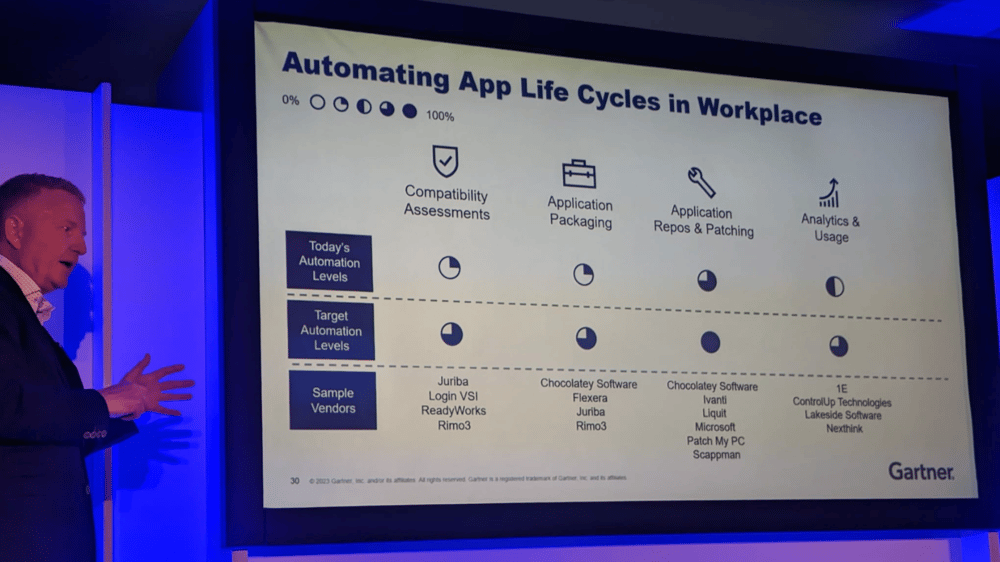 #3: Digital Employee Experience is fundamental to organizational workplace advancement
Over the past few years, the Digital Workplace has become a collection of Digital Workplace tools. IT leaders now need to purposefully design and deliver employee experiences that maximize productivity, collaboration, and digital skills. As a result, Digital Employee Experience (DEX) continues to grow as a fundamental component of organizational workplace advancement.
In 2022, only 15% of organizations had a Digital Employee Experience strategy, team, and management tool. By 2025, this number will be 50%!
The evolution of DEX will be the combination of performance telemetry with human experience insights and sentiment analysis, combined with workstyle analytics, which brings technology and behavior into better alignment. Digital Workplace leaders are a new breed. They are tech-savvy and understand the IT environment, but they are also well-connected within the business, have senior leadership experience, and can tell stories to increase engagement and empathy with the goals and objectives of those that work within the organization.
#4: Sustainability will become a mandatory topic for Digital Workplace leaders in 2024
Did you know that over 30% of devices purchased by enterprise IT organizations may no longer be managed by IT, and 45% of an organization's carbon footprint is held in the devices, not the data centers?
In the next 12-18 months, sustainability will become an even bigger issue than it already is for Digital Workplace leaders as larger organizations will increasingly be under pressure to start reporting on their carbon footprint. Therefore, Digital Workplace strategies must focus on the data, analysis, and refresh strategies associated with managing their hardware assets. With quite a large global shift back towards physical devices from virtual platforms, the decisions around hardware strategy will be critical to ESG success.
#5: Digital Workplace leaders need to wear multiple hats to be successful
Stu Downes, in his presentation "Four Viewpoints the Workplace Leader Must Take to Guarantee a Successful Future", spoke about Digital Workplace leaders needing to wear multiple hats to be successful. They need to be the controller, optimizer, enabler, and innovator.
47% of Level 1 organizations do not have a Digital Workplace strategy but need to develop one asap.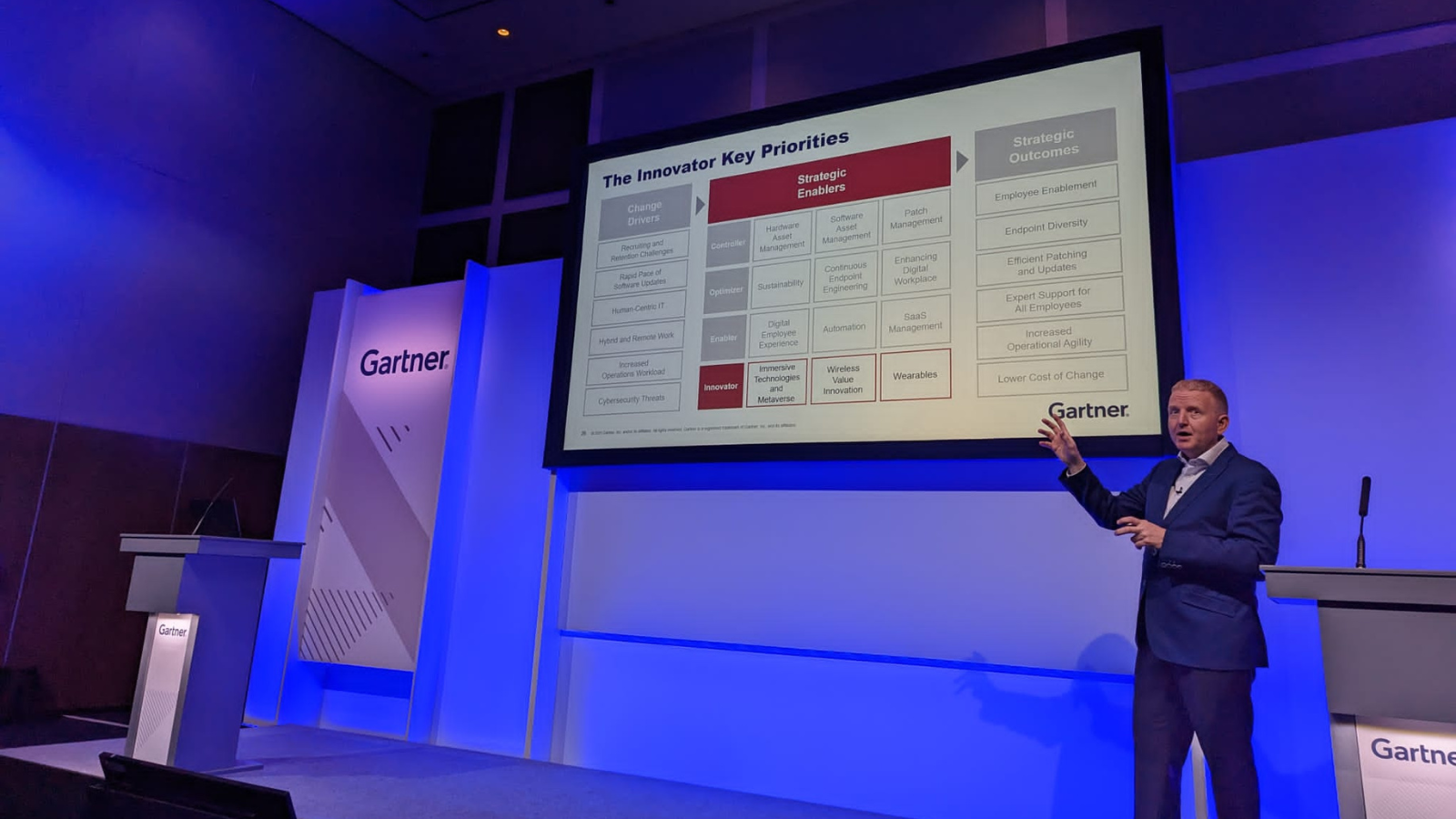 As part of the presentation, he mentioned that, astonishingly, 47% of organizations that fall into the first level of the Gartner Digital Workplace Maturity Assessment scale do not have a Digital Workplace strategy. His recommendation: leaders should develop a roadmap and an action plan over the next 90 days, with an execution plan to complete at least one innovation project and embed optimization within the Digital Workplace operations within the next 12 months, carefully picking those initiatives that will sit in the low effort, high impact 4-box.
Conclusion
This was a conference full of insight, advice, and guidance. There was a lot more to the conference and more to discuss over the coming months, especially in relation to best practices for implementing automation for Digital Workplace leaders and how organizations can further use workplace analytics to drive productivity and behavior. We at Juriba are absolutely delighted to see a real focus on Digital Workspace leaders as the catalysts for change. There is clearly an extremely exciting journey ahead.