Are you in the midst of preparing to migrate your organization to Windows 10?
In a busy enterprise environment, being able to run your IT migration as efficiently as possible means having the right tools to do the job in the first place, instead of compromising or just trying to make do with what you already have in place. With that in mind, you have an important question to consider:
What Is The Perfect Tooling Stack To Accelerate Your Windows 10 Project?
To answer that question, it is helpful to break down your toolset stack requirements so you can better assess your Windows 10 migration project into seven categories:
We will now explore each step and assign the required tools to make your migration project as efficient as possible.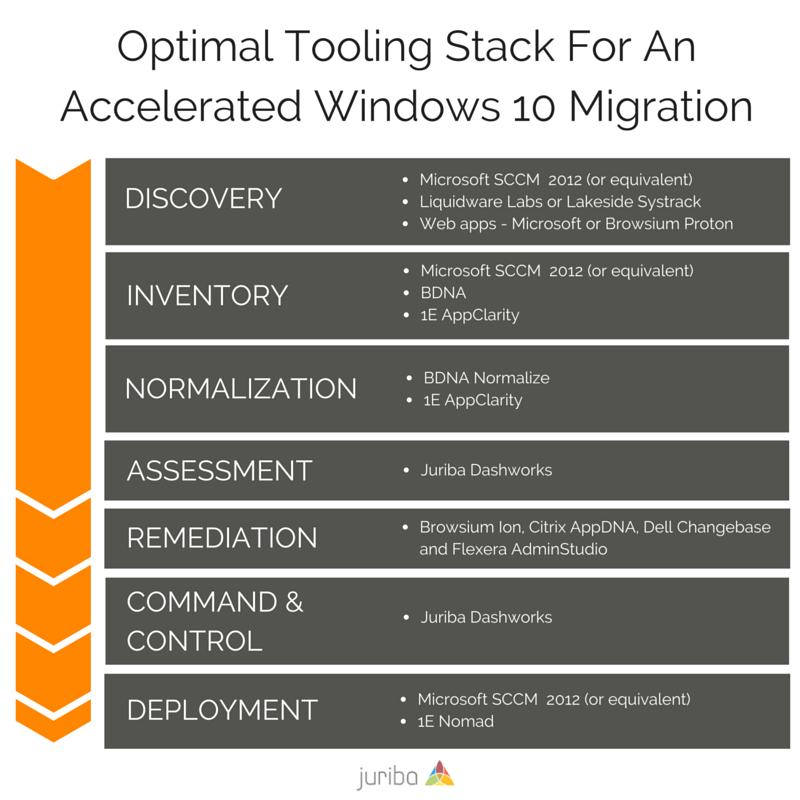 Discovery
First on deck for your toolset should be an agent-based or agentless discovery tool. Examples would be System Center Configuration Manager 2012 or an SCCM equivalent such as LANDESK or Tanium.
If you don't have such as system already in place, or you want to gather deeper usage metrics, tools such as Liquidware Labs or Lakeside Systrack are essential. If you are on a budget, Microsoft's free tool MAP is improving, although nowhere near as robust as the other solutions. With so many web-based applications being used these days, include a browsing discovery solution from Microsoft (Enterprise Site Discovery) or Browsium Proton.
Inventory
Once you have performed discovery, you'll need robust tools for staying on top of inventory. Your organization doesn't have time, money and human resources to waste on sprawling applications and a lack of clarity about what end users have installed.
Again, you can use your SCCM or equivalent as the IT asset inventory tool of choice here. In addition, with a tool like BDNA you can gain further insights into the IT environment — including top vendors like Oracle, IBM, Microsoft, SAP, Adobe, and more.
Deploying a tool like 1E AppClarity gives you better visibility so you can see how accurate the inventory is and the state of all active licenses.
Normalization
With your inventory management tools sorted out, further tools are called for so you can build in normalization processes.
You can accomplish this with BDNA Normalize. Its data source is the regularly updated BDNA's Technopedia, which is described as being the biggest repository of details about software being used in the enterprise today. This supports you in getting the best return on investment in all the various applications being deployed throughout the enterprise, eliminating redundant and overlapping software tools and making sure employees are working from the same versions of mission-critical applications.
Another tool to consider is 1E's AppClarity, which is designed to give you a quickly normalized view of all applications.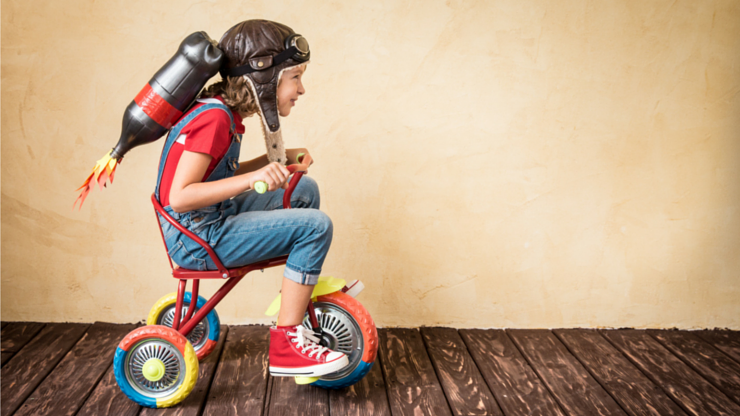 Assessment
You've got your work cut out for you when preparing your organization's migration to Windows 10. To make a full assessment of your assets, it's time to take stock of and understand precisely what you have in place, and what needs to happen to it to move it to Windows 10.
This is where Juriba's enterprise-grade IT tool for project management Dashworks Analysis System comes into play. Dashworks gives you multiple dashboards to cover your data warehousing requirements, showing you linked information on users, computers, PC ownership, applications, web applications, departments, locations. Rule-based algorithms on hardware and application compatibility can then be applied to generate a RAG status for each and every asset, plus some advise on where to target your initial remediation efforts.
Remediation
Knowing which applications are compatible, which are not, which can be upgraded and those that need internal work is critical to understanding your migration plan. Through the tooling above, you are in a position to not only assess your existing environment but to also prioritize your workload to get to the most 'READY' users in the fastest time. While decisions need to be taken manually in this step, and no tooling will do it for you, tools like Dashworks will give you a central place to make and control them. For automated application compatibility remediation, consider Citrix AppDNA, Dell Changebase or Flexera AdminStudio. These tools all purport to take your MSI package or snapshot your application install and apply a SHIM to make a fixed version. To speed up your Windows 10 project deployment and address web application issues, you'll need a web application remediation tool such as Browsium Ion, which also gives you control over browser security and compatibility.
Project Command and Control
In this step, you can implement Dashworks Project System for your project's command and control needs. Migration projects in large organizations quickly become complicated affairs, often requiring you to deal with logistics and decision making on for multiple teams and across thousands of assets. Using a single point of control like Dashworks helps you quickly identify the biggest obstacles to migration, minimizing disruptions, and productivity loss, tracking readiness and automating those painful tasks like end user communications and self-service audit/scheduling.
Deployment
You want a safe, secure and easy distribution of content via your network, which is why many IT professionals use SCCM for configuration management. If you are worried about SCCM server proliferation, or need to cope with low bandwidth sites, consider pairing SCCM with Nomad from 1E. Nomad provides you with bandwidth throttling while maintaining secure access to content with no worrying about file sizes being sent over a dynamic and ever-changing environment.
Conclusion
There is a myriad of tools out there to help you manage bits and pieces of your IT transformation process. Setting up the ideal set of tools doesn't need to be so much of a trial and error process when you have an overview of the above-mentioned software options for your enterprise. You can integrate all these tools into Dashworks and use it as your central command and control center.
You'll be able to accelerate your upcoming Windows 10 migration project with a stack that covers all your basics, from discovery, inventory and normalization of the titles you find, through assessment, remediation, and project command and control. This helps ensure a successful deployment with less wasted time.