Although it made significant technological progress, Windows 8 was a big flop at the enterprise level. According to ZDNet, only a meager 4.1% of enterprises are running the Windows 10 predecessor since most companies decided to skip the OS upgrade completely. Many organizations had only just finished, or were still in the midst of their over-time and budget Windows 7 migration project. For many, the migration process took months (sometimes years) longer than initially anticipated, whilst others decided to wait due to the already announced next release, and anticipated complexity of a further round of application compatibility issues.
In contrast, Windows 10 can look back on a very successful first year. While Microsoft may not meet its lofty goal of 1 billion assets on Windows 10 by 2018, the new operating system overtook Windows 8 market share after only five months. In fact, it is the fastest-adopted operating system in Windows history. But most of these new 350+ million Windows 10 users are consumers that took advantage of the free upgrade.
Most Large Organizations Will Now Start Their Migration Efforts
Most larger businesses and organizations waited until the first anniversary update was released (August 2nd, 2016) to ensure the main bugs were ironed out. A recent survey by Flexera Software showed that 58% of the respondents indicated that their organizations would be adopting Windows 10 within 18 months of its release — which does not leave much time for testing and evaluation.
Not to repeat history, Microsoft focused on increasing enterprise level operating system security while decreasing the application compatibility issues. However, whilst the situation has certainly improved, there are still six major enterprise Windows 10 migration obstacles to overcome, and chief among them (you guessed it) is application compatibility.
We asked many of our medium and enterprise-size IT professionals what they consider to be their main roadblocks to Windows 10 adoption. The results are visualized in the infographic below: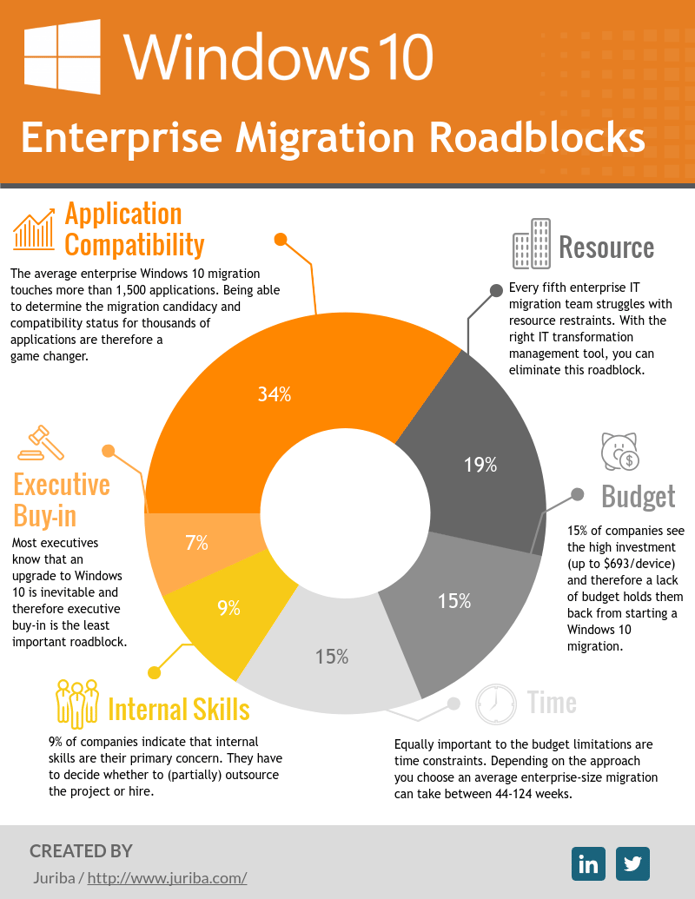 Share this Image On Your Site
Want to share this infographic on your website or blog? No problem — please copy and paste the embed code below:
Application Compatibility
As you can see, Application Compatibility is really the single biggest concern we hear about all the time and the survey results reflect that! Since about 1,500 applications are touched in the average Windows 10 enterprise migration project, it quickly becomes clear why this is the case. The question is not only how do you know which applications are compatible, but also what do you do next. And last but not least: How do you quickly and efficiently determine migration candidacy based on that compatibility?
To prevent this from holding you back, you will need to ensure that your project planning includes the right kind of tooling that will scan, categorize and normalize your application estate, then determine which apps are compatible without any significant further testing. The tooling should also identify which applications have compatibility issues, and of those, which have an upgrade path to a compatible version versus those that are not compatible and have no known remediation track.
Resources
Almost one-fifth of respondents said that resources are their main concern when it comes to managing their Windows 10 migration. Here, your team has to decide whether or not you will have enough internal resources or whether you'll need to outsource all or some of the work and to whom. In any case, you will need to allocate budget and make these decisions early on. Especially if you are bringing in outside resource, the time taken to learn and understand your end user environment must be factored in to any plans.
Budget
Many enterprises struggle to determine a ballpark budget for their Windows 10 upgrade since it quickly becomes a Catch-22. You cannot start your project without a budget allocated to it, but most of the time (without having a central command and control center like Dashworks) you don't know what you are dealing with (ergo, how much budget you will need) until you start the project.
Our experience has shown that enterprises will need to budget around $693 per device for their Windows 10 migration without the use of an IT project management system. However, if one is used, the cost will be significantly less.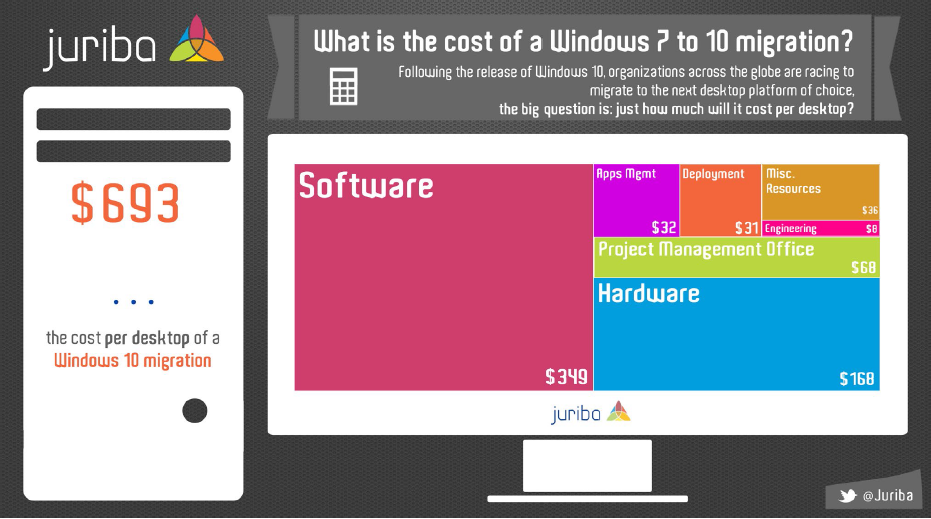 To calculate your return on investment, please use our Windows 10 ROI Calculator or download our budget whitepaper.
Time
Time is always of the essence when it comes to such lengthy projects. Traditionally, enterprise OS migrations were "managed" using hand-cranked databases or by handing around out-of-date spreadsheets. This creates not only bottlenecks but massive inefficiencies. With the right approach and tooling, many of the longer parts of the processes can be streamlined and handled simultaneously, shortening the duration of the average Windows 10 migration project to about 44 instead of 124 weeks.
Internal Skills
Internal skills are always an issue with big-bang migrations as you will need to hire a lot of personnel on a project-only basis. The hiring and ramp-up process is not only difficult and protracted, but it also becomes increasingly harder to find skilled team members. Moving towards continuous improvement or Evergreen IT, away from big-bang migrations and having smoother upgrade cycles will eliminate that problem, allowing you to train and incentivize long-term employees.
Executive Buy-In
Executive buy-in one of the least important issues at 6%. While most executive management takes a general "Don't fix unless it's broken" approach to IT, they do understand that it is necessary to stay up-to-date with their operating system and are used to long upgrade cycles every 2nd or so new version. However, with security at the top of the executive agenda, getting the organization onto the most secure end user platform is driving up executive demand for this project to gather funding and get done. Most enterprises today are running Windows 7, but with its mainstream support having ended in 2015 and extended support ending in 2020, time is already running out.
Conclusion
With a strategic planning approach and the right tooling you can accelerate your migration project significantly — making the above-named roadblocks completely avoidable.