After more than two years of not attending large industry events and conferences, we are excited to share that we will be at the Virtual Workplace Evolution (VWE) 2022 in Berlin, Germany from June 22nd to 24th, 2022. VWE is a relatively small, yet highly focused learning and networking event where decision-makers from medium-sized and large companies from all major industrial sectors come together to discuss technologies, applications, processes, as well as solution and integration approaches that transform today's workplaces into Modern Workplaces. We are looking forward to (re-) connecting with, learning from, and getting inspired by some of THE brightest minds defining and driving these crucial transformations.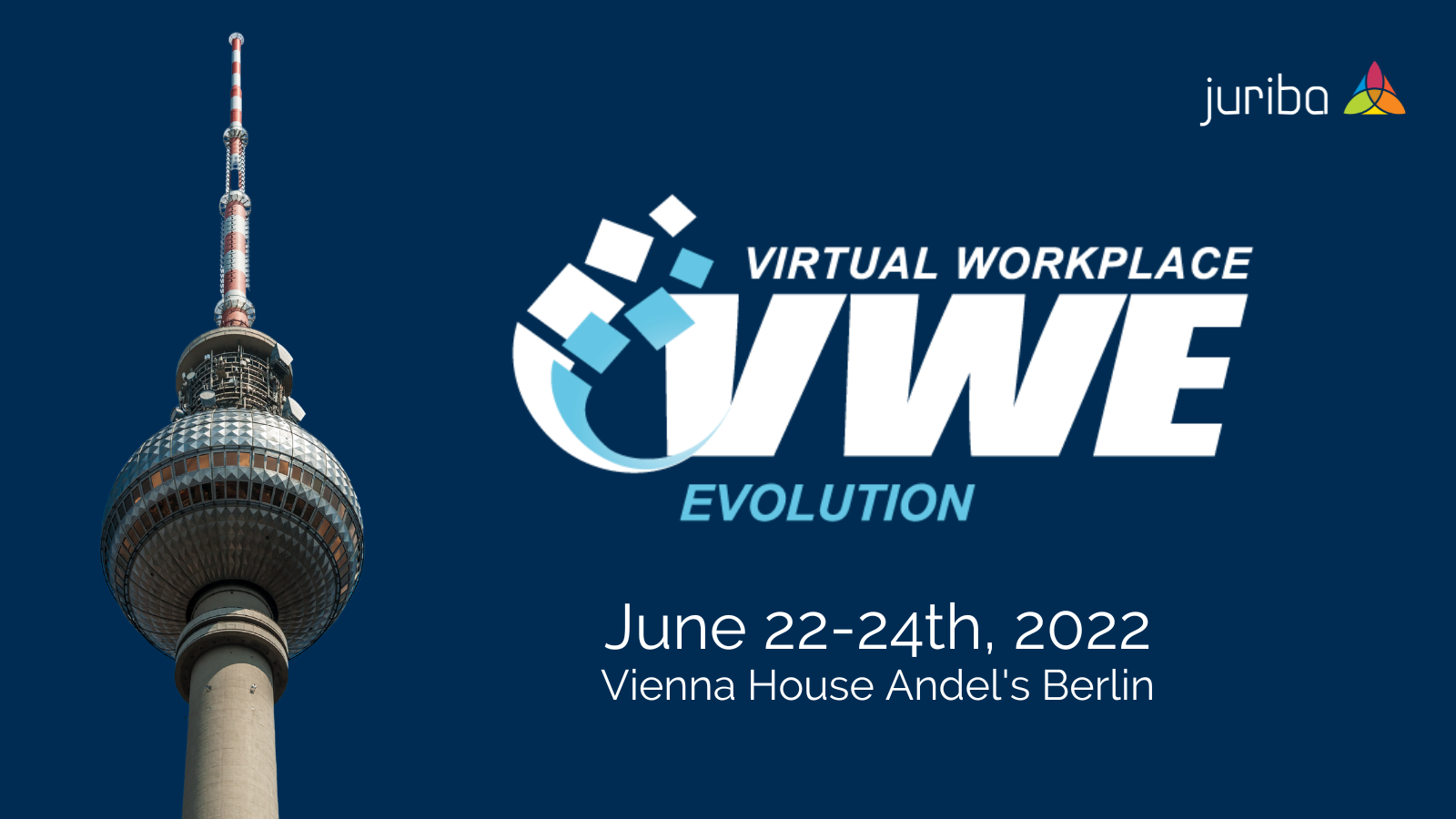 How To Find Us
Meet With Us. You can schedule a meeting with us through the VWE event portal anytime.
Stop By Our Booth. Learn more about the Juriba solutions, get a live demo, or get your questions answered by our team at Booth 16.
Come To Our Live Session. On June 23rd, from 16:00-16:30, Barry Angell will walk you through the details on how to take EUC Evergreen IT from a theoretical concept to a practical (and successful) reality. (See below)
Find Someone With A Juriba Shirt. We will be wearing Juriba branded shirts so we are easily recognizable. Just find one of us and we will grab a coffee and chat!
Session Details: EUC Evergreen IT — From Concept To Reality
As part of the event, Juriba's CEO and Co-Founder, Barry Angell, will address the challenges enterprises face in their attempts to manage their End User Computing into reality in an agile, Evergreen IT manner. In this session on 23.06.2022 at 16:00 - 16:30 (GMT+01:00) (Stream A), Barry will explore the answers to these important questions:
Why is it now more important than ever to make Evergreen IT / Modern Workplace Management an integral part of your long-term enterprise IT strategy?

What are the cornerstones of a successful Evergreen IT strategy?

How can you get your executives fired up about Evergreen IT? How do you build a business case and plan the program to ensure executive buy-in and sponsorship?

What do you need in terms of people, processes, and tooling to make this successful?

And finally: How mature are you on the Juriba Evergreen Maturity Scale?
I cannot wait for this event and hope to see you there!