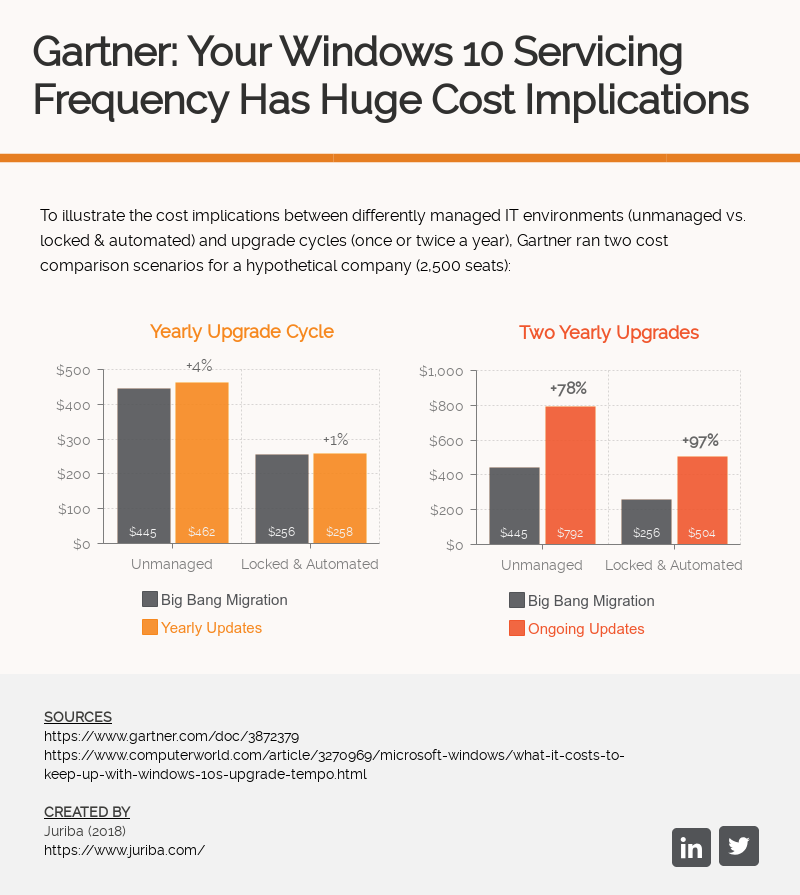 In November 2015, I calculated the per device cost to migrate from Windows 7 to Windows 10 — a whopping $693 per seat for a manually delivered migration using spreadsheets or hand-cranked databases! In comparison, Gartner had quoted somewhere between $1,035 and $1,930 per user depending on the level of desktop management in place, and Forrester estimated $1,000 as the average expense.
With Juriba Dashworks software, we were able to reduce this figure significantly (on average to $493 per seat). While our Win 7 to Win 10 calculation was based on a hypothetical 10,000 seat migration project, it was built from real-world experience of having helped enterprises ready millions of devices for migration.
As companies move to continuous upgrades rather than big bang migrations, the focus of these calculations shifts as well. This week, Gartner has been first to market with a new cost model, the so-called "Windows 10 Feature Update Cost Model", which is available for purchase for $7,500 on the analyst company's website and consists of an Excel spreadsheet and an accompanying report. It outlines how the ongoing maintenance cost compares with the big bang migrations of the past. The goal is to allow large organizations to estimate the costs and labor requirements involved for managing one or two Windows 10 Servicing cycles a year.