The Service Desk & IT Support Show 2013 Twitter Contest!
Juriba, experts in enterprise Windows 7 migration, and RealmSoft, the specialists in IT change, are delighted to be co-exhibiting at SITS13. Whilst we'll be on hand throughout the show to provide advice and expertise in how to reduce the cost, time and complexity of your enterprise Windows 7 migration or desktop change project, we also wanted to bring some fun to the party! That's why SITS13 is your chance to get your hands on a £50 Amazon voucher, and all you've got to do is post a single Tweet.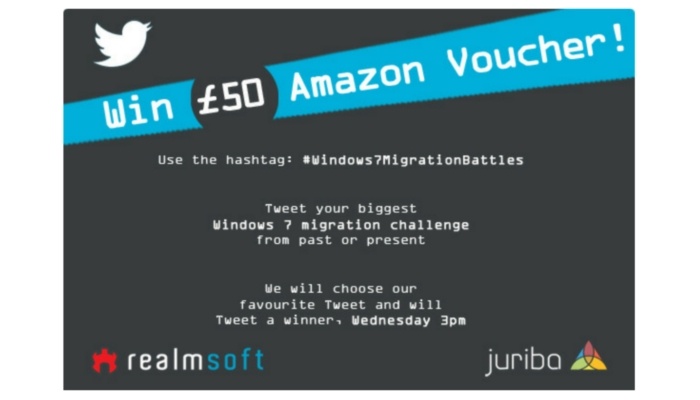 The rules:
Use the hashtag: #Windows7MigrationBattles.
Tweet your biggest Windows 7 migration challenge from past or present.
We will choose our favourite Tweet and will then Tweet a winner on Wednesday at 3pm.
140 characters to do your best to win a £50 Amazon voucher - it's that simple.
Best of luck.