One of the biggest questions enterprise IT managers currently face is: How do we decide when we are ready for Windows 10? Which factors do we need to consider when determining Windows 10 readiness?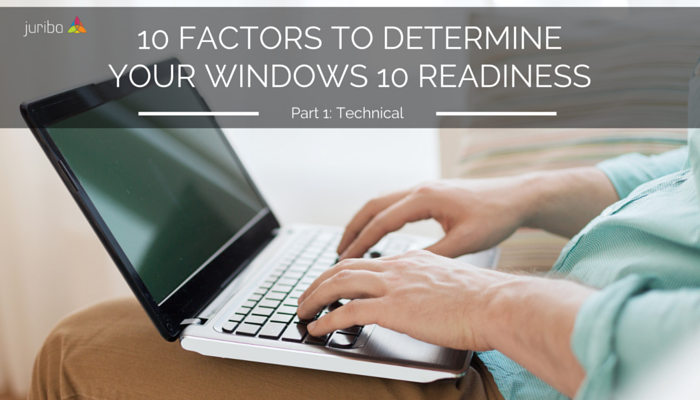 To help you understand what will make your organization Windows 10 ready, we have compiled a list of the top 10 readiness factors you need to consider. These are divided into technical and organizational aspects. This blog post will focus on the technical aspects, which include:
Hardware Readiness
In-house Application Readiness
Third-Party Application Readiness
Web Applications
User Profiles, Plugins, Macros & Legacy Document Types
Infrastructure Readiness
(Read more about the organizational aspects in this blog post.)
Let's examine each factor in detail.
Hardware Readiness
The theory is: if you are running Windows 7, you can also run Windows 10. But most enterprises are on a lease or capital expenditure cycle and therefore undergo hardware refreshing every 3-4 years. Also, legacy peripherals (e.g., older printers) won't work with Windows 10. You can use the Microsoft Assessment Planning Toolset to scan each machine individually and determine its Windows 10 readiness. Alternatively, you can use a tool like Dashworks to assess the entire enterprise at once.
In-House Application Readiness
You will also need to consider internally developed applications, which may or may not work with Windows 10. Third-party tools such as Dell ChangeBase, Citrix AppDNA or Flexara can notify you whether each application will work with the new Windows operating system. While these tools can fix many compatibility issues, your internal developers may need to rewrite some applications to make them work flawlessly. This involves additional time and costs.
Third-Party Application Readiness
Many third-party vendors prepare long before a new operating system is released, but this doesn't guarantee that all purchased applications will work. You will need to examine every installed program (e.g., Adobe inDesign, Photoshop) to determine whether or not it supports Windows 10. Some vendors may charge an additional license cost to upgrade to a higher version that is fully supported on the new OS.
Web Applications
Windows 10 includes the new Microsoft Edge browser. It was developed from the ground up to be more secure. It was also designed to be more useful with Corona, a personal assistant, and includes features such as the ability to mark up and share annotated webpages. However, it might not support your legacy web applications. In that case, you can use third-party tools such as Browsium, a long-time Juriba partner, to run your older apps in IE11, which is also included in Windows 10, or follow a path to have them remediated.
User Profiles, Plugins, Macros & Legacy Document Types
Another oft-forgotten component that can be very frustrating for your users is the success of their user profile migration. This includes the user's personal IE favorites, application settings, local configurations and local PST files.
Also, many of your employees rely upon supporting Excel plugins and macros as well as legacy document types. Make sure you test and upgrade all user profile, plugins, macros and any other supporting applications from Windows 7 to 10!
Building Infrastructure Readiness
Upgrading your company to Windows 10 impacts more than just the personal laptops and computers of each user. The entire infrastructure must be ready to support your new image. For example, local on-site servers that might still be running SCCM 2007 need to be upgraded to support Windows 10 branching. You may need to install network ports, or identify a suitable laptop build room where people can drop off and pick up their new or rebuilt machines.
Conclusion
A Windows 10 migration project is very complex, especially if you are migrating thousands of users. You will need to approach this project strategically, considering all obstacles and hurdles and being prepared for whatever might come your way. A thoroughly-researched and detailed project plan is vital. A project management tool like Dashworks can provide you with a central command and control panel to manage your migration project and make the process that much smoother.