Microsoft has been buzzing this week with announcements around the future of its Windows 10 Servicing model — so much that one announcement almost fell through the cracks: the public preview release of the software giant's cloud-connected service Desktop Analytics.
Originally announced with much fanfare in September 2018, Desktop Analytics was described as a cloud service that integrates with System Center Configuration Manager and is aimed to make application compatibility assessment before a Windows 10 or Office 365 upgrade/migration easier. In addition, the free tool was supposed to provide migration suggestions, help create optimized pilot groups for testing, and allow IT managers to create quick inventories of in-house Windows apps to make compatibility checks simpler. Or, in Microsoft's words, it would "take the guess work out of testing and focus your attention on key blockers."
But since then, the successor of Microsoft's Windows Analytics tool (which includes Upgrade Readiness, Update Compliance, and Device Health) hadn't seen much public comment or updates in the last 10 months or so — until now.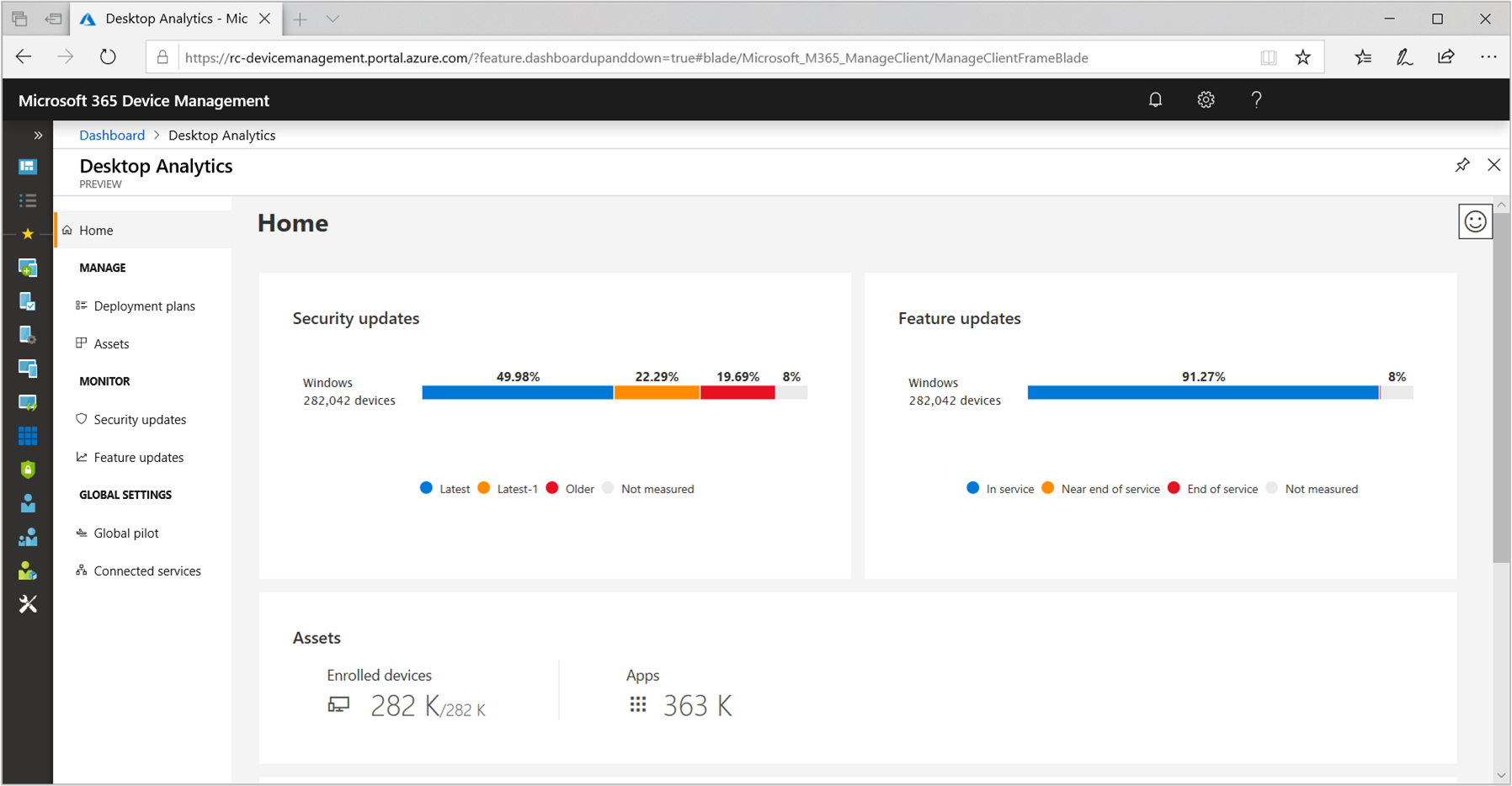 [Image Credit: Microsoft, 2019]
What We Know About The Desktop Analytics Public Preview
While there aren't many significant differences from the original scope, there are some interesting adjustments and nuances to highlight.
1. You Need SCCM To Pilot Desktop Analytics
One of the key points that immediately stands out in all Microsoft communication, whether it is the official announcement, the Desktop Analytics Tech Community welcome message, or the official documentation, is the emphasis on the tighter integration with SCCM. In his official announcement, Brad Anderson, Corporate Vice President for Microsoft 365, said:
Desktop Analytics provides the insight and automation you need to efficiently get current and stay current. Desktop Analytics is a cloud-connected service that integrates with System Center Configuration Manager and will integrate with Microsoft Intune in the near future.
In the original announcements, Microsoft did not mention that you had to run SCCM or Intune, but SCCM is now needed to pilot the upgrades. The main purpose of Desktop Analytics is to harvest internal device data within an organization and overlay it with Microsoft's telemetry data that has been "aggregated from millions of devices" to make the upgrade assessments.
Unfortunately, despite being announced 10 months ago, it does not yet integrate with Microsoft Intune.
2. Office 365 ProPlus Isn't Part Of The Scope Anymore
If you have seen the original Ignite presentations about Desktop Analytics, you might remember Office 365 ProPlus as well as Windows 10 were part of the original scope:
[...] create an inventory of apps running in the organization, assess app compatibility with the latest feature updates of Windows 10 and Office 365 ProPlus, and create pilot groups
Notably, one of the most outspoken supporters was Amesh Mansukhani, a Senior Program Manager focused on Office 365 ProPlus, who presented the 'Managing your deployments with Desktop Analytics' session at Ignite 2018.
Now, none of the new communications include any references to Office 365 ProPlus, but only to Windows 10. According to a Microsoft spokesperson,
Desktop Analytics is focused on Windows. We have been developing Desktop Analytics in close collaboration with numerous customers. Customers using beta versions gave us great feedback about how Desktop Analytics has improved their ability to confidently manage Windows deployments. The feedback from customers was that they wanted Office readiness directly embedded in System Center Configuration Manager (SCCM) and Intune, so we'll continue to make our investments there, while focusing on Windows scenarios in Desktop Analytics.
My feeling is that this was a question on scalability. Application compatibility for Windows apps for Windows 10 upgrades is much easier to manage than all the plugins, macros, and add-ins that come with Office 365 implementations that can run to millions of files!
3. Desktop Analytics Will Use AI And Machine Learning, But It Is Unclear How
The announcement also includes some ambiguous references to artificial intelligence (AI), machine learning, and data-driven insights, like here:
Since the Windows 10 April 2018 Update release, we've leveraged artificial intelligence (AI) at scale to improve the quality and reliability of our release rollouts. And along the way, we've learned the best ways to help ensure devices have a positive update experience.
And here:
Machine learning and the cloud to make it easier to deploy and update Windows 10. The aim with Desktop Analytics is to avoid the compatibility problems that stand in the way of keeping machines up to date.
It does not outline how the data is processed, where AI and machine learning is used, and how much this actually impacts the results. From what I have seen so far, the output is still very manual labor focused, rather than mathematically calculating the path of maximum velocity.
4. Desktop Analytics Is The Successor Of Windows Analytics
From the very beginning, Microsoft positioned Desktop Analytics as the natural successor of Windows Analytics, another Windows 10 Upgrade Readiness tool that lives in the Operations Management Suite division and includes Upgrade Readiness, Update Compliance, and Device Health. When Desktop Analytics will become generally available, all of these capabilities will be combined under the Desktop Analytics umbrella. Zach Dvorak gave more details in a Microsoft Tech Community post:
Desktop Analytics is part of Microsoft's Unified Endpoint Management offering, so a first-party management tool (i.e. ConfigMgr, or Intune in the near future) is a requirement. You can continue using Windows Analytics for the time being. We'll have more to share about the future of Windows Analytics in the coming months as we work to make Desktop Analytics generally available.
5. Desktop Analytics Isn't Suitable For Everyone
According to Microsoft's "What Is Desktop Analytics" documentation, Desktop Analytics isn't suitable for organizations looking to move to the Windows 10 Long-Term Servicing Channel. In addition, it is primarily designed to enable enterprises to plan "in-place upgrades" — from older versions of Windows to Windows 10 as well as upgrading Windows 10 to the latest version.
Lastly, in order to run Desktop Analytics, you will need the following prerequisites:
To run Configuration Manager version 1902 with update rollup (4500571) or newer
To have license subscriptions to one of the following: Windows 10 Enterprise E3 or E5, Microsoft 365 F1, E3, or E5, Windows 10 Education A3 or A5, Microsoft 365 A3 or A5, or Windows VDA E3 or E5
Have access to Azure and Configuration Manager admins to perform certain service onboarding tasks
Conclusion
Over the next months, we will keep updating you on Microsoft's progress and plans regarding Desktop Analytics. But as you consider using or evaluating this new service, I want to encourage you to peel back the fancy marketing language and ignore the promise of not having to test 99.9% of your enterprise applications ever again — and define a UAT-driven app testing program that is fast, scalable, and optimized for maximum velocity while minimizing the risks of business disruption.
At Juriba, we utilize Windows Analytics (and subsequently Desktop Analytics) data to drive Windows 10 to 10 migrations for companies that need to understand raw (not packaged) application data. We will keep you informed as we get more hands on experience with the tool and try to demystify the marketing from the reality, sprinkled with our own best practice on how to manage Windows as a Service.