Yesterday, we took a closer look at all the technical components determining your company's Windows 10 readiness. These included readiness of hardware, applications, and infrastructure.
However, your company must consider even more complexities than technical hardware and software questions. In this second article, we will focus on organizational and logistical aspects of Windows 10 Readiness, such as your company's:
Procurement Cycle
Deployment Logistics
Internal Logistics
User Training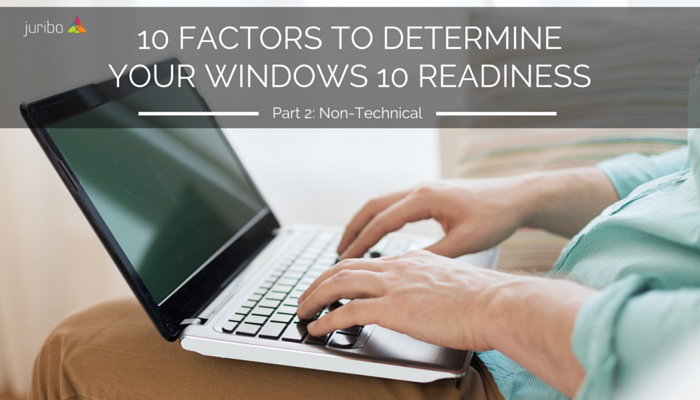 Procurement Cycle
Companies planning a Windows 10 migration widely underestimate the additional procurement cycle they must undergo to replace items such as legacy printers, slow laptops or higher versions of Windows 10- supporting software. Identifying what needs to be replaced with what, where it should go, and who is responsible for managing the ordering and delivery can be time consuming, and is a major dependency on any hardware and software refresh. The cycle could also include raising capital budget, agreeing depreciation or lease cycles and identifying the budget holder, be it the business, IT, or the project itself. Finally, the whole approval process needs to be factored in to any timeline for deployment. It may take some time, especially with a large order to get the requisite internal signoff. Depending on the company systems and culture, this can be lengthy and frustrating.
Deployment Logistics
You must also consider actual deployment logistics — how will you build the machines and deploy the software? If you are refreshing your hardware at the same time as your migration, you may want to have your hardware supplier adjust your hardware configurations and customize your SCCM with the correct apps, settings, and specifications. Hardware suppliers might also discuss a 'just in time' delivery methodology so that you do not have to hold stock on premise. This can be a useful tool to help with physical storage, but don't forget that you will also need a clear understanding of the process from order to delivery to make this work for you. Finally, don't forget about the detail - who will do the unboxing? Where will the boxes go? Who is responsible for any removals? These are all questions that may need answering as part of your migration process.
There are also internal logistical deployment challenges you will need to address — for example, will you deal with the infrastructure mechanics to package your applications?
Internal Logistics
Now that you have decided whether or not you will have the machines built on or off-site, you will have to ensure you have the internal skill set and support staff capacity to handle the migration.
Do you have enough engineers and floor walkers?
Do you have the right skills in-house?
Do you have enough deployment staff to upgrade 50 machines a day?
Do you need to hire internally or bring in temporary staff?
What is the hand off from the deployment team to the service delivery team?
User Training & Communication
You need to think about user training before beginning migration. Switching from Windows 7 to Windows 10 is inherently accompanied by many changes, such as upgraded applications that look and behave differently. Since your organization's productivity depends upon user interaction with Windows 10, make sure you explicitly manage expectations and communicate early and often. This step is critical for the success of your project — if your users are onboard, you are less likely to get push-back when it comes to roll-out.
Conclusion
As with technical challenges, logistical and organizational obstacles require tedious preparation and foresight to ensure a smooth and successful migration.