Active partners of Microsoft and those professionals who are interested in becoming partners with the software giant are looking forward to the 2016 Microsoft Worldwide Partner Conference.
WPC 2016 is scheduled to run July 10 to July 14 in Toronto, Ontario, Canada. Of particular interest will be the WPC Vision Keynotes, which are slated to run from 8:45 a.m. to 10:45 a.m. on July 11-13. The first three keynotes that have been announced will come from Microsoft CEO Satya Nadella, COO Kevin Turner and Phil Sorgen, Corporate VP, Worldwide Partner Group at Microsoft. More speakers may be added as it gets closer to July.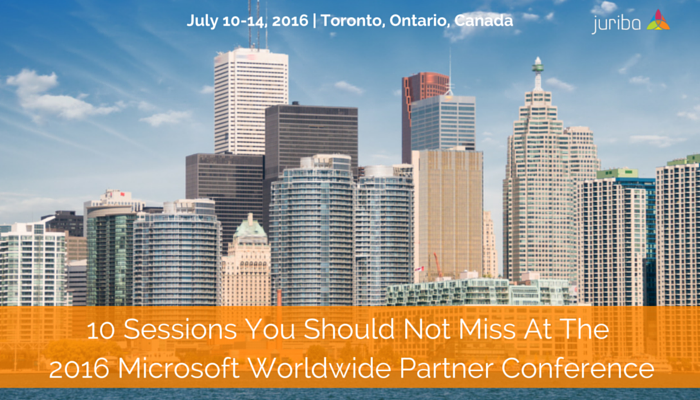 Forward-thinking executives won't want to miss the ISV general session on "The Future of Technology: Unlocking New Ideas to Deliver Exceptional Customer Experiences." This session is bound to stir up some interesting conversations that you'll want to participate in with fellow conference-goers.
Whether you are a seasoned pro at business conferences or are preparing to represent your company for your first major event as an executive, it pays to get an overview of the planned proceedings so you can maximize your time. With that in mind, here are 10 sessions you can't miss at WPC.
Enhance the Value of Office 365 with Cloud Solutions for Project Management: In this session, you'll learn how Microsoft Project has been upgraded and is now available via cloud computing services through Microsoft Office 365. As a well-respected project management tool, Microsoft Project helps you better engage with customers and this introduction to the software is not to be missed.
Expand Your Business and Reach New Customers with the new Enterprise Value in Office 365: You can reach out to more customers by addressing their concerns over security issues and the need to leverage analytics to boost their bottom line. This session promises to help you harness Office 365's robust security, productivity and collaboration tools. You'll also learn how to sign up more customers by showcasing the added value of the software's modern voice communication and meeting tools.
Help Your Customers Drive Business Transformation with Office 365: The business processes that your customers follow most likely can be optimized so they can develop new products or services. This session explores how Visio Pro for Office 365 will help your customers collaborate more effectively to adjust their business processes. The result is faster innovation that gives your customer an advantage over competitors.
Microsoft FastTrack: Helping You and Your Customers Achieve More with Office 365: For your customers who have not yet made the transition to the cloud-based services from Microsoft's cloud services, such as Enterprise Mobility Suite and Microsoft Office 365. To that end, this session covers how Microsoft FastTrack improves customer engagement and decreases the time-to-value your customers require for a better bottom line.
The Art of Landing the Deal: Windows 10 in Education. Companies focused on the educational industry have a vested interest in using the latest offerings from Microsoft. This session is designed to help you learn how to pitch Windows 10 to your education customers, with details on the features that have been added in the latest update. Whether your target audience is a distributor, LSP or reseller, you'll discover how to address the most common objections customers raise as well as show them how much more profitable they can become.
Winning a Bigger Share of The Health Analytics Market. The amount of raw health information data is now increasing by 100 percent every two years. This makes health analytics a major investment for stakeholders in health care businesses. In this session, you'll get details on tactics you can use to integrate as well as sell Microsoft analytics solutions to your customers to help them innovate and improve the quality of the health services they provide.
Co-Market and Co-Sell Your Solution with Microsoft for Greater Success. If you're an independent software vendor (ISV) and need a better understanding of how you can work with the Microsoft Go-to-Market team, this is the ideal session for you. Major software solutions to be discussed include Office 365, Microsoft Azure and SQL. You'll gain insight into new programs that Microsoft developed to help you land more customers.
Delivering Value with SQL Server 2016 and Intelligent Applications. Software integrators and ISVs interested in evolving their application to better differentiate themselves from competitors should plan on attending this session. It will cover the latest version of SQL Server and how Microsoft can help you improve application performance with added security.
The Changing Shape of the Financial Services Industry: Key Trends and Customer Buying Behavior in a Cloud-First, Mobile-First World. Customers are trending toward using mobile devices as a primary computational resource in conjunction with the always-available software and data services they can get through cloud computing. Any Microsoft partner who is in the financial sector will want to attend this session for insights into what customers want to buy and how you can help them make better, faster decisions.
The Changing Shape of the Healthcare Industry: Key Trends and Customer Buying Behavior In A Cloud-First, Mobile-First World. Healthcare industry partners must stay on top of industry developments in cloud computing to remain nimble and competitive. They also must take into account the growing use of smartphones and tablets that let people access individual as well as aggregated patient data safely and security while on the go. The rapid pace of change in how healthcare organizations consume business applications requires you to stay on top of industry developments and trends, making this a session you won't want to miss.
WPC 2016 will be a great opportunity for you to network with professionals and potentially develop new business opportunities.
Extra Bonus: Gwen Stefani & Other Evening Events
What's more, you'll have an opportunity to catch a performance by Grammy winner Gwen Stefani of No Doubt fame. Stefani is the headline performer at Air Canada Centre and this event is offered exclusively to WPC 2016 attendees to cap off the five-day conference.
How Do I Register?
Keep in mind that it costs $2,105 if you register for WPC 2016 by June 30. The price increases by $100 for those registering on or after July 1. To get the most out of your experience and make sure you have time to attend all the sessions that catch your eye, it pays to use the best software tools. To that end, Meeting Scheduler and Session Scheduler will be available from June 2 on Microsoft Connect Those in need of a robust IT project management tool should know that Juriba can be found on Microsoft Pinpoint.
Want to see us at WPC?
Great, we would love to see you too! Come, visit our booth 222 or click below to schedule a 1:1 meeting with us: