Juriba Limited Achieves a Microsoft Gold Data Analytics Competency

Juriba Limited demonstrates best-in-class capability and market leadership through demonstrated technology success and customer commitment.

London, United Kingdom – 31st March 2015

Juriba Limited today announced it has attained a Gold Data Analytics competency, demonstrating a "best-in-class" ability and commitment to meet Microsoft Corp. customers' evolving needs in today's dynamic business environment and distinguishing itself within the top 1 percent of Microsoft's partner ecosystem.

To earn a Microsoft gold competency, partners must successfully complete exams (resulting in Microsoft Certified Professionals) to prove their level of technology expertise, and then designate these certified professionals uniquely to one Microsoft competency, ensuring a certain level of staffing capacity. They also must submit customer references that demonstrate successful projects (along with implementing a yearly customer satisfaction study), meet a revenue commitment (for most gold competencies), and pass technology and/or sales assessments.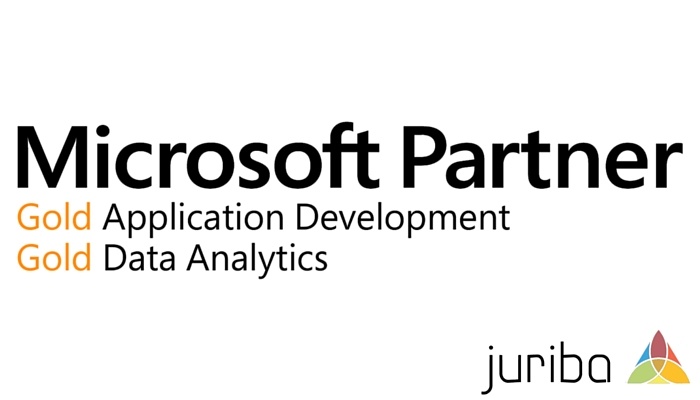 Juriba's continued drive to make IT migrations a simpler and less painful experience has led to over 4 million users, computers, mailboxes, applications, servers and mobile devices being readied for their new platform. By gaining this new competency, Juriba has further expanded its domain knowledge in key areas of business intelligence to further the innovation in both the Dashworks software and professional services that it provides for Windows 7, Windows 8, Windows 10, Exchange, Office 365, Server and data centre migration projects.
"This Microsoft Gold data analytics competency showcases our expertise in and commitment to today's technology market and demonstrates our deep knowledge of Microsoft and its products," said Barry Angell, CTO at Juriba. "We plan to accelerate our customers' success by serving as technology advisors for their business demands."
"By achieving a gold competency, partners have demonstrated the highest, most consistent capability and commitment to the latest Microsoft technology," said Phil Sorgen, corporate vice president, Worldwide Partner Group at Microsoft Corp. "These partners have a deep expertise that puts them in the top 1 percent of our partner ecosystem, and their proficiency will help customers drive innovative solutions on the latest Microsoft technology."
Attaining the Data Analytics competency demonstrates partner expertise in designing, developing and implementing analytics and data management solutions that allow customers to monitor, analyze and plan business performance based on actionable business insight. Equipped with exclusive training, the latest software, and support on solutions around Microsoft SQL Server 2012 and Microsoft Azure, partners help their customers set their organization apart from the competition.
The Microsoft Partner Network helps partners strengthen their capabilities to showcase leadership in the marketplace on the latest technology, to better serve customers and to easily connect with one of the most active, diverse networks in the world.
Juriba Limited is a software developer who's Dashworks product helps large scale enterprises project manage IT migration readiness for users, computers, mailboxes, applications, servers and mobile devices. To date, over 4 million assets have been readied for migration within the Dashworks toolset, helping organisations to accelerate project delivery whilst gaining unprecedented control of complex IT transformation.