Windows 7 migration acceleration, slow virtualisation uptake, further vendor acquisitions and a lack of corporate interest in Windows 8 – just some of our CTO's predictions for 2012.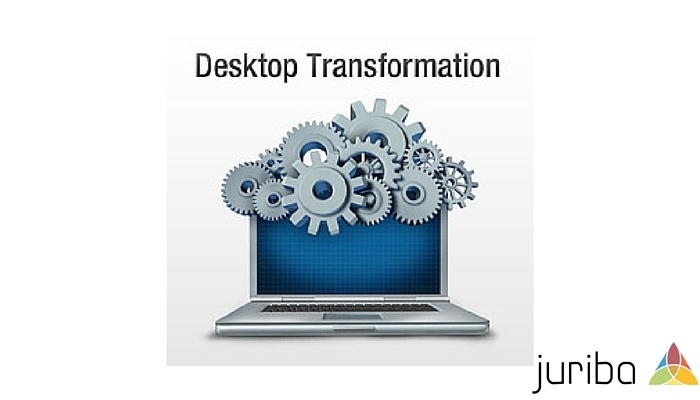 As the year draws to a close, it is time to look back at the events of 2011, look forward into 2012, and make some predictions as to what the future holds in desktop transformation. So let's start by looking back. 2011 was supposed to be the year of Windows 7 enterprise migration and desktop/application virtualisation mass adoption. It wasn't. Those of us who have been involved in migrating tens of thousands of PCs smirked at the suggestion of such rapid rollout predictions in the current economy.
In the vendor space, it did, however, turn out to be the year of acquisition and products maturing as the market developed. ChangeBase, AppDNA, Kaviza and Ringspun all got acquired. Major innovation strides were made by Lakeside, Liquidware, Centrix, RES and AppSense. Products emerged from Tranxition, FutureStateIT, Prowess, and, of course, Juriba. The major players continued to consolidate and enhance their offerings with Microsoft, Citrix, VMWare and Quest all releasing major new updates and products.
Despite the progress in platforms and tools, adoption of Windows 7 and virtualisation was slow. We need look no further than the global economy to explain this issue. Desktop transformation cost is significant, and organisations were not prepared to budget millions of pounds in the current economic climate.
Against that backdrop of continued economic uncertainty, but with April 2014 now hitting the radar for Windows XP support end of life, organisations are facing a desktop transformation dilemma.
Here are my top 5 desktop transformation predictions for 2012:
1) Windows 7 adoption rates in corporates will escalate but not as fast as analysts expect
Ok – so you probably don't need much of a crystal ball for this one, but 2012 will be the start of mass enterprise Windows 7 migrations. Many large enterprises have focussed efforts on the engineering, infrastructure and applications discovery and compatibility analysis. They have decided how far they want to go with their migrations in terms of virtualisation, and are now waiting on budget release to move forward with the project management element of the transformation. For those organisations that started the planning process early, next year will see large rollout volumes. Many, however, are still struggling with the complexity of where to start such a huge programme. For these organisations, 2012 is all about getting prepared and ensuring that 2013 will be the year of accelerated deployment volume.
2) Virtualisation will continue to see slow desktop adoption
For the last 5 years I have read about how desktop and application virtualisation will be driving the corporate desktop by next year. Yet market penetration in corporates is just 1-2% right now. The issue is still cost and the ROI leap of faith. It's not easy to virtualise and make quick ROI returns because you cannot, at this point, make all of your users virtual. This means hybrid models. Hybrid models mean additional support cost. If you are in a well-managed estate, it is likely to cost you more to adopt virtualisation. Mass adoption is also hampered by complexity right now. To save money, you really need to understand how to virtualise every component of the end to end delivery. This requires a vast set of technical skills. The resulting impact for 2012 will be that where simplification is achieved (such as Citrix VDI-in-a-box), uptake will be greater, but that's just for SMBs. In large corporates, many will simply dip their toes into the water with the solutions from Citrix, VMWare, Quest and Microsoft. However, until the ROI really makes more immediate sense with the launch of sub-$100 zero-client devices and better end to end management solutions (SCCM 2012 and HyperV2 will make strides here), many will simply forklift their migration.
3) Windows 8 will see little or no corporate penetration
Windows 8 will undoubtedly be the start of the future, but not in corporates. Put simply, the timing is off and Microsoft underestimated the time and effort it would take to get to Windows 7. For most organisations, even if they started with Windows 8 on the day of release, it wouldn't be enough time to get the programme done. Corporates have enough on their plate with legacy applications (fat client and browser based), old hardware, infrastructure change, virtualisation and readying all of those components, to think about further application development and the learning curve for another new OS. Switching plans in 2012 won't be an option, and with many rollouts scheduled to run at least through 2013, Windows 7 will undoubtedly be the next Windows XP for the enterprise, not Windows 8.
4) User and data virtualisation will be key innovation
When you look at the end to end virtual desktop stack, you can see how the story is unfolding. Desktops, applications and storage – these have been the initial focus areas and products mature daily. But the user needs their data, and they want it to be available to them from any device. Look at the adoption of DropBox in the home for how much this functionality is required. With BYOD (bring your own device), you still need your data and you need it offline. Yet, for large corporates, that data needs to be accessible and at speeds that do not reduce the end user experience. 2012 will see data virtualisation products launched that will address this need. User virtualisation is nothing new – we've been doing it for years with roaming profiles. However, with multiple device types, user virtualisation becomes a complex mix of what can be accessed from where. For example, I might have a full desktop in the office, I might use the LinkedIn iPhone app and I might want an in-house developed iPad app. User profiles (and entitlements) need to become more device aware and the management centralised. I believe this will also be a key area of development next year.
5) Technology vendors will provide solutions rather than point products and further acquisitions are inevitable
In the desktop transformation space, end customers are faced with a bewildering array of technology options. You need to choose your platform. You need to choose your discovery tools, inventory tools, business intelligence tools, compatibility tools, profile migration tools, project management tools, deployment tools and automation tools. You need to decide how you will ready your applications and who will do it. This is why a lot of companies put their faith in a one-stop service integrator shop – it's the simplest way out of the complexity. However, there is an argument and an economic driver for DIY desktop transformation. If those current point solutions amalgamate, integrate and become a single end to end solution, complexity is reduced and companies can focus on the platform and project management. I believe that this is why you will see further acquisitions by the major vendors to give them the end to end message. None of them have it today. Citrix is probably closest, and with HyperV2, Microsoft will have a compelling message. Expect early moves in this space with Lakeside, Liquidware and Centrix high on the agenda of acquisition targets.
As we enter into what will be an extremely challenging 2012, it just remains for me to wish you the very best of success. I'd also love to hear your predictions, which you can share by commenting below.