A lot has happened at Juriba in the last 12 months. The UK and Ireland's most active investor in growth businesses, BFG, invested in Juriba to fuel accelerated product development and drive international scale, we acquired AppAvail and launched our new AppM automated application packaging and testing solution, and we kicked our product development into hyperdrive by committing to a multi-year, multi-million dollar investment into our product roadmap.
To better communicate the significant improvements and explosive growth our product portfolio and Juriba as a company have gone through in the past year, we completely revamped our website. Most importantly, it not only reflects our new value propositioning and messaging, but it is less technical and more business problem-focused, and user-friendly! Let's have a look.
From IT Transformation & Evergreen IT Management To Workplace Automation
Juriba was founded with the goal to help enterprises and other very large organizations manage large IT Transformation projects. Instead of using dozens of outdated spreadsheets and hand-cranked databases, Juriba's Dashworks platform gave IT managers a central command and control center with automated communication, self-service capabilities, and much more to migrate in a way that is exponentially more efficient and cost-effective. Since the launch of Windows-as-a-Service in 2015, we have added extensive Evergreen IT Management functionality and automation capabilities such as smart workflows — making it possible to manage multiple different upgrade streams in parallel.
Now, with the combination of Dashworks and AppM, Juriba is taking it to the next level: Workplace Automation Management. This, by our definition, includes both the proactive change management (meaning automating complex Workplace Management processes involving multiple touch-points and process outcomes that then trigger actions into other systems) as well as the reactive execution of single, yet repetitive workplace-related tasks in an automated fashion with minimal (or no) direct involvement from humans.
Therefore, Juriba's new website really hones in on the fact that, with Juriba solutions, IT organizations can turn the chaos and frustration caused by today's complex and constantly changing IT environments into transformation and great user experiences with the world's #1 Workplace Automation platform.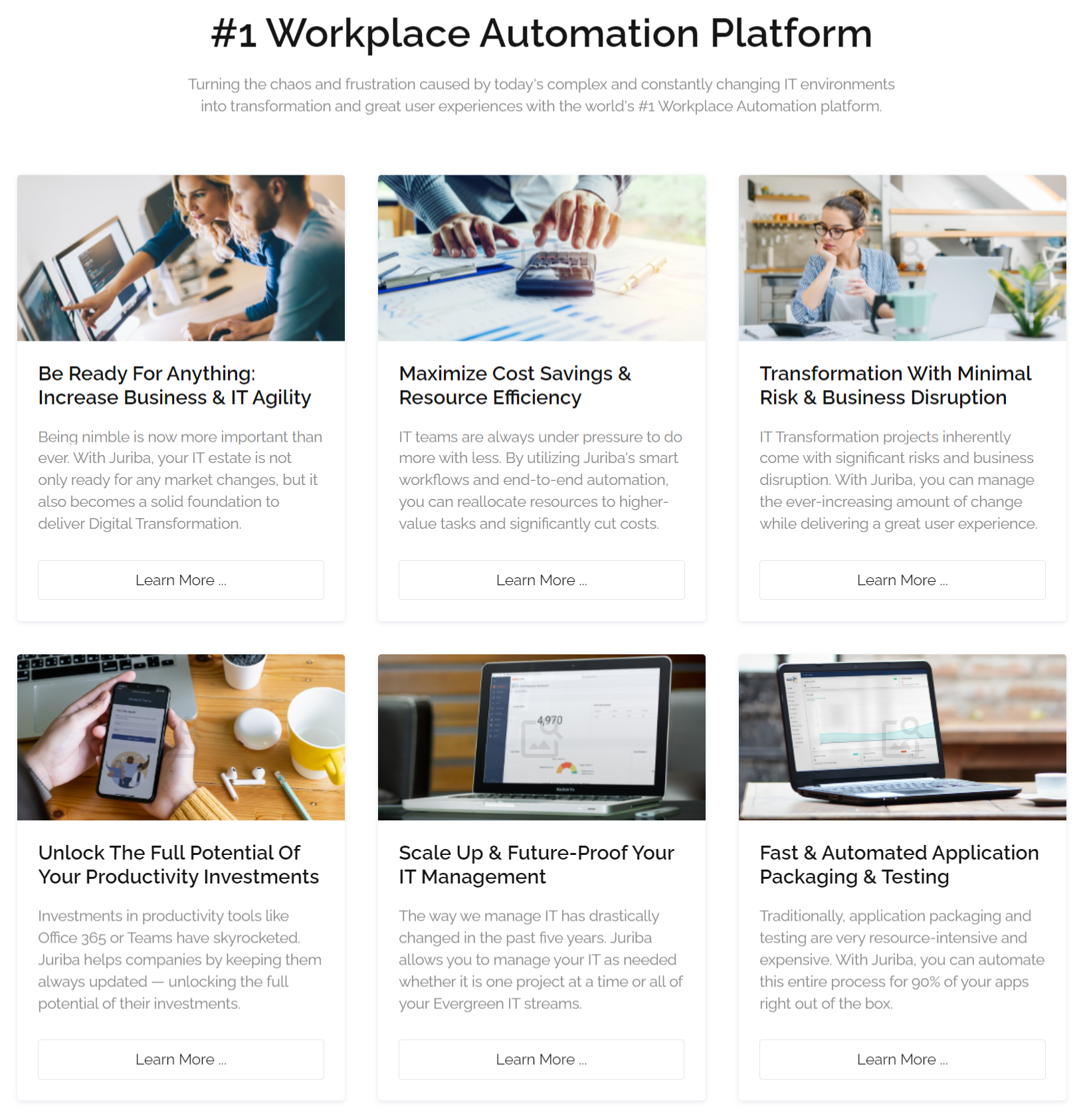 Representing The Growing Juriba Product Portfolio
In addition to better reflecting the new value proposition, the website also now accurately represents Juriba's expanded product offering which is comprised of:
Dashworks - Juriba's Workplace Automation Management platform which can be procured in a modular or all-in-one fashion:
Dashworks Analysis (mandatory Data Warehousing component of Dashworks)

Dashworks Project Packs (Thanks to our modular approach, you can purchase only the project packs you need, e.g., Hardware Refresh Management, OS Migration, Email Migration, Windows Servicing.)

Dashworks Enterprise (includes Dashworks Analysis all Evergreen IT project packs)
AppM Platform - Juriba's Automated Application Management platform:
AppM Tester (automated application testing, including Evergreen Smoke Testing)

AppM Packager (automated application packaging)
Real World Use Case & Business Value Focused
A lot of thought, effort, and work has gone into making the new website less technical feature-oriented and more focused on tangible business value and real world use cases because, ultimately, customers care about whether or not our product can solve a problem that they have. We specifically highlighted four reasons why enterprises and large organizations turn to Juriba most often. They need to:
Cut costs or free up employees for higher-value tasks, and they need to do so by utilizing their budget and resources in a more efficient manner.

Increase the agility of their entire business in general and their IT organization specifically to be able to react to or anticipate changing customer demands faster.

Minimize the risks and possible business disruption associated with large IT Transformation projects.

Unlock the investments they have made in productivity solutions that require constant upgrades to unlock their maximum potential.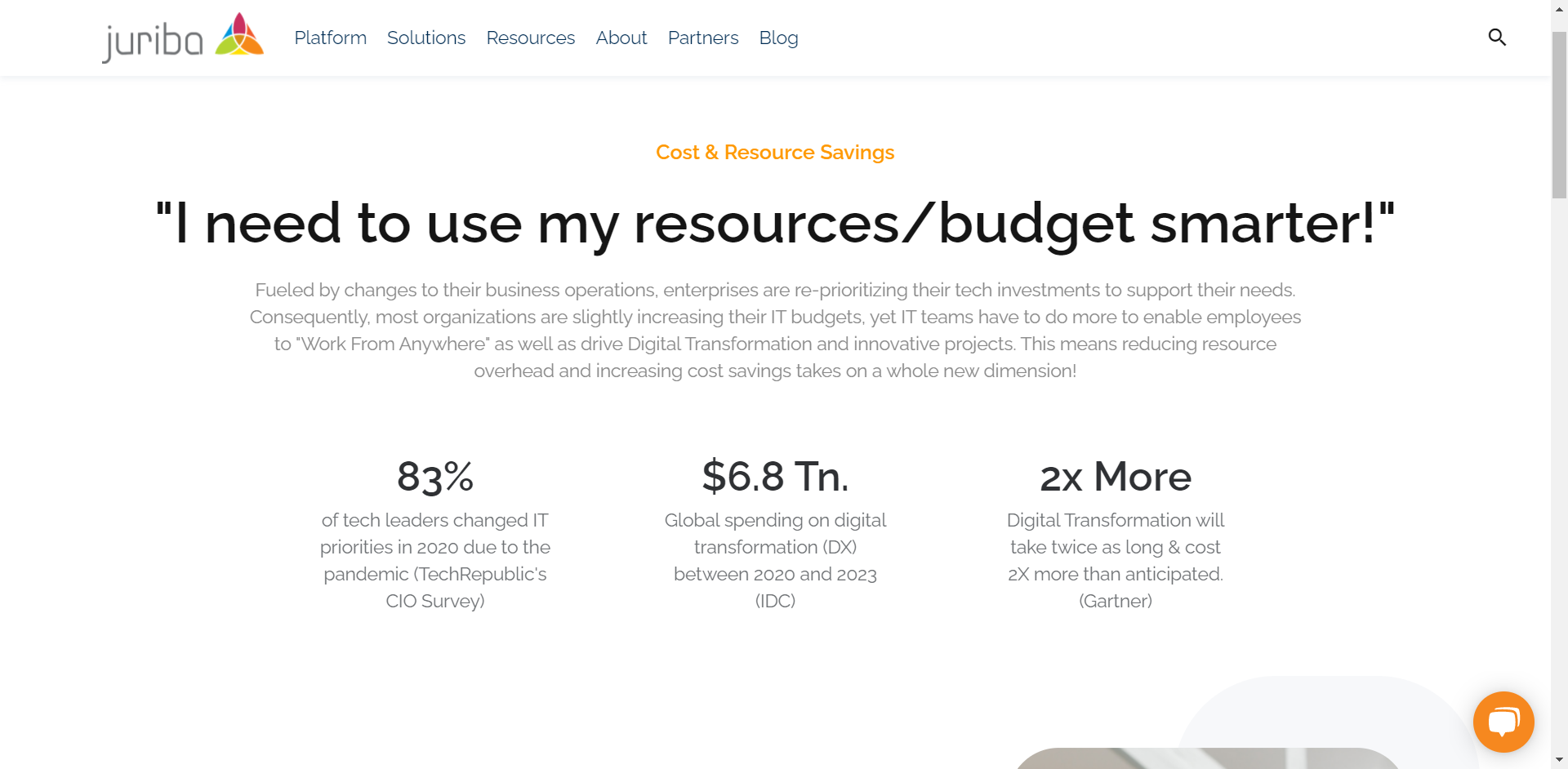 These are just three changes we have made with the new website and there is so much more to discover. We cannot wait to hear your feedback and comments. Please feel free to send them to me or our marketing team directly. We will also have little polls on some key pages that you can use to provide online feedback!