LONDON, 3 July 2019 -- Juriba has announced that its flagship software Dashworks has been accepted into the G-Cloud 11 framework, part of the UK Government's digital marketplace.
Operated by the Crown Commercial Service (CCS), G-Cloud enables public sector bodies to easily and cost-effectively procure services in a number of different cloud technology categories. The G-Cloud agreement will allow UK public sector bodies to choose and purchase cloud computing services covering infrastructure, platform, software and specialist cloud services. The framework is for commodity-based, pay-as-you go cloud services across three lots. G-Cloud has since its inception in 2012 generated sales of over £4bn sold with 45% of this awarded to SMEs!
Key benefits of using CCS:
CCS is playing a vital role in helping to protect front line services by delivering significant and sustainable cost savings through its commercial activity and aggregated procurement arrangements.

Using this agreement will help CCS deliver savings for the public sector and the taxpayer by aggregating spend to drive best value.

The agreement is fully EU compliant, saving customers the time and money associated with conducting their own procurement exercise.

Through the competitive tender process and regular benchmarking, CCS ensures customers have access to the most competitive deals.

Suppliers are carefully evaluated during the tender process and pre-agreed terms and conditions offer customers sound contractual safeguards.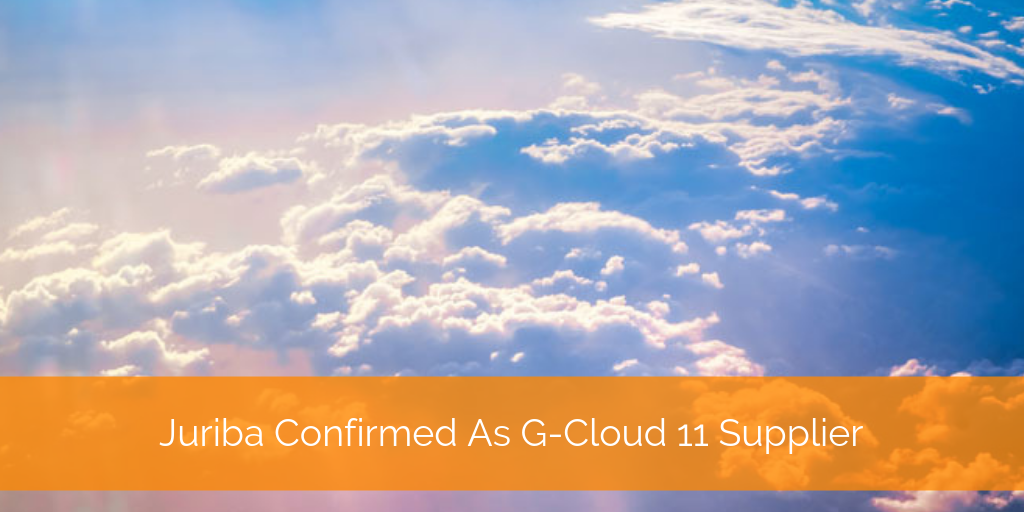 Juriba's G-Cloud 11 services comprise:
Juriba Dashworks software provides a command and control centre to successfully manage your IT transformation/Evergreen projects like Windows 10 and Office 365. The system manages the analysis, scoping, readying, scheduling, deploying and reporting in one box. Features include automated email communications, self-service validation, scheduling and deployment. 7 million assets migrated.
With both Windows 10 and Office 365 high on the IT transformation agenda for a huge number of government agencies, and the ongoing management of those platforms a significant consideration for those that have completed deployment, Juriba is uniquely positioned to help. Over

250,000 UK government devices & mailboxes

have already been transformed to a new platform, and Juriba's Dashworks software is well placed to expand that reach.



Barry Angell, CTO of Juriba said: "We are delighted to have our services accepted into the G-Cloud 11 digital marketplace. Having already helped deliver a number of high profile IT migrations within some of the largest public sector organizations, Juriba has a solid track record for achieving high value, critical solutions to governmental departments. Acceptance into the UK Government's latest iteration of G-Cloud further accelerates our integration with the public sector for both IT migration projects and Evergreen IT initiatives."

You can find more details on our dedicated website page and on the Digital Marketplace.