London, United Kingdom, 26 October 2015: Juriba today announced a world-wide agreement with Microsoft Services that enables Microsoft consultants to utilize Juriba's Dashworks software to help deliver Windows 10 assessment and readiness services to customers. Dashworks is an IT migration command and control solution that utilizes Microsoft business intelligence platforms to help accelerate organizations planning, readying and deploying Windows 10, virtualization and cloud platforms. The software creates a single source of project truth that drives project assessment, planning and migration readiness, helping Microsoft consultants to achieve and provide successful and consistent IT migration project delivery to their customers.
The agreement will bring additional levels of insight to Microsoft consultants seeking to tackle their clients' Windows 10, Office 365 and virtualization projects. Using Dashworks, Microsoft Services can provide a clear view of the IT estate to be migrated, helping to analyze, plan and rationalize the end-to-end IT transformation. From there, Microsoft customers benefit from clear project scope and best practice process, empowering them to make better and faster decisions on project planning and execution.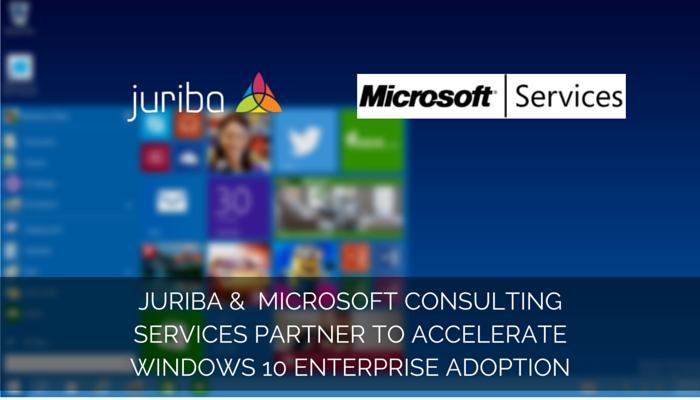 By using Juriba's Dashworks software, Microsoft Services can plan an entire Windows 10 transformation from the ground up, thus proving delivery capability. At the end of the pilot, customers will have a better view of the migration ahead and how best to deliver it. At the conclusion of the pilot, Dashworks licenses can be procured by either Microsoft Services or the customer for full IT migration project management, command and control.
Discussing the announcement, Iain Fraser, Global Sales Director of Juriba said, "Having worked closely with MCS on thousands of successful customer Windows 7 asset migrations, we are delighted to extend and renew our agreement to help drive Windows 10 and Office 365 migration planning and deployment for MCS customers." Fraser continued, "As we continue to accelerate IT transformations across the globe, our IT migration command and control tool, Dashworks, is now only a click of a button away for thousands of MCS consultants worldwide who are striving to help their clients transform their IT environment with speed and precision."