Innovative desktop transformation solutions reduce the cost and increase the efficiency of architecting desktop change
London, UK – 24th April 2012: – Global developer of business intelligence solutions for enterprise desktop transformation, Juriba, today announced a technology alliance with Centrix Software, a leading provider of workspace computing solutions.The alliance brings together the leading desktop project management solution from Juriba and the most comprehensive workspace analytics solution from Centrix Software, to enable large enterprises to significantly reduce the costs and time involved in architecting, planning and deploying desktop migration projects.
Working together, Juriba and Centrix Software will enable large enterprises to reduce manual processes involved in migrations and desktop change by up to 60 per cent. Their solutions provide IT decision-makers with advanced reporting and analysis capabilities, enabling them to discover software and hardware rationalization opportunities, identify areas for compatibility testing and improve IT efficiency in faster time.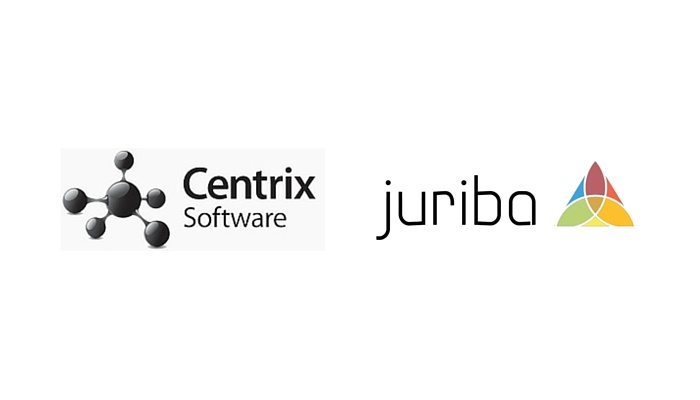 "With support for Microsoft's Windows XP platform ending on 8th April 2014, many organizations are looking at how to orchestrate their migration strategies to Windows 7 in the most efficient way," said Paul Burke, director of products at Centrix Software. "By joining forces with Juriba, we are helping enterprises streamline project planning and deployment and adopt a smarter, leaner approach to desktop change."
"Working with enterprises, we recognize the pain points involved in large-scale transformation projects," said Barry Angell, CTO at Juriba. "Our solution combined with Centrix Software's analytics offering gives organizations the vital data that enables them to make more informed decisions quickly and reduce the complexity of their IT environments going forward. As a result they have a more competitive technology capability and the business benefits from new technologies in faster time."
Juriba and Centrix Software will provide integrated support for their desktop transformation solutions Dashworks and Centrix WorkSpace respectively. The solutions enable organizations to understand and rationalize IT assets and project manage desktop environments at a user level. The partnership provides companies with a complete solution to get from their current desktop and application estate to a new, standardized and efficient platform in the fastest time, at lowest risk and cost.
About Dashworks
Dashworks from Juriba is an all-in-one data warehouse, application compatibility, project management and user migration solution. It automates many of the tasks involved in Windows XP migration to Windows 7 and utilizes the analytics data from Centrix WorkSpace to deliver a best practice methodology for project management based on an organization's installed base. Using advanced data warehousing techniques, Dashworks enables project managers to quickly build a data driven view of the organization's users, computers and applications. Layered business driven feeds provide enhanced analytics and compatibility analysis, accelerating the project planning phase and identifying quick migration wins.
About Centrix WorkSpace
Centrix WorkSpace from Centrix Software is the industry's first end-user computing analytics and workspace aggregation solution for large-scale desktop environments. It provides IT teams with the ability to analyze large-scale end-user computing environments at speed and unify the delivery of applications and content. The information it provides through dashboards and actionable reports enables IT teams to develop user-centric IT transformation strategies, determine the selection of best-fit technologies and optimize the deployment of devices, applications and platforms, whether virtual, web, physical or cloud-based.
About Juriba
Headquartered in London, Juriba is a global developer of business intelligence solutions designed to revolutionize the management of enterprise desktop transformation programs of work such as Windows 7 and desktop virtualization. Its flagship product, Dashworks enables organizations to accelerate desktop transformation projects through agent-less, user-centric compatibility analysis, and dynamic project delivery management. Its 'single version of the truth' utilizes a project scheduling module to dynamically manage asset migration readiness and deployment. Juriba has implemented Dashworks for over 500,000 end users across the globe, actively managing the desktop transformation of 200,000 to Windows 7 in 2011. Customers include JPMorganChase, Fujitsu and many more.
For the latest information on Juriba:
Contacts
Barry Angell, CTO
Juriba
Email: barry.angell@juriba.com
About Centrix Software
Headquartered in Newbury, UK, with the US corporate office in Framingham, MA, Centrix Software provides award-winning workspace computing solutions that optimize the way IT infrastructures deliver applications and content provisioned from physical, virtual, web or hosted platforms. By enabling a user-centric approach to IT service delivery, Centrix Software helps its customers to be more agile, flexible and efficient in how they deliver client-side technology services. Centrix Software's solutions have helped leading organizations in banking and securities, insurance, telecommunications, retail, manufacturing, pharmaceutical, energy and utilities, and the public sector. For more information please visit www.centrixsoftware.com.
For the latest information on Centrix Software:
Contacts
Jane Rimmer
Centrix Software
Email: jane.rimmer@centrixsoftware.com
US PR/Analyst Relations
Janice Bedsole
Tel: +1 781-789-6108
Email: janice@bedsoleandcompany.com
EMEA PR/Analyst Relations

Kellie Collier
Goode Communications
Tel: +44 (0) 1491 873 323
Email: kellie.collier@goode.co.uk