5th March 2012: Juriba Limited is delighted to announce that today it has been awarded a second Microsoft Silver Partner status by completing the tests required for the Business Intelligence competency. This increase in status reaffirms Juriba's commitment to building its solutions on Microsoft technology, and in continuing to drive organisations forward with migration to the latest Microsoft desktop and server platforms.
Speaking recently, Barry Angell, CTO at Juriba stated "In the past couple of years, our product, Dashworks has often been referred to as either 'Business Intelligence for Desktop Transformation' or 'Business Intelligence for SCCM'. It seemed only right that with our products continuing to push the boundaries, we should pursue the official business intelligence certification within the Microsoft partner program."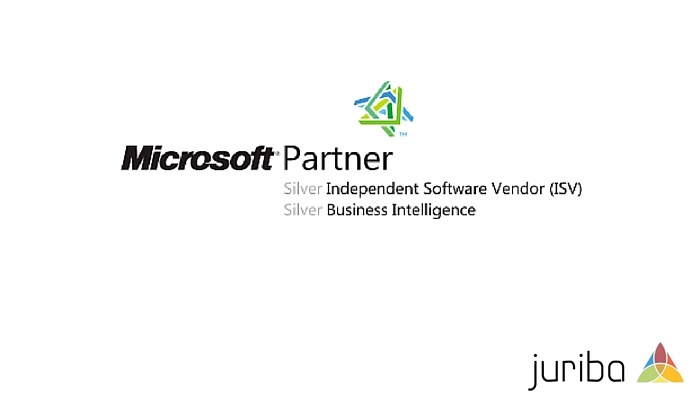 In the early days, Juriba worked with the Microsoft infrastructure teams to ensure that the Dashworks product would work seamlessly with some of the largest desktop management infrastructures in the world. "Microsoft was able to give us important knowledge, advice and guidance during the critical design phase of Dashworks" continues Angell. "Without their consultancy, it is unlikely that our product suite would effortlessly scale in the way that it does today."
In order to achieve silver status, Juriba and Dashworks had to complete some rigorous tests including passing the 'Platform Ready' certification for SQL Server 2008, employing Microsoft qualified personnel, and working with customers to provide references for successful Dashworks implementations across the globe.
About Juriba
Juriba is the world leader in data warehousing and project management software for enterprise desktop transformation. Its software suite, DASHWORKS, enables enterprises to migrate to Windows 7, and Virtual platforms from Citrix, VMware, Microsoft and Symantec.
Juriba aspires to facilitate the desktop migration process by accelerating time scales and improving planning and execution efficiency, while minimising costs and resource requirements. Some of the top FTSE/Fortune 500 companies are currently using DASHWORKS to reduce costs and migrate faster.
Juriba has an extensive global partner base, and is Microsoft Silver Certified and a ChangeBase, AppDNA and Citrix Ready Partner.