INFOGRAPHIC: 93% of IT pro's found Juriba's Windows 7 Project Plan a useful resource.
Juriba recently posed a brief survey to the hundreds of desktop professionals who have downloaded its Windows 7 Project Plan template in 2013. At Juriba, we are deeply passionate about our community driving the resources which we focus our efforts on to create and as such, the purpose of the survey questions was two fold: firstly, to discover how helpful our project plan resource had been and whether more could be added to make it more valuable; and, secondly, to develop a very brief understanding of Windows migration progress within the enterprise space.

As seen in our infographic below, the survey has revealed the following statistics:
62% are planning a desktop migration within the next 12 months,
34% of desktop professionals are only 10-25% of the way there with their migration project,
93% found Juriba's Windows 7 Project Plan a useful resource,
72% would like to see further sections added to our Windows 7 Project Plan template,
2/3 desktop professionals require further resources to progress their Windows 7 migration project.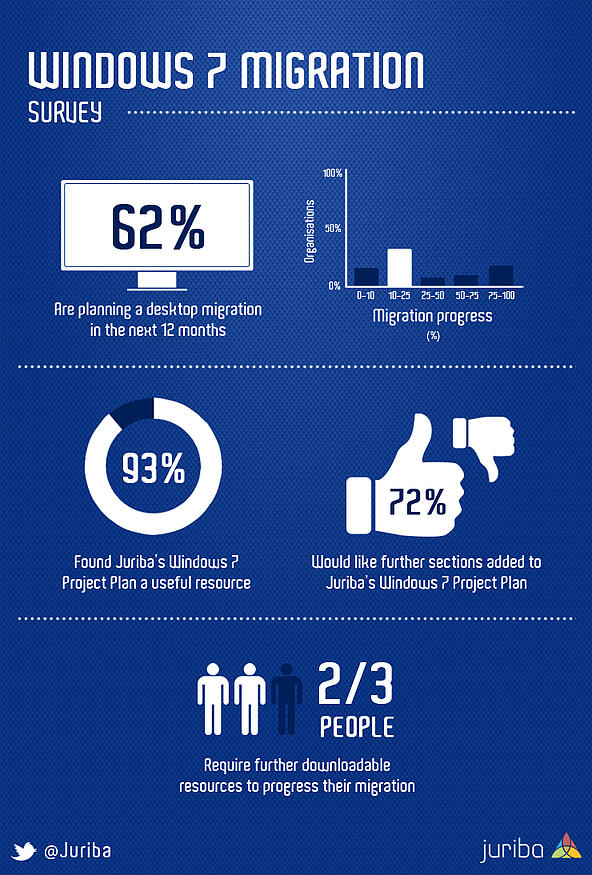 A big thank you to all those who gave us the invaluable feedback that made the making of the infographic possible. Now that the community has spoken, we'll get to work on bringing you the further resources which you need to accelerate your Windows 7 migration projects!