This article was originally first published at the ITSM Review.
Your business has been relying on Windows 7 or Windows 8.1 for some time now, but it is becoming increasingly apparent that you will soon need to have things ready for a transition to Microsoft's latest offering — Windows 10.
With Windows 10 comes a set of changes that your IT team may not yet be entirely familiar with, such as new security configurations, how to handle application management or creating policies around Windows 10 branching.
As your enterprise prepares to migrate to Windows 10, you have thousands of users to consider. This is no time to be understaffed, as there will be many moving parts for you to keep track of and under control. This naturally raises the question among IT professionals. How are we to staff our Windows 10 migration team correctly?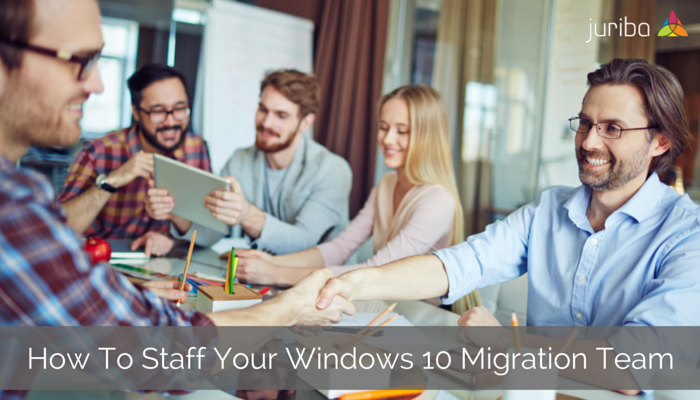 Whether you are planning on having a third party help you as a service integrator, considering a hybrid approach, or thinking about running it internally or via your Business As Usual (BAU) teams, it is time to start thinking about what roles to fill for a successful migration. Of course, when you are heading up the migration effort for tens of thousands of employees and a similar amount of devices including desktop and mobile assets, you'll need to choose the best migration command and control tools to assist the new hires for the team and help them work more efficiently.
This is a project that calls for team stability, and you would be best served by recruiting resource (internal or external) that will be with you for the long haul. Preparation time for a Windows 10 migration in an enterprise could take as long as 9 to 12 months, according to a recent article at Computerworld. During that period, your new or contracted staff will be collecting pertinent information, making images, testing them to see how well they deploy before moving on to readiness tracking/scheduling migration.
You'll want to define the roles that must be included in the migration team as well as which ones are optional, so you can deploy your resources as efficiently as possible. One of the more important tasks is to determine which skill sets will be required in your team.
Which Roles Should You Include?
A number of roles must be staffed for your successful Windows 10 migration. While every enterprise is different and will naturally have unique circumstances and requirements for staffing, the following is a list of roles that you should most likely need to include to ensure that the migration will go as smoothly as possible.
Key Stakeholders. Whilst these resources might not be involved daily with your project, their sponsorship and accountability for escalation is a critical element for project success. They should be the equivalent of a high-level steering committee, ensuring that the project is delivering to the requirements laid out in the business case and agreed by this same group.
Program Manager. You need someone to be accountable for the direction and success of your Windows 10 migration. They should manage the overall budget, ensure the project is moving forward and take the key decisions in conjunction with the businesses that are in scope.
Team Managers: A number of manager specialties will also need to be staffed, such as Application Managers. Project Managers, Risk Managers, Technical Project Managers and Deployment Managers. These people will be responsible for keeping their activities on track and reporting status to the Programme Manager.
Process & Infrastructure Experts. Expertise in process and infrastructure will be invaluable for your team, so make room for Process Experts and Infrastructure Experts before you begin the migration. They are responsible for your end to end solution design. Get it right here and the teams below will be much more efficient.
Engineering & Software Development. It is difficult to imagine a Windows 10 migration effort that does not make use of Software Developers and Engineers. You will need to utilize some Build Engineers to ready your gold OS image(s) and software re-development experts to help ensure that all applications are made compatible with Windows 10 (especially in-house apps).
Application Discoverers and Application Packagers. When it comes to applications, make sure to hire both Application Discoverers and Application Packagers to support your readiness efforts. It is likely that many applications will need to go through the factory for compatibility and testing.
Business Liaison Officers. In order to coordinate your activities with the various business teams involved, you will want to include Business Liaison Officers and Programs Officers. This role will ensure buy-in for your project within the user base and create the important link between your project goals and their business impacts/priorities.
Logistics Coordinators, Communications Experts, and Migration Schedulers. A team of logistics coordinators and schedulers that are focused on keeping things organized, especially when you are migrating many thousands of end users is important to drive migration numbers and ensure any deployment capacity is filled to maximum.
Deployment Engineers. Whilst many Windows 10 projects will be delivering multiple zero-touch in-place upgrades, there are still the hardware replacements and rebuilds to manage on-site. This is where a dedicated deployment team can help to drive the migration success and be the 'feet on the street' to help with those first-day migration issues.
Procurement. Not a dedicated project role, but an important function in the logistics chain. Ensuring a point of contact and liaison with the hardware and software vendors will guarantee that this function will not become a bottleneck.
Which Roles Are Optional?
Your organization's definition of "optional" may be very different from similar businesses in the industry. However, it is good to keep in mind the roles that are of lower priority so you can deploy the most needed human resources first. Circumstances may change where what was once optional is now needed to keep the project on track.
For example, you may find that you can do without communications experts if you find that end users can do just fine with the available literature and training materials. Likewise, user acceptance testers who check on how Windows 10 works with the rank and file may be optional, depending on the knowledge and experience of the majority of your end users.
What Skill Sets Are Needed?
While organizing a list of various roles that you'll need to staff before the Windows 10 migration is necessary, it is also worth noting the skill sets required to make your project a success.
Critical skill sets needed for the migration include asset management and role-based management, noted a recent report from BetaNews. Experience in centralized system packaging is also needed (making an image or through a bundled deployment).
You'll also want someone on your team who is skilled at managing reboots and ensuring that all implementations are kept track of during installation.
Conclusion
It is not always going to be easy to fill in holes in your workforce, especially when talent is in high demand and your competitors are in the same position regarding staffing up for a Windows 10 migration. Keep in mind that your road to Windows 10 will be smoother when your enterprise takes advantage of the Juriba's IT project management tool Dashworks.