This post is part of the "Definitive Guide To Windows 10 Servicing" blog series. Last update: Sept. 2018.
Before co-founding Juriba, I was a Vice President within the Global Technology Infrastructure division at JPMorganChase, managing an extended team of more than 200 people. This was nearly 10 years ago, but I was struggling with the same problem as you are probably dealing with right now: selling an OS upgrade to my business units.
When the time came to talk to our business units about upgrading, I was met with hesitation, frustration, and persistent stalling tactics. As soon as the words "Windows migration" and "PC migration project" came out of my mouth, you could feel the tension in the room rise. I get it. Large migration projects can disrupt or even jar the usual flow of business activities, they require a large chunk of budget and dedicated resource, and the productivity loss and user disruption due to the rollout and initial learning curve can be significant. The downsides can certainly seem to outweigh the benefits, especially if you have revenue generating priorities to balance off against.
But with the right internal migration sales approach, you can not only help your business counterparts see Windows 10 as a long-term win-win strategy, but also empower them to understand and participate in the process as advocates for the change.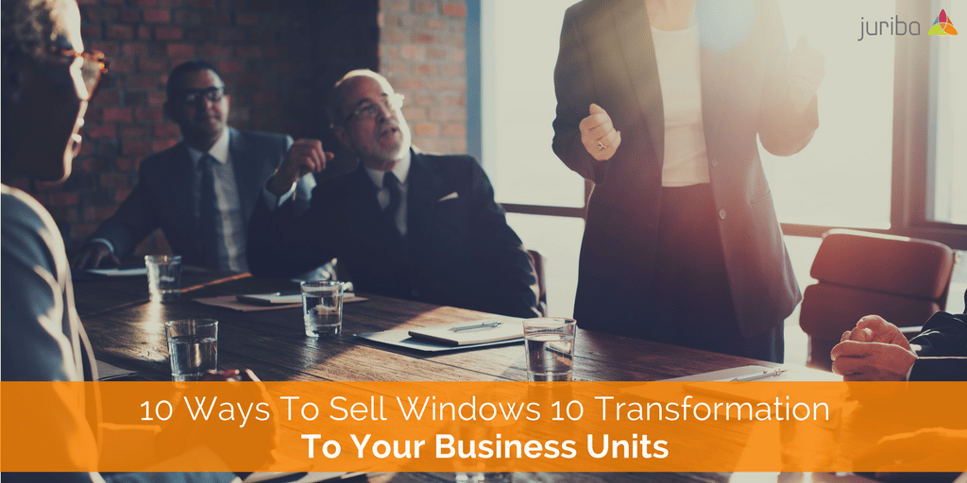 Why Business Units Aren't Buying Microsoft's Windows 10 Selling Points
A successful salesman puts him/herself in the shoes of his/her prospects, understands their motivations, anticipates their objections, and can make a solid business case as to why the proposed solution is worth the investment. When selling Windows 10 internally, you have to adopt this mindset.
You already know what your business managers want: an end user computing environment that runs smoothly without causing any disruptions or issues, while offering modern productivity and collaboration capabilities to help support getting the best out of your workforce. However, most business managers won't give a hoot about which operating system version their employees work on to achieve this goal.
Unfortunately, Microsoft's main enterprise selling points for Windows 10 (at least up until the Fall Creators Update was released in October 2017) weren't enticing enough for business managers to push for the move. For example, Microsoft talks a lot about:
Windows-as-a-Service. This is probably the biggest elephant in the room you will need to address. While you see the upsides of keeping your estate always up-to-date and secure, for business managers this could spell disaster as it means having to go through a mini-Windows migration every six to twelve months rather one large one every three to four years.
Cortana, Microsoft's digital assistant that can help you open applications, set reminders, and much more. While some (mostly mobile) users will see tremendous benefits, most enterprises are concerned about it slowing work down rather than speeding it up or see a potential security risk in the voice-enabled technology. Only by embedding Cortana into internal business processes will end users see the full benefit.
The fact that Windows 10 runs on aging hardware. The vast majority of larger organizations have a hardware

life cycle management process that includes depreciation or lease periods which they want to keep to. Consequently, they're often going to be refreshing machines anyway, making the fact that it runs on aging hardware almost irrelevant.
These are just a few arguments that you will encounter as objections against upgrading. But if these arguments fall on deaf ears, what will sway them? Below, I have mapped out some of the most important selling points you can focus on, and I am sure you will think of others to add to the list. Consider your business units' needs and change these or add new ones accordingly.
1) Windows 7 Goes End-of-Life In January 2020
First and foremost, let's start with the biggest selling point of all, and the same one that drove significant Windows 7 adoption a few years back. By January 2020, the Windows 7 operating system will go end-of-life which means that devices running the OS will no longer receive security or quality updates from Microsoft. You could be staring at a paid Windows 7 Extended Security Updates (ESU) through January 2023 which will be sold on a per-device basis and the price will increase each year. (Source)

(Image Credit: Microsoft, 2017)
This means, as of updating of this article, enterprises have 500 days to plan for, evaluate, test, set up, deploy and roll out Windows 10 to all of their end user devices running Windows 7 — preferably with a buffer of at least six months. As most enterprise OS upgrades take between 12 to 18 months, there isn't much time to waste!
2) Significant Security Improvements
According to Gartner, the impressive security improvements that are backed into the operating system are one of the biggest arguments for enterprises to upgrade to Windows 10. However, the business side doesn't really care about ransomware or virus protection as long as their devices are running.
So, why should your business managers care about not receiving security updates on your devices? The easiest way to garner concern is to use a practical example, such as WannaCry or the recently exposed vulnerabilities Meltdown and Spectre.
The high-profile ransomware WannaCry, for example, that held users' files hostage worldwide had spread on older versions of Windows that included a vulnerability that has now been taken care of with updates to the OS, With the Fall Creators Update, malware is now prevented from locking personal user files and only whitelisted apps are allowed to access and change files.
3) Minimize Productivity Loss Due To IT Failures
According to a new study, lost productivity caused by IT issues cost UK companies £35 billion (approx. $45 billion) per year! The report found that the average employee wastes 27 minutes a day, or one working day per month because of technology problems. However, we aren't talking about shut-down PCs because of malfunction or a random ransomware attack — this was mainly caused by "slow-running systems and equipment (65%), connection failures (54%), and outdated software (32%)".
Microsoft has rolled out innovative enterprise productivity tools that can make a huge difference in your daily workload. One of the best examples for me is the Focused Inbox in Outlook 2016. I deal with hundreds of emails every day, but only about 10% of them are important and urgent. The new Focused Inbox has learned which emails I would like to see now and which ones can wait until later when I have a minute to skim through them. It gets it nearly 100% right and is a huge time saver and productivity boost for me!
Other productivity boosters are:
Faster boot time, bio-metric support, e.g., with Windows Hello, which provides a faster sign-on experience, and other load-time performance improvements,

Microsoft's new Fluent Design featuring

some business user-friendly performance and usability improvements,

Universal Windows Applications which provide a seamless experience across different devices,

Task View, which allows users to have multiple windows open at the same time,

Azure Active Directory cloud support, which enables end users to login to Office 365 and other

cloud-based services

without having to remember different usernames and passwords.
Again, there are too many features to mention here, but these are some great examples of what a business user can expect! Most notable are the Creators Update and the Fall Creators Update which place their main emphasis on providing tools and technologies that enable business users to increase their productivity.
4) Faster Access To Innovative Features & Improvements
Speaking of productivity improvements: While Windows 10's latest updates come with a variety of productivity-boosting features and functions, the continuous update methodology will ensure that your business users receive them in a faster cadence. Instead of having a new version every 3-4 years, Windows 10 receives two major feature updates a month in addition to the monthly security and quality updates. Again, certain releases will not contain features that your business users care about, but where there are some, make sure you are banging the drum!
5) Less Steep & More Continuous Learning Curves
A faster cadence of new features also has the effect that the user doesn't get overwhelmed with dozens of new things to learn at once. Once the initial migration is completed, your users will have to adapt to fewer changes with each subsequent new version compared to a full new OS update.
However, the change happens on a much more consistent basis. This doesn't only create a different, exciting perception of the change itself, but also results in a much faster technology adoption across the entire user base. Think of how often your mobile device applications get updated. It's accepted by every user and happens in the background, largely (although not always) without consequence. This is the model that enterprises need to adopt for their IT estate.
6) Your Applications Will Require Better Life Cycle Management
The average enterprise uses thousands of applications, many of which are created by a third-party. These software vendors strive to support the most up-to-date versions of the largest platforms which means they aren't going to support applications on older versions of Windows much longer. Without a well-managed upgrade process, your end users might lose out on support on their business applications as well.
In turn, this means that business users can take advantage of the latest application productivity benefits, and keep in life cycle on the security side. The emergence of shadow IT has driven greater cost into organizations that have to manage the greater workload, and an increased level of change management and surrounding processes should drive down the need to require as much shadow IT to operate.
7) Increased Visibility, Transparency & Control Of IT Change
As Microsoft's Windows-as-a-Service roadmap includes two updates a year, one in March and one in September, the project management methodology has to be brought up to speed as well. Continuous update cycles require an Evergreen IT or Business-as-Usual approach that focuses on constant improvement rather than big-bang rollouts every few years.

Your business units want an active part in the upgrade process, rather than having it done to them. They crave more transparency and visibility into what IT is doing and how it is done. Show your business units how they can use intelligent business value dashboards to access the same live data and actionable insights. Get them excited about capacity-restrained self-service capabilities that allow end users within the business unit to validate data, choose devices, or volunteer for a migration by themselves. This way, you will turn your business managers into evangelists rather than adversaries.
8) Explain Your Proposed Update Process
In general, business units and IT haven't been best of friends in the past few years. Often, IT got so bogged down with trying to keep the lights on that business went rogue, creating a whole universe of Shadow IT and causing even more friction with an imbalance of centralized control and business agility. If this has been a problem in your organization, it is helpful to lay out your deployment process to create trust. Explain how you will be rolling out Windows 10 in planned phases, called deployment rings, and how you will be using automated scheduling and tracking to minimize workload on them while giving them maximum involvement and transparency.
9) Show Off The Benefits Of Automation
One of the biggest fears of your stakeholders is the mayhem that may be caused by this transition to a perpetual change model. By showing them how you will use sophisticated automation to do the heavy lifting, such as automated email communication based on a T-minus schedule, you can ease their spreadsheet hell anxiety.
Of course, this cannot be done without adequate IT Transformation management tooling, such as Juriba's Dashworks, whose central command and control platform creates the foundation for effective and streamlined project management.
10) IT Processes Will Be More Integrated With Business Requirements
As outlined above, managing Windows 10 updates must be done on an ongoing basis and in much closer collaboration with the business units than ever before. IT will essentially become a central hub for facilitating IT services while business units can safely and quickly self-service.
Therefore, IT needs to become much faster and slicker at delivering the services that the business requires rather than being a blocker of progress as has sometimes happened in the past — and the tooling for managing this process needs to be much more integrated with business processes,
In addition to the automation capabilities used, your organization will have to put in place a proper software asset lifecycle as well as an application packaging and testing management process. Furthermore, central group policy management and application stores will facilitate a new service-oriented mentality.
Conclusion
I know that selling Windows 10 to your business units isn't as sexy as rolling out a new business app that they can immediately see the value in. An operating system is a necessary commodity that end users hardly ever get truly excited about! But getting your business units onboard is about showing them the benefits, e.g., the tremendous security and productivity improvements as well as the ongoing benefits of having a faster, more continuous cadence of updates that can drive greater performance among the users.
It is my hope that this article will help you approach your stakeholders confidently — armed with facts and well-thought arguments that create a win-win situation.